Cedar Screen 1968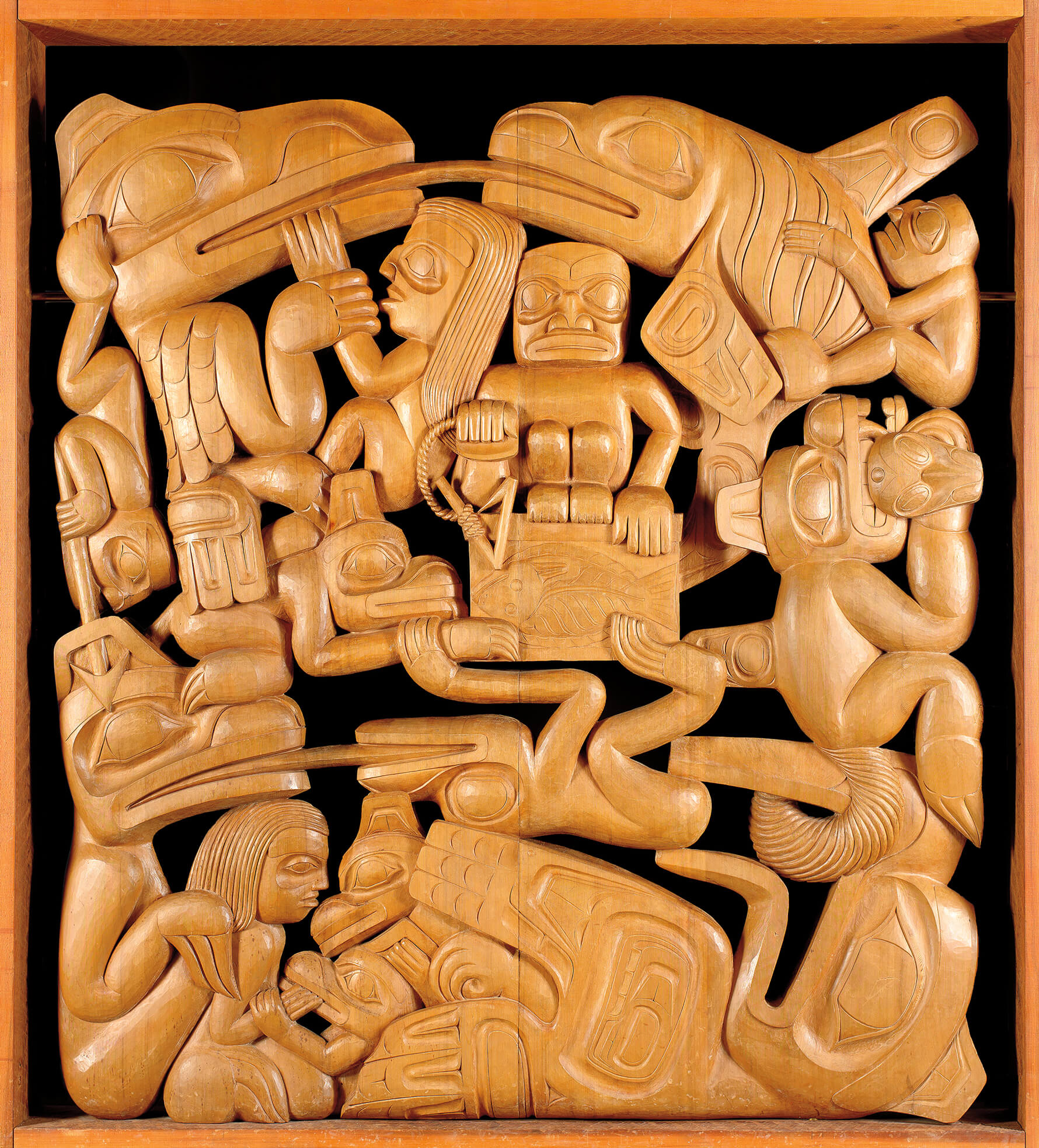 In 1968 the British Columbia Provincial Museum in Victoria (now the Royal BC Museum) commissioned Bill Reid to make Cedar Screen, a large panel carved from laminated red cedar. It depicts a complex entanglement of human and animal relations drawn from Haida narratives, reflecting the animate quality of daily life and cultural practice. Clockwise from the top left, we see the Raven (Xhuuya) cuckolding the fisherman; Nanasimgit and a Killer Whale; the Seawolf clenching a whale in his teeth; the Eagle and the Frog; and the Bear Mother story with the Cubs, the Hunter, the Bear Father, the Hunter's Dog, and the Bear Mother in her human form. Close to the centre is the Fisherman, halibut hook or yagw taawaay in hand, perched atop his halibut box. Haida boxes such as this contained important objects of ceremonial significance.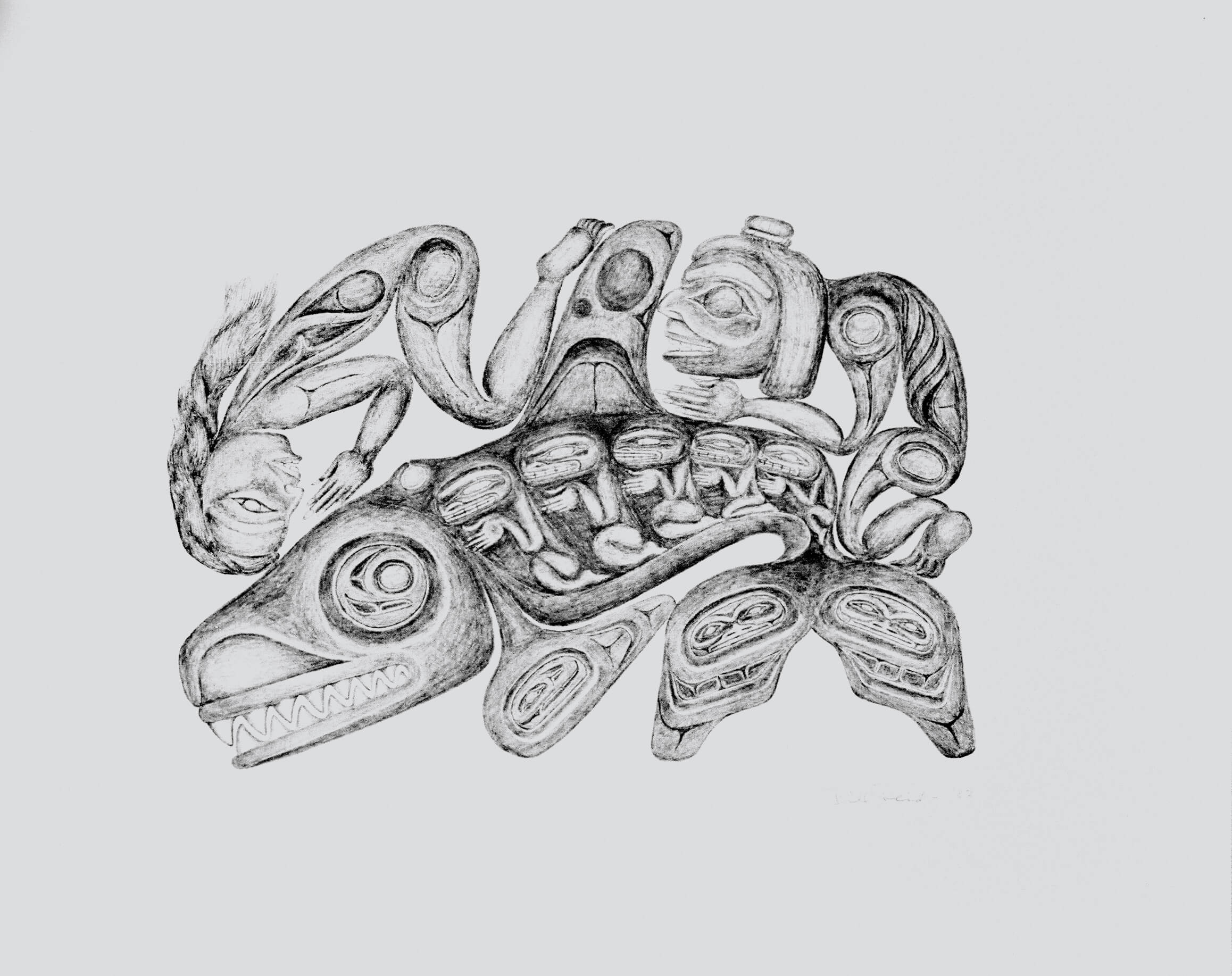 The central human figure draws particular attention. He has an integral connection to his storied companions and clearly belongs among them, yet his orientation and outward gaze position him differently from the others. He looks toward, or even beyond, his audience, breaking the so-called fourth wall. Meanwhile, as interactions are happening all around him, he appears aloof while guarding something under his protection. Is he preparing to leap out of a confining entanglement? "What else is in the box," Reid explained at the time, "isn't fit for Anglo Saxon sensibilities."  This is the beginning of what some have called Reid's "visual puns" in which he innovatively inserts open-ended multiple meanings into singular spaces.
When he created this screen Reid spoke of it as a "farewell," because immediately following its completion he left British Columbia to live in England for a year. "It's a long farewell," he says. "A farewell to the ancestors, to lost children, to old loves."  Artistically, this was a transitional moment for Reid and, in the view of Martine J. Reid (b.1945), it marks the beginning of his "Beyond Haida Phase." After twenty years of being deeply immersed in Haida style, grasping and executing Haida-inspired designs, styles, and techniques, he was set "free to express his own individuality."  At this point Reid did not anticipate returning to this subject matter. He stated that this was the last of his "memorials."
Cedar Screen was Reid's first large-scale attempt to combine multiple mythic narratives in the form of a rectilinear relief panel instead of a linear panel or pole.  It is a throwback to the argillite panel pipes of the mid-nineteenth century, a time when Haida artists were beginning to create for a new souvenir market rather than for local cultural reasons. This time of contact enabled these artists to be very creative and open to testing new forms of expression. Though Reid still drew on traditional Haida panel forms, in Cedar Screen he squared it out, both permitting him to articulate a greater degree of entanglement and appealing to the modernist ideals of the day.