Skidegate Dogfish Pole 1978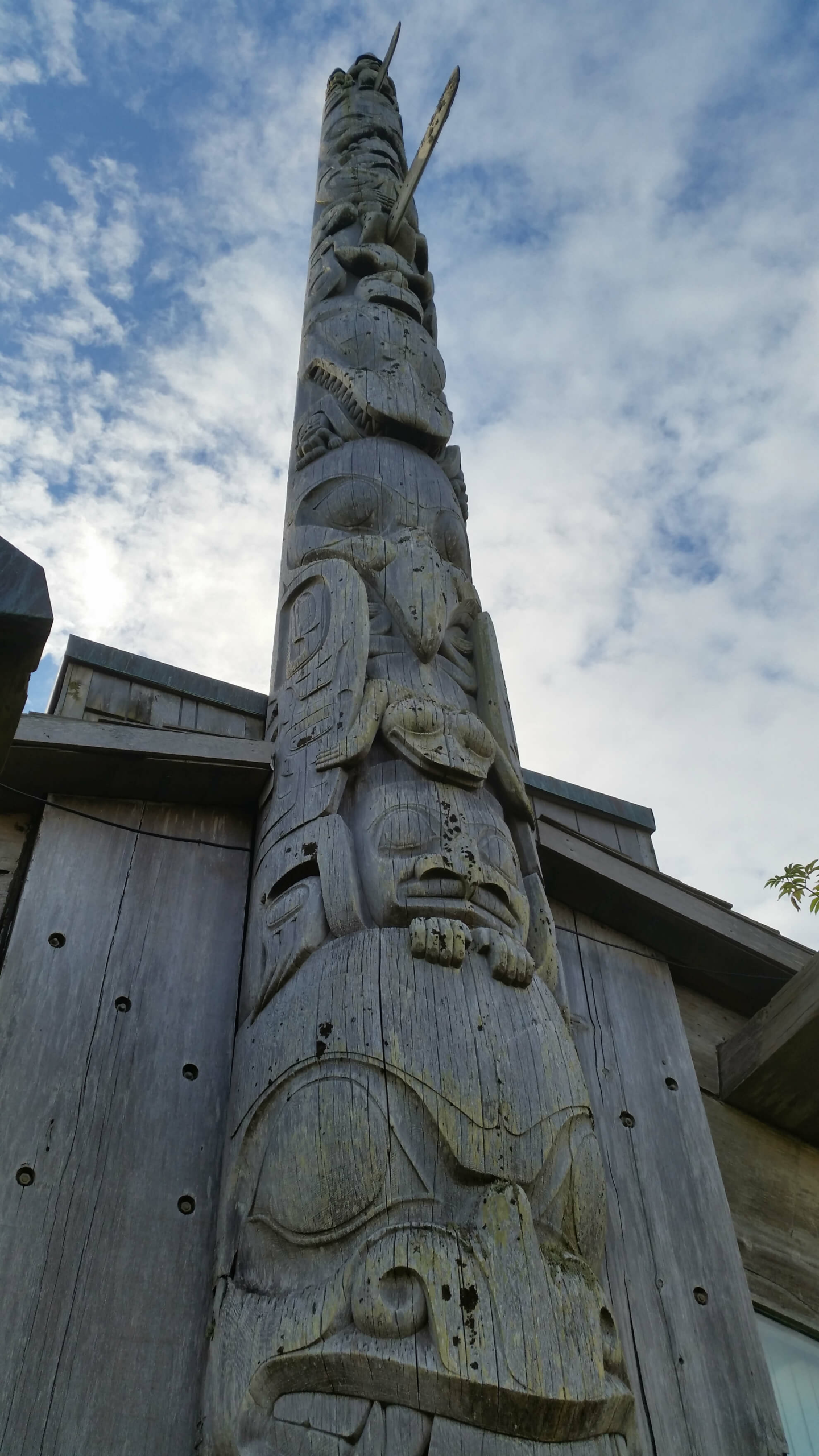 On June 9, 1978, Bill Reid's Skidegate Dogfish Pole, a house-front pole, was raised in conjunction with the opening of the new Skidegate Band Council Office longhouse in Kay Llnagaay (Sea Lion Town), Haida Gwaii.  It features many legendary Haida beings: the Grizzly Bear, Bear Mother, and their cubs; the Raven (Xhuuya) and the Frog; Nanasimgit rescuing his wife from the Killer Whales; the Dogfish Mother; and the traditional three Watchmen. The pole was a gift from Reid to his mother's childhood community and reflects the significant energy he began to invest in the late 1970s in projects he hoped would strengthen Haida society.
Rooftop Cheer After Skidegate Dogfish Pole Raising (left to right: Ernie Wilson, Phil Gladstone, Wes Pearson), 1978, photograph by Ulli Steltzer.

Guujaaw on beach with Skidegate Dogfish Pole before it is raised, 1978, photographer unknown.

Skidegate Dogfish Pole raising ceremony, 1978, photograph by Kuldip Gill.

Skidegate Dogfish Pole raising ceremony, 1978, photograph by Kuldip Gill.

Skidegate Dogfish Pole raising ceremony, 1978, photograph by Kuldip Gill.
During the summers of 1976 and 1977 Reid lived in Kay Llnagaay. Initially, he worked alone, but he was eventually assisted by several others. Guujaaw (b.1953), now a very prominent hereditary leader, was Reid's "other-side machine," following what Reid did on the left side of the pole and matching it on the right.  Other carvers came to help—Robert Davidson (Guud San Glans, b.1946) created the formline on the pole's wings and fins, Nuu-chah-nulth artist Joe David (b.1946) carved one of the bear cubs, and when a dentist named Dean Nomura visited, Reid had him work on the cub's teeth. For Guujaaw, "The Dogfish pole stands out as a great pole because of respect of tradition, a deep understanding and a conscious and deliberate application of the convention  . . . the rule."
The raising of the Skidegate Dogfish Pole and the preparations for the event transformed the community. Haida Elder and activist GwaaGanad (Diane Brown) helped organize it and recalls the time fondly: "That pole brought us together in the culture. [A pole] hadn't been raised in Skidegate for almost a hundred years."  Many Haida Elders, such as Hazel Stevens, were visited to gather information and learn the protocols. A two-day potlatch was planned, requiring the preparation of gifts and foods. Regalia were sewn day and night, while the Elders were consulted about what to put on the blankets. Terri-Lynn Williams-Davidson started learning songs by listening to her grandmother's tapes; then she and her mother, Mabel Williams, started a children's dance group. Wesley Pearson and Philip Gladstone stepped up to be the head pole-raisers.  "So it was a lot of talking to a lot of old people to do it right," GwaaGanad concludes. "It put us way more in touch with our ancestors, of how we did things. It made us want more, there was a big revival."
According to Doris Shadbolt (1918–2003), in raising the Skidegate Dogfish Pole, Reid felt he was reminding the community of the living mythical truth in which "myth time is real time."  Reid remarked that what he had done "may have put the village back into time."  In the view of GwaaGanad, Reid brought forward and renewed a sense of responsibility: "Bill made us think and he made us research more than we would have if he wasn't there, to make us do things right."  Yet from the community's perspective, "it was the pole and the people who brought Reid back."  Reid felt a powerful sense of belonging as the Haida Nation was transforming itself from within.