The Joust, 1969–70 (cast in bronze c.1974)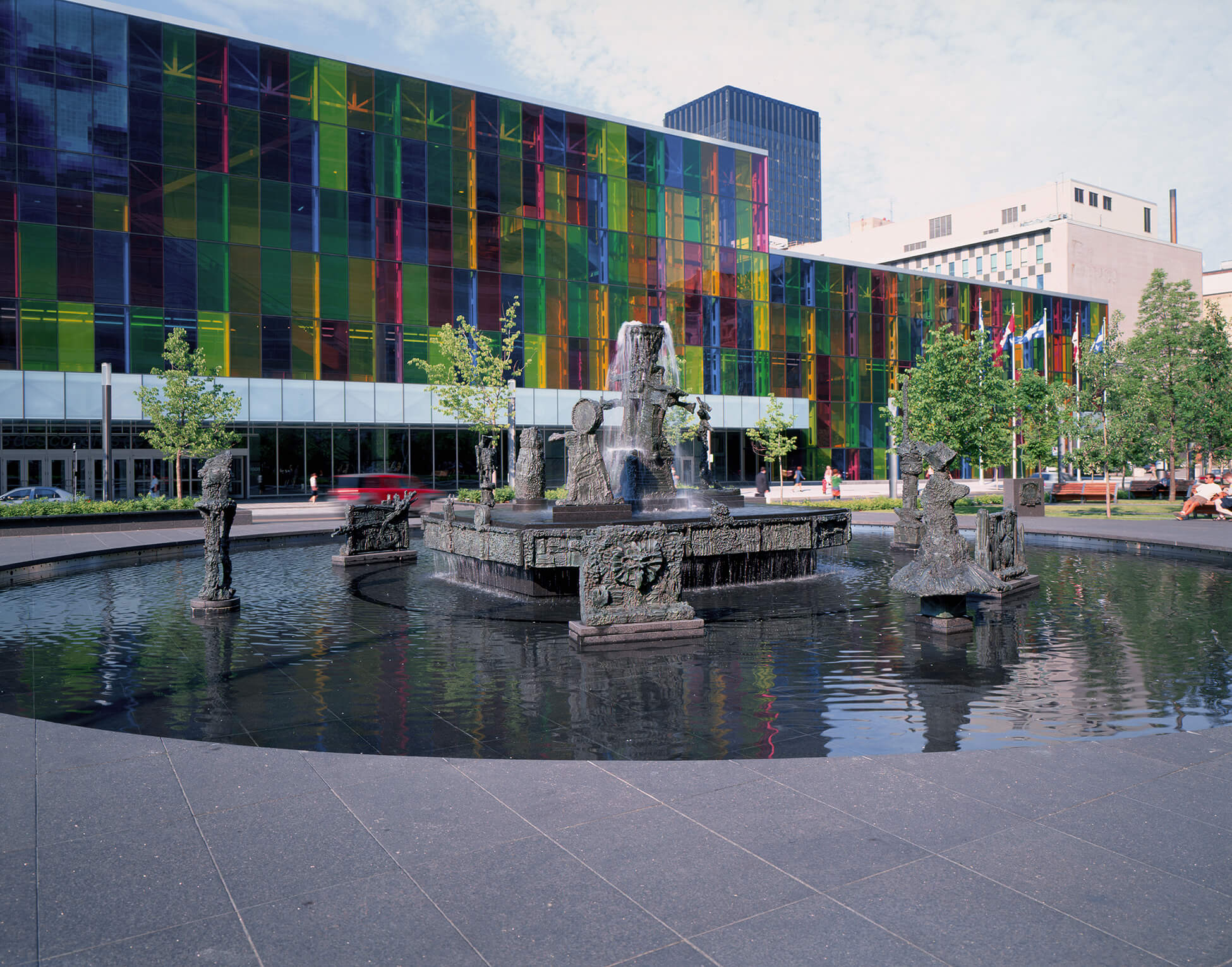 The Joust (La Joute) is a fountain made by Jean Paul Riopelle and arguably his most important work of sculpture. Cast circa 1974, this kinetic public art installation is an imposing grouping comprised of 30 bronze elements that surround a "Tower of Life" and depict various animal and mythological figures—including the Owl, the Fish, the Bear and the Dog—drawn from Riopelle's childhood and imagination. The "joust" in question in this work is not hockey (in Quebec a hockey game is a joute de hockey), but a game called "capture the flag", which consists of taking a flag from the opposing team and successfully bringing it back to your own team's side of the field, without it being snatched back.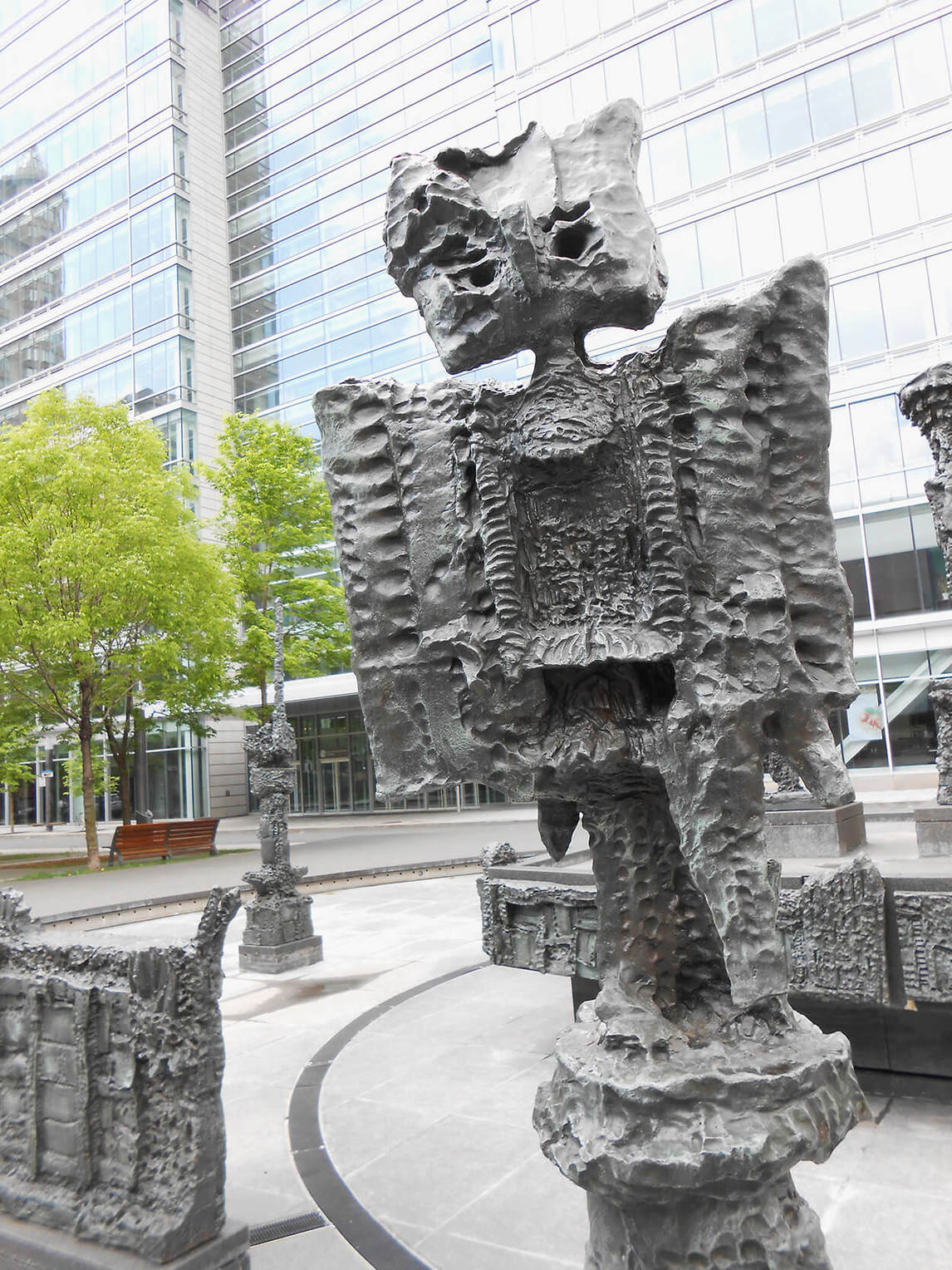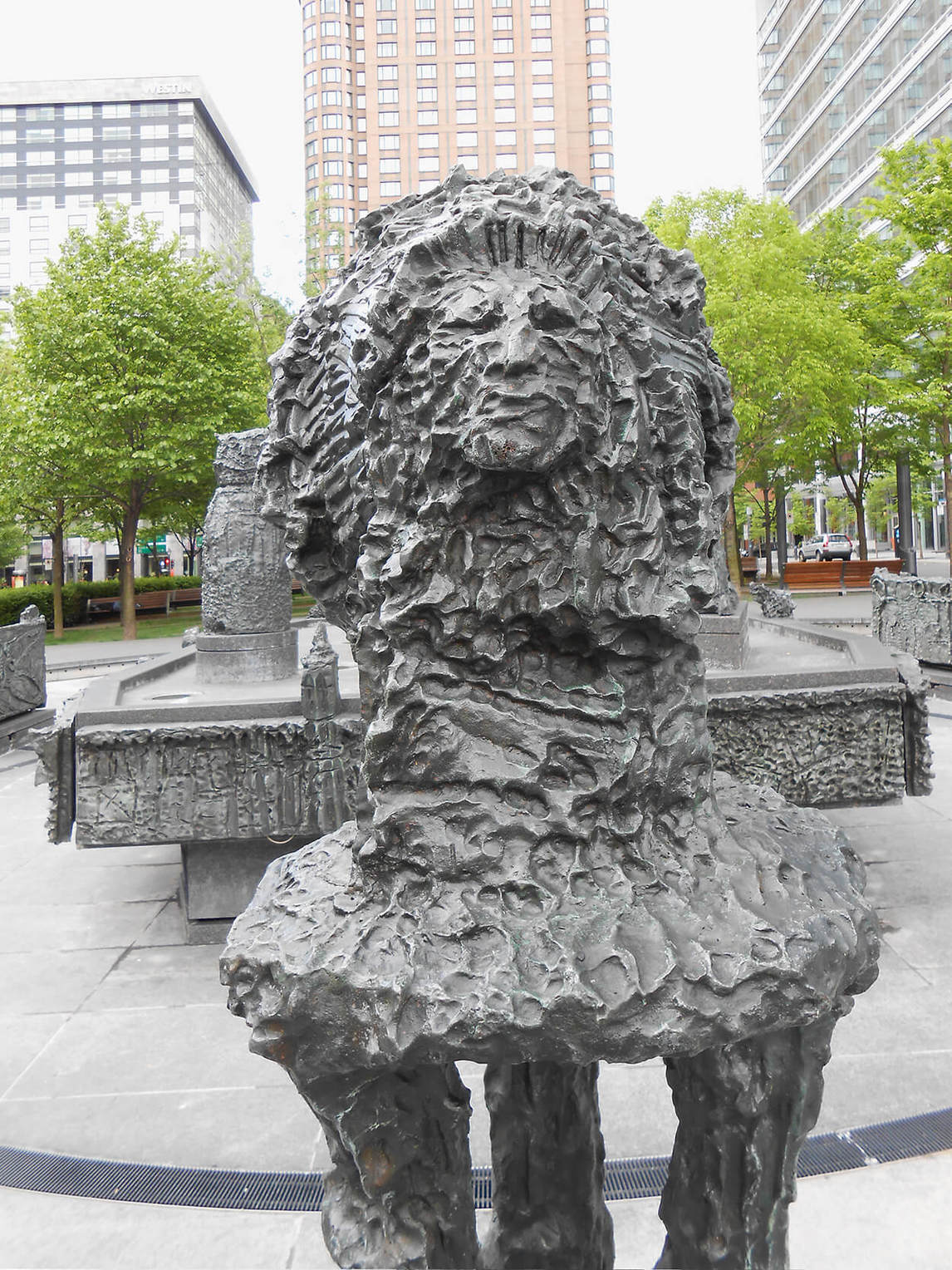 Approaching the work, one can see individual sculptures representing either a curious three-legged character or mysterious animals that together constitute fanciful "players." They are placed in a pond and are surrounded by a ring of fire that is created by natural gas and doused each hour by shoots of mist. Operating on a kinetic sequence, it takes about 32 minutes for the cycle to complete. A major and monumental work, Riopelle first exhibited a plaster version of the sculpture in 1970 at the Fondation Maeght in Saint-Paul de Vence.
Throughout his life, Riopelle remained interested in sculpture. No doubt this was a result of the distant influence of his art teacher, Henri Bisson (1900–1973), whose practice was predominantly sculpture, based on drawing from life models. In 1960, shortly after meeting Joan Mitchell, Riopelle formally resumed his practice of sculpture, a medium the artist said he worked in since 1947. While in France, Riopelle devoted himself to the practise, notably at the studio of Roseline Granet (b.1936) who had set up the Berjac foundry in Meudon, with Jacques Delahaye (1928–2010), Turriddu Clementi (1916–1983) and Riopelle.
The model for The Joust was first made of clay, then recreated in plaster, then cast in bronze in 1974 in Italy. Two years later it was installed at Montréal's Olympic Park for the 1976 Summer Olympic Games, near the Pie-IX Métro station. Riopelle was not pleased with this location because a café soon opened a short distance from the piece, an establishment that he felt trivialized his work of art. Thanks to the generosity of many donors, the sculpture was transferred to Place Riopelle, in the heart of Montreal's business district, where it is still located today. It remains the legal property of the Musée d'art contemporain de Montréal.