Oslo Street 1961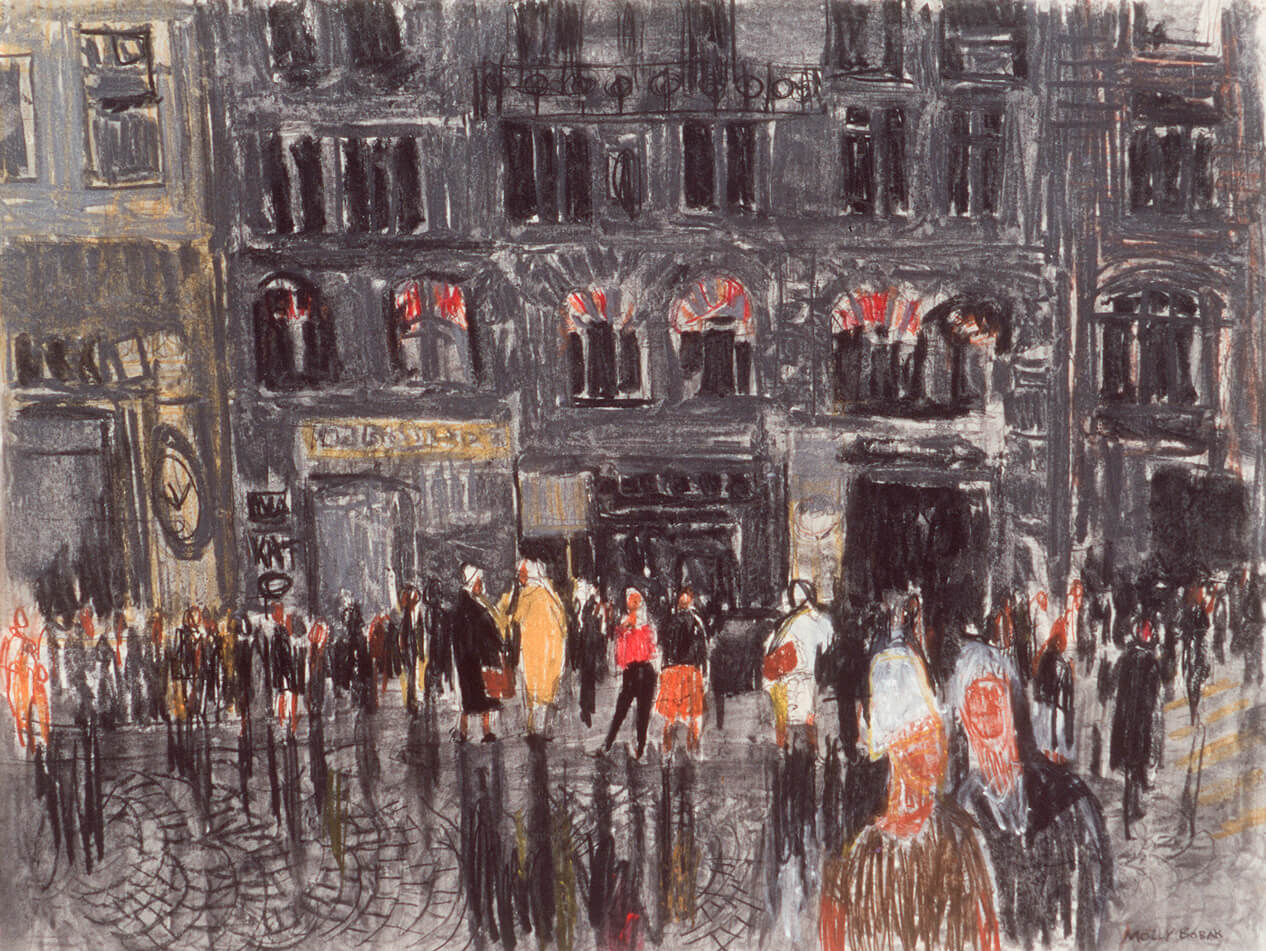 Oslo Street, one of the earliest of Molly Lamb Bobak's crowd scenes, is perhaps the most successful of her compositions from her time in Norway. It features the flow of pedestrians on a street in Oslo on a dull day, backed by a solid row of old buildings. Almost monochromatic in design, the only colour comes from the coats worn by a few people and some touches in the windows immediately above the shops.
Lamb Bobak began to draw and paint groups of people when she enlisted in the Canadian Women's Army Corps in 1942, though she said that her interest in crowds dated back to childhood: "I think that it is an interest I have had ever since I was a kid. I simply love gatherings, mingling . . . and seeing crowds. . . . It's like ants crawling, the sort of insignificance and yet the beauty of people all getting together." Her mother, Mary Williams, was fond of hosting large gatherings, often while her partner, Harold Mortimer-Lamb (1872–1970), was away. Lamb Bobak's interest in crowds suggests Williams's influence.
From 1957 until 1961 Bruno Bobak (1923–2012) and Molly Lamb Bobak spent much of their time working in Europe, mainly in Norway and Britain, on a series of Canada Council grants. The experience of living abroad proved critical to Lamb Bobak's development as a painter: she began to produce large, panoramic compositions of urban life, particularly in crowd scenes bursting with energy and movement. After the birth of her second child, Anny, she found it easier to focus on city vistas populated by groups of people, where detail became secondary to a sense of bustling life.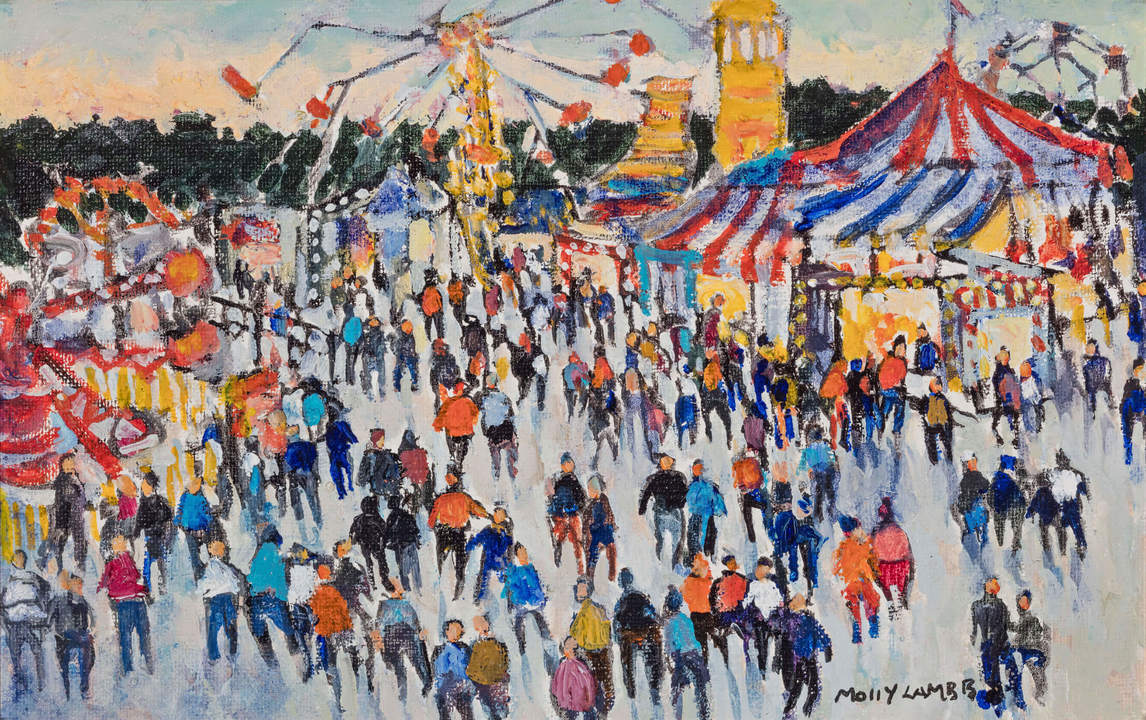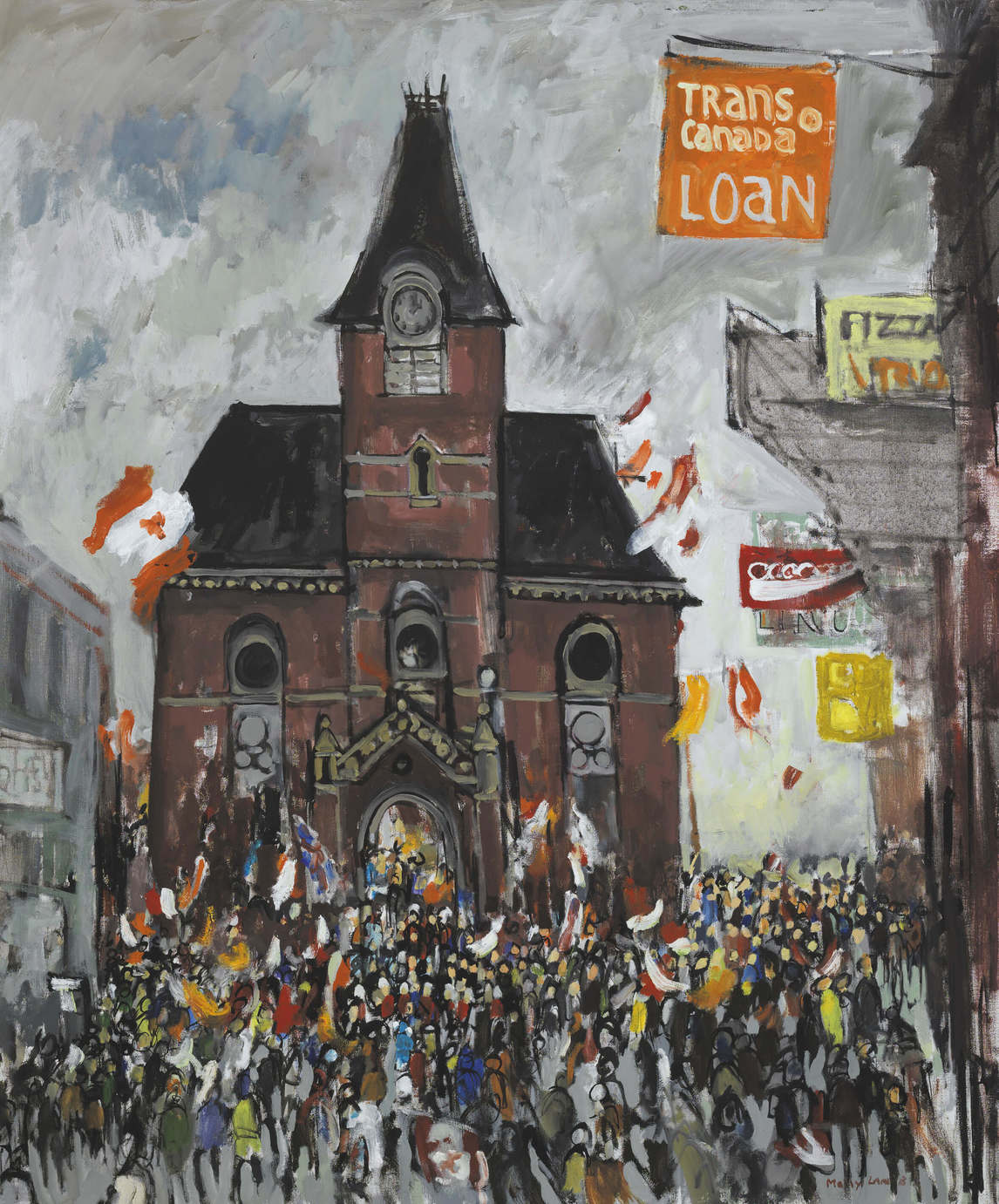 Over the decades that followed, these crowd scenes became one of Lamb Bobak's most popular styles of painting, and, inevitably, they reflected the area where she was living. She depicted them either straight on or from a bird's-eye perspective, as in The Fair, n.d. Arrival, City Hall, 1976, is similar in composition to Oslo Street, as Lamb Bobak views the people celebrating Canada Day before a century-old building from the perspective of someone in their midst.
Lamb Bobak described her working method for Oslo Street in a letter she wrote to its purchaser, George Kidd, the Canadian ambassador to Cuba:
I drew it from the back of our car, which I had parked there for the purpose. It is difficult to draw out on the streets in Norway as the people are so friendly and interested—so I used to sit in the car whenever I could . . . I found Oslo exactly like a stage set for an Ibsen play—although Norwegians today don't strike me as being Ibsen characters.
The National Gallery of Canada included Oslo Street in the 4th Biennial of Canadian Painting, held in 1961.