Wild Flowers of Canada: Impressions and Sketches of a Field Artist 1978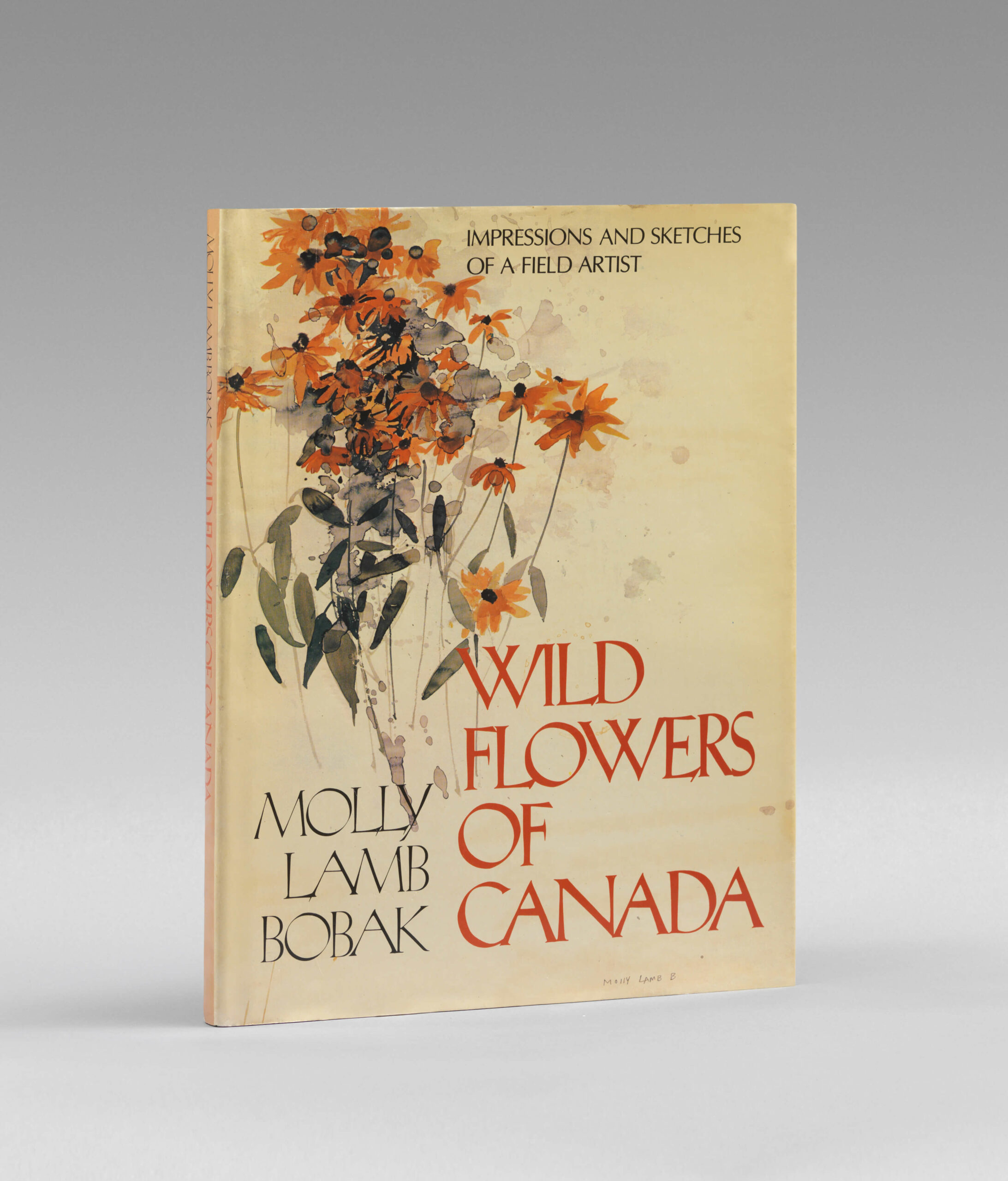 Wild Flowers of Canada is an unusual memoir that combines direct narrative and keenly observed images of clusters of wildflowers. Molly Lamb Bobak's watercolours of flowers are among her most revered compositions, especially by collectors of her work. It is not clear exactly when she began to focus on flowers as a subject, though she credited her move to Fredericton and the many wildflowers in New Brunswick as her inspiration:
New Brunswick has influenced me a lot. We've had a good life here. It is a country full of wild flowers from May to October. I know exactly when they are coming out. I never seem to get tired of them. I think now how many years more can I paint cosmos? Every year I am ready to do them again. I have certain flowers I like. They are simple, single flowers.
Lamb Bobak acknowledged that she had always loved flowers, right from her childhood in the country near Burnaby Lake, B.C. Her mother was an avid gardener, though she herself was more drawn to wildflowers than to manicured gardens. In her years on the West Coast in the 1950s she painted flowers in oil, but in Fredericton, inspired by the work of her husband, Bruno Bobak (1923–2012), she switched to watercolour for most of her flower studies.
Lamb Bobak sketched her blooms in different media much as she gathered them, casually arranged in a jar or spread on a surface before her. Her loose handling of paint works well in her often delicate representations of wildflowers and her use of negative space—as in her treatment of skaters (Rink Theme—Skaters, 1969). She credited David Milne (1881–1953), an accomplished watercolourist, with heightening her appreciation and awareness of positive and negative areas in her compositions.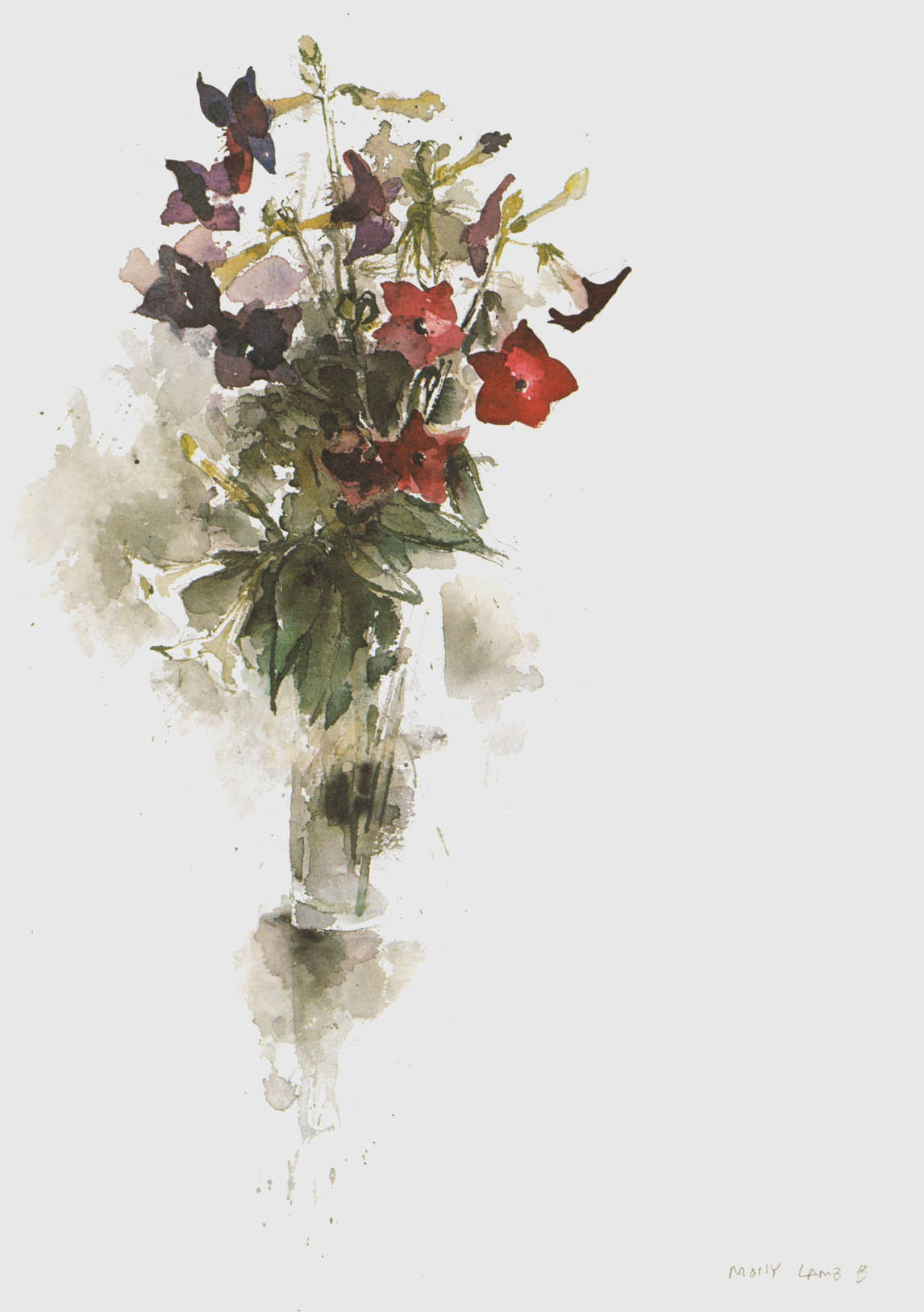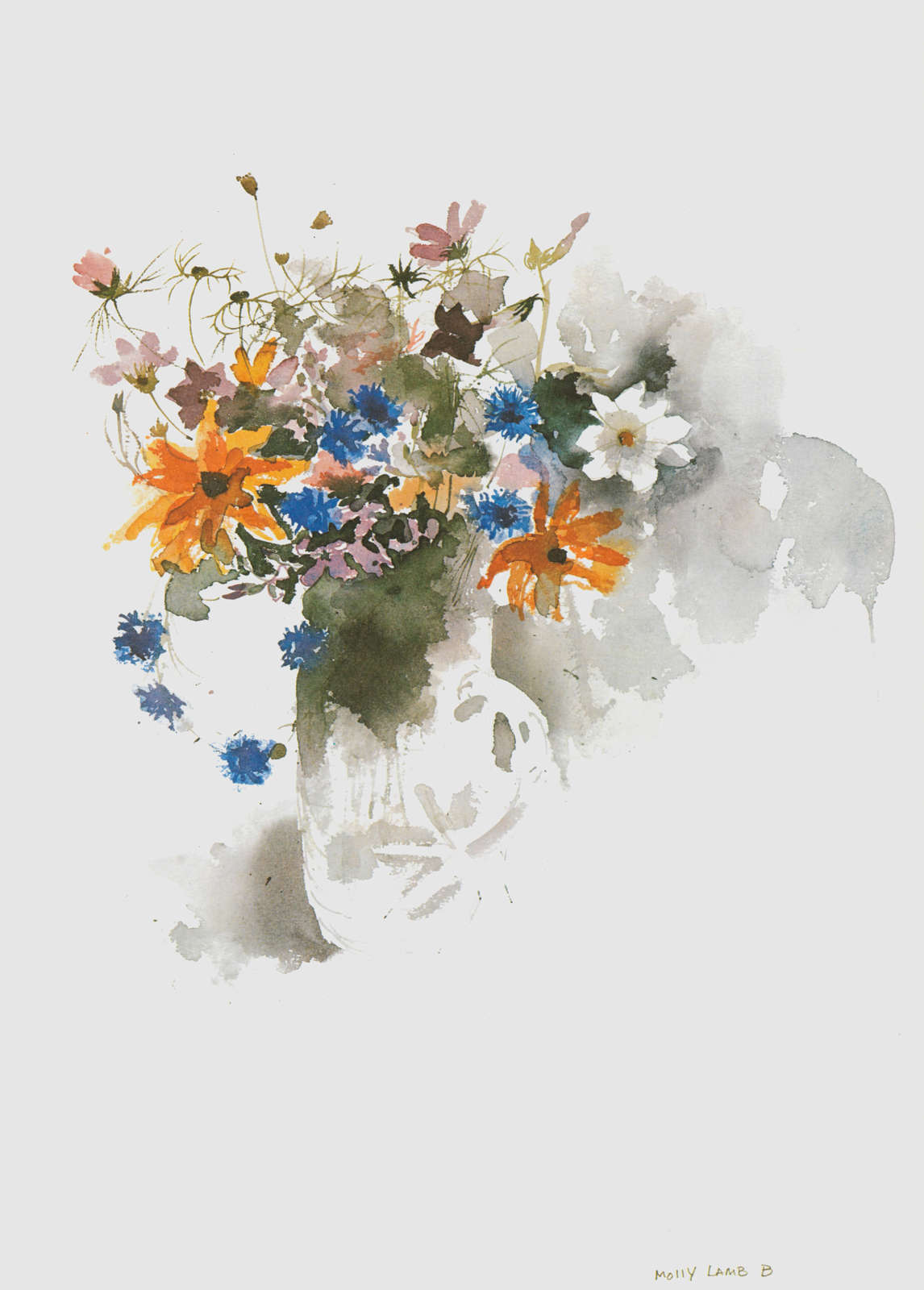 Art historian David P. Silcox notes in his foreword to the memoir that the book is a double self-portrait. While the narrative chronicles Lamb Bobak's story from childhood to maturity, the paintings also serve as self-portraits. They illustrate a life of happy memories: "Bouquet with Tobacco Plant," 1977, for example, appears alongside the narrative of her early years, and the caption relays details about her parents—the Oriental vases her father collected (now in the Art Gallery of Greater Victoria), and how annoyed he was when her mother filled them with flowers. "Tulips," 1977, reminds her of her elementary school in spring. "A Jug of August Flowers," 1977, recalls her life in British Columbia just before her enlistment in the Canadian Women's Army Corps.
The paintings also illustrate aspects of Lamb Bobak's art. With "Geraniums," 1977, she describes the artistic potential she saw in them: "I first came to love geraniums after seeing them in a Cézanne painting. I love to paint [them] because of their awkward changes in direction—they suggest interesting arrangements in space—staccato rhythms instead of undulating, obvious ones." White Tulips, 1956, provides an excellent early example of Lamb Bobak's mature style. This oil painting features two vases filled with the white blooms, with a few blue flowers that resemble irises added to offset the monochromatic light grey background. The petals and leaves have a geometric and angular quality that was typical of her preoccupation at that time with the formal relationships of lines and space in her compositions, as in Still Life Revisited, 1955.
In the same way that depicting crowds captured Lamb Bobak's interest as an artist (as in Rink Theme—Skaters,1969), so did flowers, and she painted them in a variety of styles—in quick gestures, in geometrically abstract shapes, and as detailed studies of texture, colour, and form. Each image is deftly rendered, displaying her facility with the difficult medium of watercolour. Taken together, the text and images illustrate the vibrancy of a life well lived.