Meryl McMaster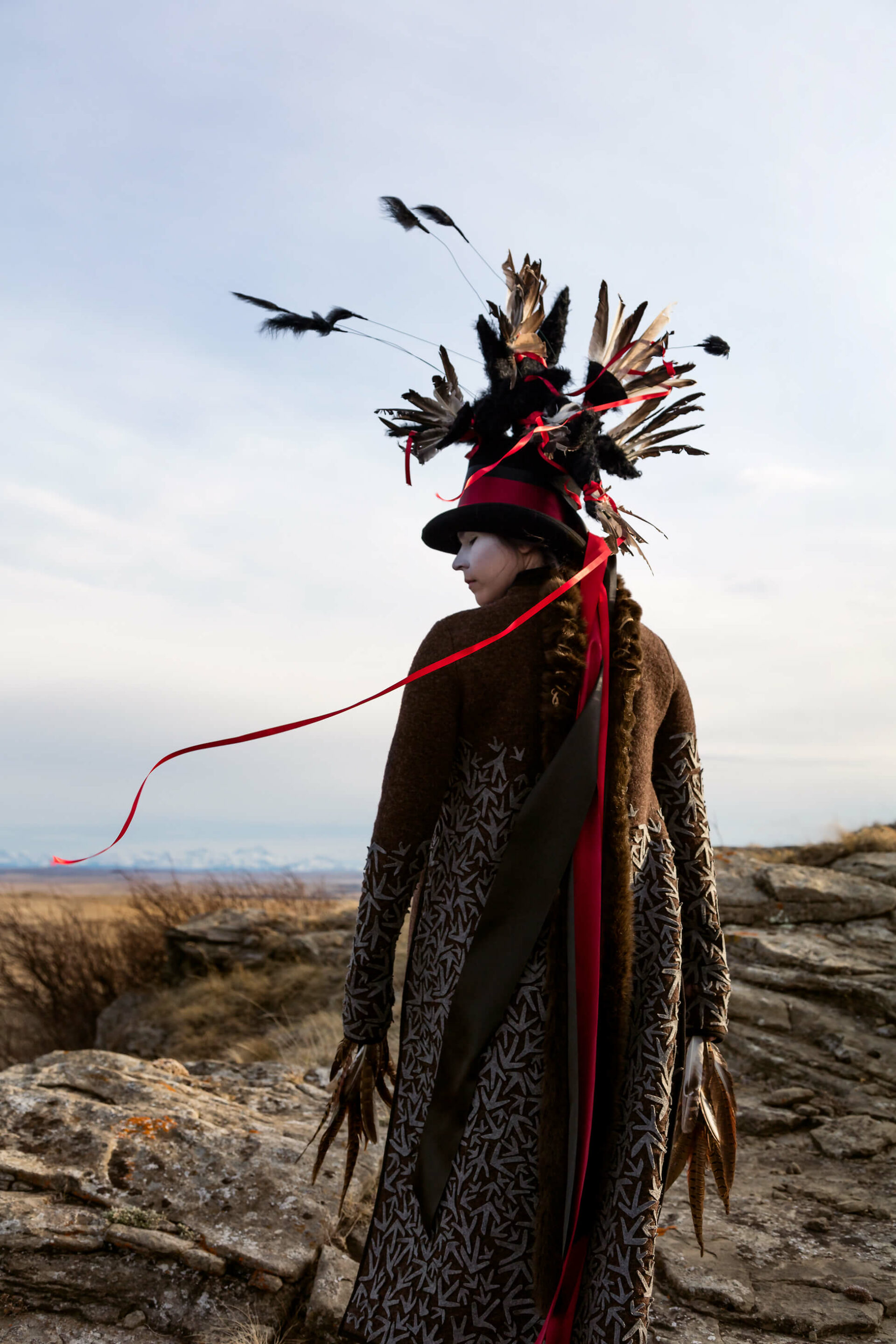 Meryl McMaster (b.1988) is one of the most intriguing and accomplished artists working in Canada. In Bring Me to This Place, she created a self-image that evokes what she calls "the contradictions and conflicts in [her] dual heritage."  Of nêhiyaw (Plains Cree), British, and Dutch ancestry, she was born and raised in Ottawa and continues to be based in the city. Her work is "predominantly photography based, incorporating the production of props, sculptural garments and performance forming a synergy that transports the viewer out of the ordinary," and she is known for exploring the self "in relation to land, lineage, history, culture and the more-than-human world."
Meryl McMaster, Meryl 1, 2010
Digital chromogenic print, 91.4 x 91.4 cm

Meryl McMaster, Colonial Drift, 2015
Pigment print on archival paper, 40.6 x 40.6 cm, edition of 3 + 2 APs
Collection of the artist
McMaster is the daughter of celebrated Indigenous curator and artist Gerald McMaster (b.1953). She attended the Ontario College of Art and Design University in Toronto from 2006 to 2010, majoring in photography, where she gained renown for her work exploring issues of identity. In 2010, she created a series of photographs titled Second-Self (Meryl 1, 2010, is from this project) that reconsidered portraiture "by incorporating drawing and sculpture to evoke a world not normally seen by the naked eye."  Her reputation grew quickly; by 2015 she had participated in more than forty group exhibitions in Canada, the United States, and Italy.
In 2015, her photograph Colonial Drift saw her taking on colonialism. Curator Wanda Nanibush noted, "The artist built a sculpture, or prop, out of a hive of bees, which she wears…. I cannot help but think of the state of bees today, and how their health, or lack of health, signifies the beginning of a time when the sun won't shine and rivers won't flow: an inconceivable idea to our Indigenous ancestors…. The idea that the earth could be destroyed by humans—this reality is part of the colonial drift."
McMaster has continued to scrutinize identity, colonialism, and the environment, and her thought-provoking and large-scale works have made her one of the most important young artists in Canada. Her photographs are in many major collections, including the National Gallery of Canada, the Ottawa Art Gallery, and the Art Gallery of Ontario in Toronto, as well as in American collections and many corporate and private collections. She is a key artist in the region's artistic milieu, one whose work resonates as Canada negotiates its relationship with Indigenous peoples and its own identity moving forward.