nichola feldman-kiss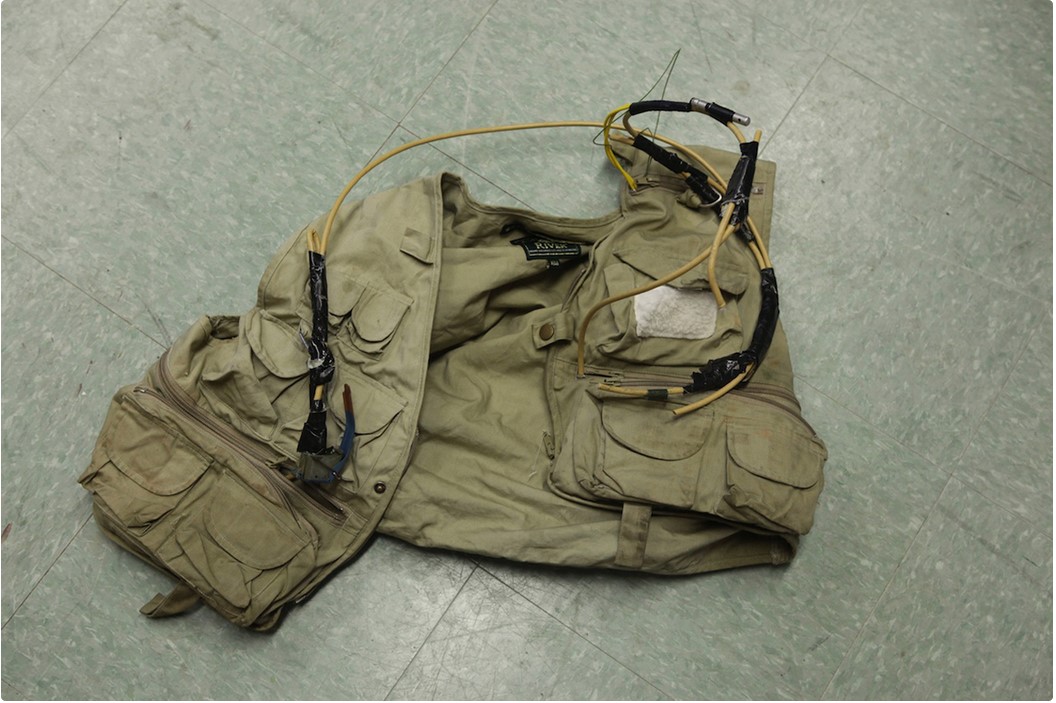 In 2011, nichola feldman-kiss was selected to document Canada's peacekeeping activities in Sudan as part of the Canadian Forces Artists Program, a federal initiative that invites artists to record the activities of the country's military, at home and abroad.  So That You'll Know. Ten Martyrs for every Innocent (Improvised Explosive Device) was created while preparing for the month-long tour as a guest military observer with the United Nations Mission in Sudan. Reflecting on their experience, they stated, "As an artist of the African and Jewish Diaspora, I have been particularly focused on making sense of the experience through the privilege of a Canadian filter within the echoes of my family history—colonials and Afro-Caribbeans of the transatlantic slave trade / refugees of Nazi Germany…. As I am informed about the world and its unfortunates from the privileges of safety, so I am distanced from them. The impossibility of language, and its ornaments—photos, reports, documentaries, clips, to convey experience so far beyond its own context is unimaginable."  In So That You'll Know, feldman-kiss grapples with this unreality.
nichola feldman-kiss, mean body / a crowd of oneself, 2001–2006
Twelve 3D whole body laser scans–rapid cast bronze (solid), patina, 31.7 cm x variable dimensions
Collection of the artist

The photographic installation in the background of the image is feldman-kiss' mean body \ i absolutely know i exist (AKA 360 1º rotational views), 2001–2005, one 3D whole body laser scan–360 inkjet prints cold mounted to Sintra PVC foam board 14.5 x 8" each, installation variable 95'sq, Library and Archives Canada / Portrait Gallery of Canada, Ottawa.

nichola feldman-kiss, mean body / classically bound/120302/23:11.16, 2006
One 3D whole body laser scan –12.4mb source code, 7,662 pages, natural vegetable tanned pigskin, 22.8 x 29.2 x 58.4 cm
Library and Archives Canada / Portrait Gallery of Canada, Ottawa
feldman-kiss's father and his family fled Nazi Germany in 1936 and eventually settled in Barbados. While at the University of the West Indies Jamaica campus, he met the artist's mother. Together they moved to Toronto, then settled in Ottawa in the early 1960s, where the artist was born. The family was part of a growing Caribbean and Diaspora presence in the city, joining a small but established community. After a few gap years of international travel following high school, feldman-kiss attended the University of Ottawa, graduating with a BFA and specializing in photography. They went on to obtain an MFA from the California Institute of the Arts.
feldman-kiss's creative trajectory is continually evolving. The artist has described their art as "exploring relational interpretations of body and embodiment, identity and autobiography, witness and traumatic memory."  feldman-kiss has worked in video, sculpture, and conceptual art in novel ways—for instance, for a 2006 solo exhibition at Carleton University Art Gallery, Ottawa, the artist created the series mean body, 2001–7, with the support of the National Research Council of Canada Institute for Information Technology. One artwork from the series, classically bound, 2006, includes a numerical description of the artist's naked body in the form of a 7,662-page book. Another, entitled a crowd of oneself, 2001–6, is a set of bronze figures cast from 3D prints of full-body scans.  Increasingly, feldman-kiss has worked on collaborative projects, such as a 2018 conversation with Dipna Horra, an Ottawa artist whose East Indian family fled Kenya in the 1970s.
Prior to moving to Toronto in 2014, feldman-kiss maintained years long community involvements with Ottawa's creative community and artist-run culture scene including Artengine, Saw Gallery, Saw Video, Daïmôn, Gallery 101, and the Ottawa Art Gallery. During their Ottawa years, the artist worked as a part-time professor in the studio art program at the University of Ottawa and at the Canada Council for the Arts as a Program Officer specializing in the new media, audio, and technological arts. feldman-kiss's artworks have been presented to audiences across Canada as well as in Europe, the United States, Jamaica, Mexico, and India. The artist continues to explore themes of corporeality, identity, and autobiography in their work. feldman-kiss's recent projects since their travel with the United Nations, such as an initial aversion to the plight of the sufferer (Pietà), 2015–22, engage with the traumas of migration and global violence playing out at home in Canada.