Mount Pleasant and Roxborough at Night 1962–63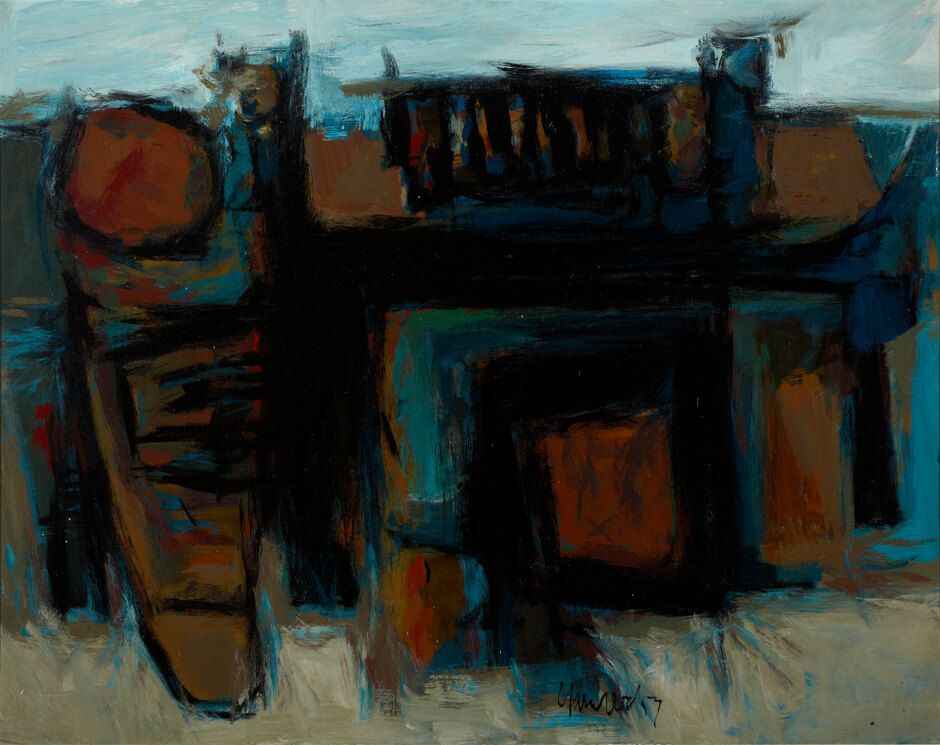 In this late work, Clark took a familiar motif—the view from a corner of her property on Roxborough Drive, Toronto, looking south down Mount Pleasant Road—and turned it into an abstract painting. The thick black lines representing tree branches provide an armature for the composition, and forms and colours are organized around them. The band of brick red rising up the right side of the canvas could signify the tail lights of cars making their way southward on Mount Pleasant, and the brilliant flash of yellow-orange in the lower right might represent the headlights of a car turning onto Roxborough. A street lamp glows in the centre.
The work is undoubtedly a response to the Toronto abstract painters who had belonged to Painters Eleven or who followed them. Clark regularly saw their paintings at the annual art society exhibitions and commercial galleries. Many of the younger artists, influenced by the American Action Painters, employed gestural brushwork and an organizing structure of black lines—as in November No. 4, 1957, by Walter Yarwood (1917–1996). Clark didn't relinquish her ties to realism, however, and rooftops, chimneys, and a distant treeline are clearly visible in her image.
When asked in 1960 how the new art movements had affected her work, Clark replied: "You just can't escape … you think you must go … with that young movement…. And so, even if you are a realist artist, you try to sort of relate yourself in an ordinary realistic outlook, to give it a new dress perhaps."