Working Drawing for Eaton's Windows 1935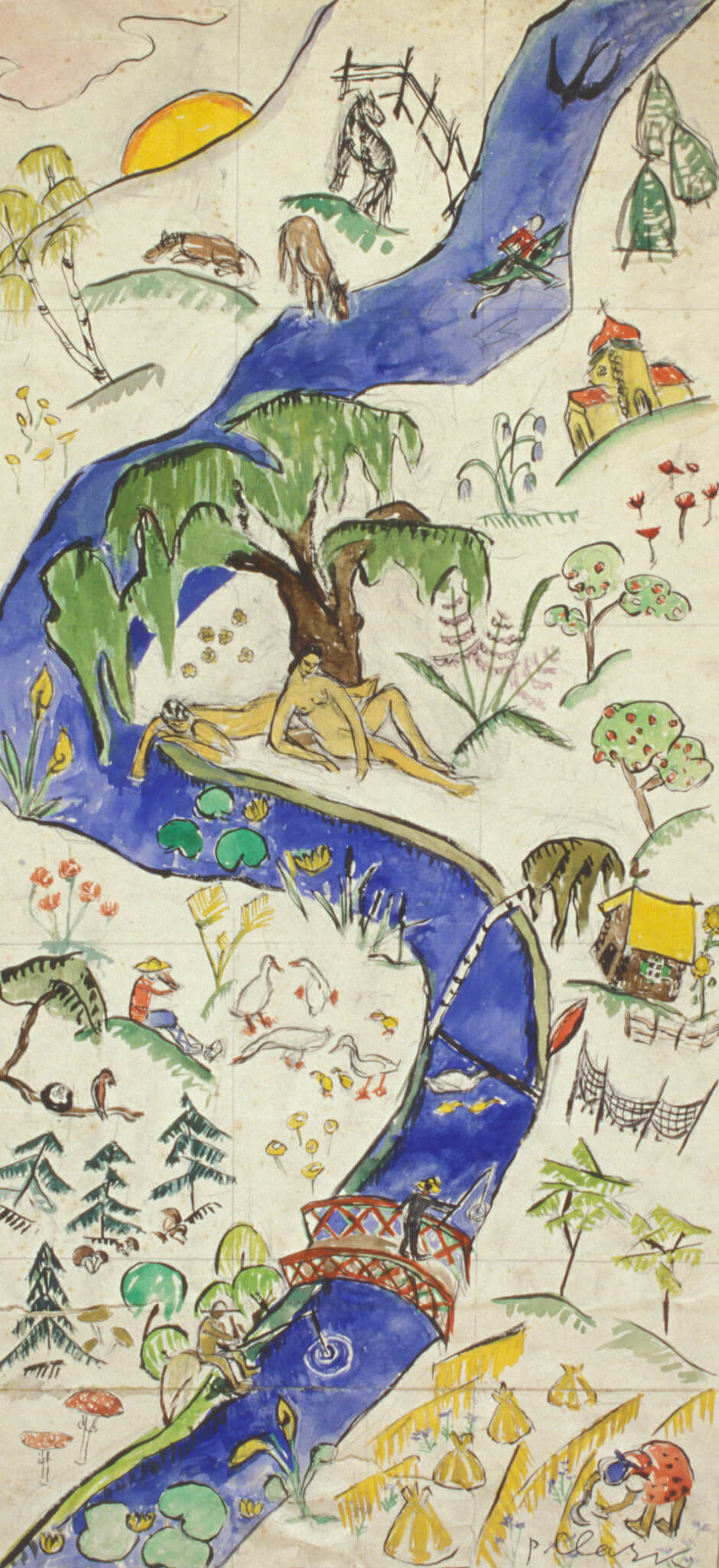 By the time Paraskeva Allegri left Paris in 1931, she was well acquainted with modern design. Her sister Paulina and her friend Elza Brahmin remarked on her fashionable outfits in the photographs she sent them after she moved there in 1923. In 1929, she began work as a salesperson in DIM, the interior design store established by Jacques Viénot that sold Art Deco objets. This modern retail experience and her background in painting theatre sets in Petrograd equipped her to create decorative backdrops for the display windows of Eaton's College Street, in Toronto. The head of design there, French decorator René Cera (1895–1992), invited her to join his team and, beginning in 1933 or 1934, she sporadically produced sketches and panels for five years.
Cera had worked as general manager of Martine, the interior decoration division of Paul Poiret's design business in Paris, before Eaton's (which had an office in Paris) hired him in 1928. The T. Eaton Company was, at that time, the main promoter of "art moderne" in Canada, and Cera was asked to supervise the architectural design department of the new College Street store, opened in 1930. He employed a number of artists to paint window displays, including Pegi Nicol (1904–1949), Caven Atkins (1907–2000), and Carl Schaefer (1903–1995), as well as Clark. With their shared experience of Paris and modern design, Cera and Clark got along well. Working on the large panels taught her "a great deal about composition" and gave her confidence to apply what she had learned to her easel painting and watercolours.
The panels' large scale (12 x 6 feet) and commercial purpose required Clark to think in a new way. Previously, she had based her paintings on observation and formal analysis; now she needed to rely on her imagination, bringing disparate elements together to form a coherent whole. In this sketch, a river seen from an aerial perspective unifies the many details of the composition. She took a much more imaginative approach to the organization of pictorial space in these panels, which she later applied to canvases like Petroushka, 1937.