Blackout 1960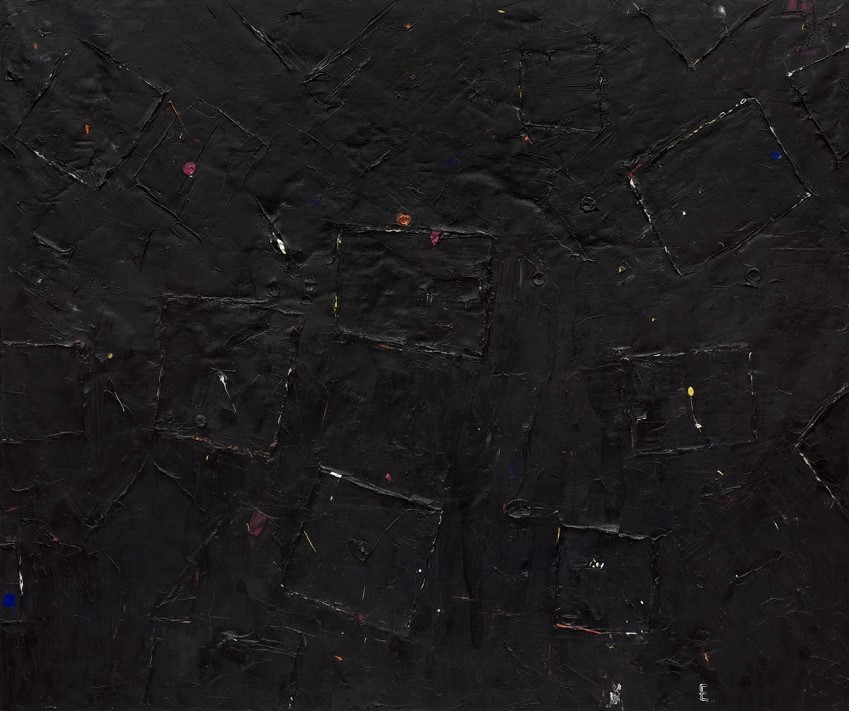 Blackout is significant as one of only a very few of the artist's works that are directly related to historical events. This painting is from the Blackout series, which, along with its companion series, Alerts, references by title the air raid procedures that were practised at the end of the 1950s and 1960s, during the height of the Cold War, as Ewen himself noted in his 1976 lecture at the Nova Scotia College of Art and Design. Largely a textured monochromatic black oil painting in which the black paint outlines irregular squares flecked with a few minute touches of colour, it is one of Paterson Ewen's first paintings of the night sky, a theme that would reappear frequently through his career.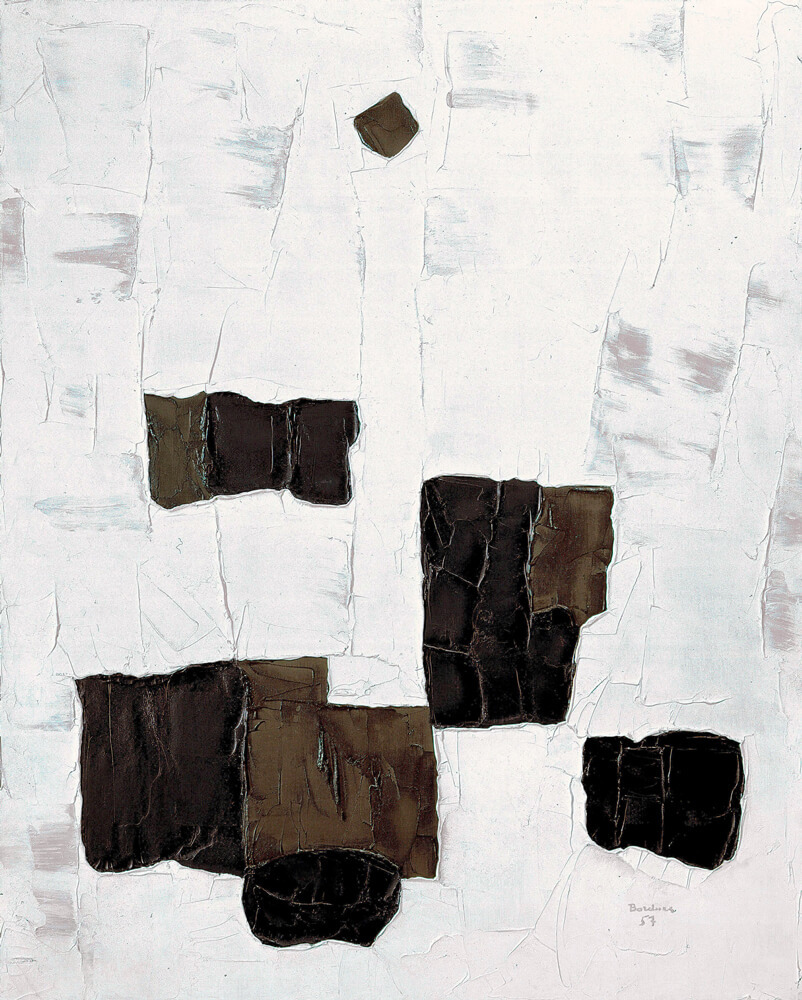 This painting came together accidentally, or subconsciously, as Ewen described: "I was very interested in the stars at that time.… Vincent [his son] and I used to go every evening with the binoculars and look up into the sky. Then in the daytime I'd paint what I felt was an abstract painting. But the [Blackout] painting is quite clearly the night sky. A sort of rectangle and geometry that different cultures make different things of. I just formalized it into those rectangles."
Blackout finds its inspiration in Abstract Expressionist works such as Abstract Painting, 1955, by Ad Reinhardt (1913–1967) and Laureline, 1956, by Franz Kline (1910–1962); however, its closest relatives are the black and white paintings of Paul-Émile Borduas (1905–1960), such as The Black Star, 1957, which also references the night sky. However, instead of using the palette-knife technique favoured by Borduas and the Automatistes, Ewen explained, "I bought one of those pistol-handled saws in Kresge's or Woolworth's that had five blades that would attach to a butterfly screw. I just threw away the handle and used the blades to lay the paint on." This was Ewen's first experiment with non-art materials, a practice that would become common after his move to London, Ontario. The result with Blackout is a thickly painted canvas that dissolves the distinction between foreground and background, drawing the eye instead to the surface texture of the painting, which is sprinkled with flecks of colour.