Premises for Self-Rule: Treaty No. 1 1994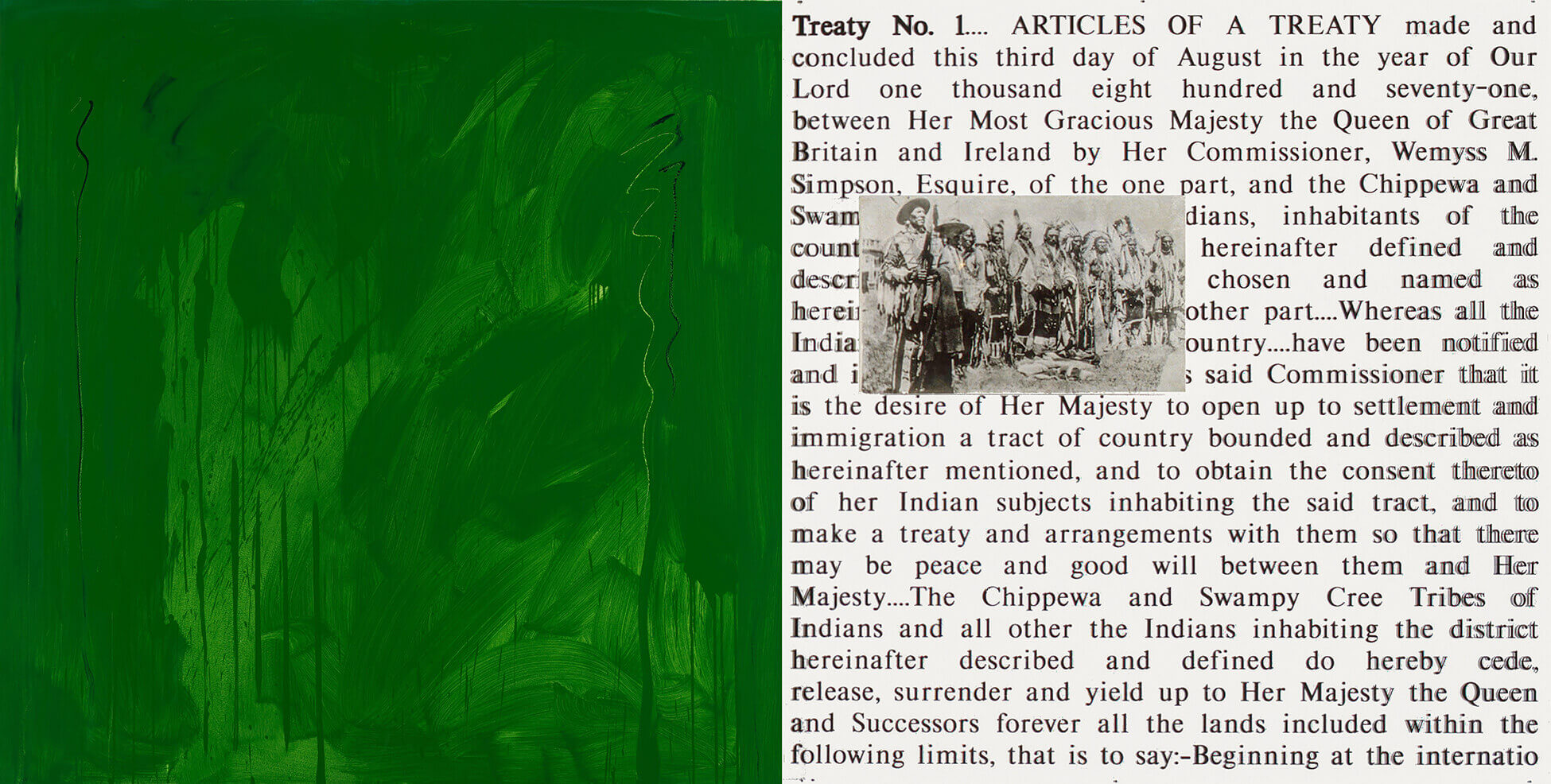 On the left of this bilaterally symmetrical work is a green colour-field abstract; on the right is a field of legal text appropriated from Treaty No. 1 (signed in 1871), upon a portion of which is superimposed an archival photograph of warriors looking at a medicine bundle.
When Manitoba joined Confederation in 1870, Treaty No. 1 was concluded between Queen Victoria, her commissioner Wemyss M. Simpson, and the Saulteaux and Cree, transforming the District of Assiniboia into a new province. However, the colonial government did not uphold the right of First Nations to the land title established by the treaty. In this work, Houle visually restores control and ownership of the land to First Nations. Historically, government legislation has institutionalized and rationalized the subjugation of First Nations; Houle turns that rhetoric against itself. By placing an archival image over legal text, he not only creates tension through visual strain but also foregrounds First Nations over Euro–North American legislative history, thereby subverting the document.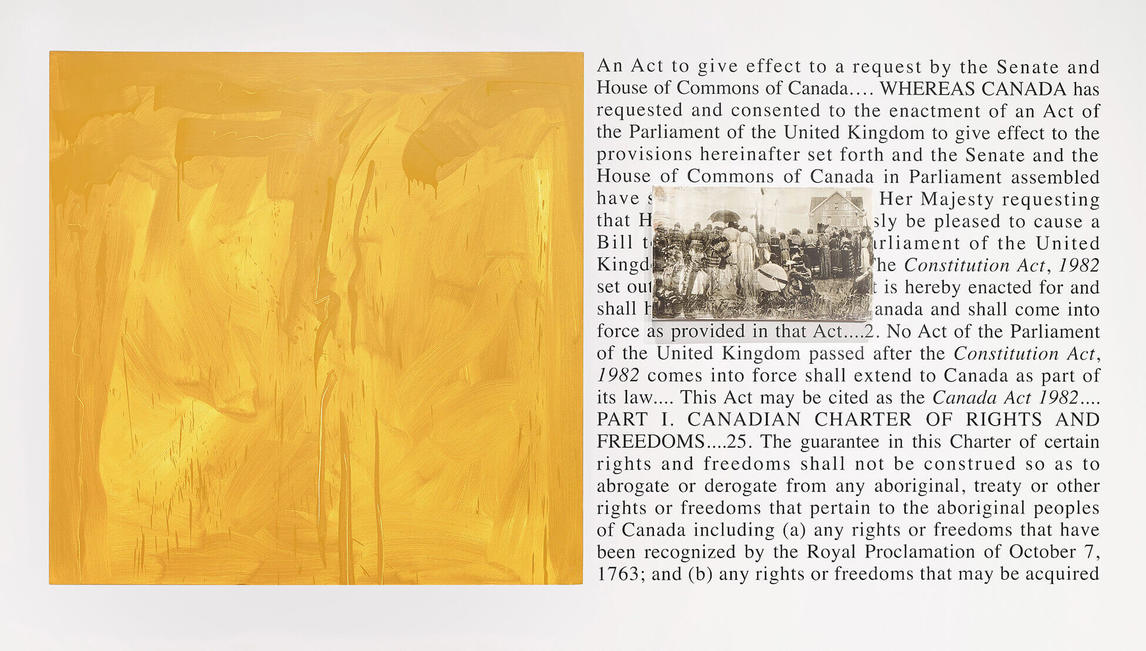 The work is part of a five-painting series, Premises for Self-Rule, 1994, which focuses on the false promises of the Canadian government regarding land rights. It emphasizes how places can be socially and politically constructed, and asserts First Nations' historic and legal connections to the land. More political than spiritual in nature, each work in the series consists of lushly coloured paintings combined with photographs of Indigenous subjects and legal texts from treaties that confirm self-government, from the Royal Proclamation of 1763 and the British North America Act of 1867 to the Indian Act of 1876 and the Constitution Act of 1982. Through his process, Houle uses three distinct Western cultural forms—modernism (with abstract painting), the archive (with photographs), and the colonial government (with the treaties)—in making a powerful statement about the inherent right of First Nations to autonomy, self-rule, and title to sovereign lands.
The photographs used by Houle to create the series were from a booklet of ten postcards published in 1907 by A. Young & Co., Department of Agriculture, that show Blackfoot (Niitsitapi) gatherings in Fort Macleod, Alberta. They were a gift from fellow artist Faye HeavyShield (b. 1953), who, with Houle, discovered them in an antique store in Calgary. She said to him, "Welcome to my territory."  This work represents Houle's entry into postmodernism, with a fearless mixing of modes of representation: abstraction, appropriated photographs, and text.