Sandy Bay Residential School Series 2009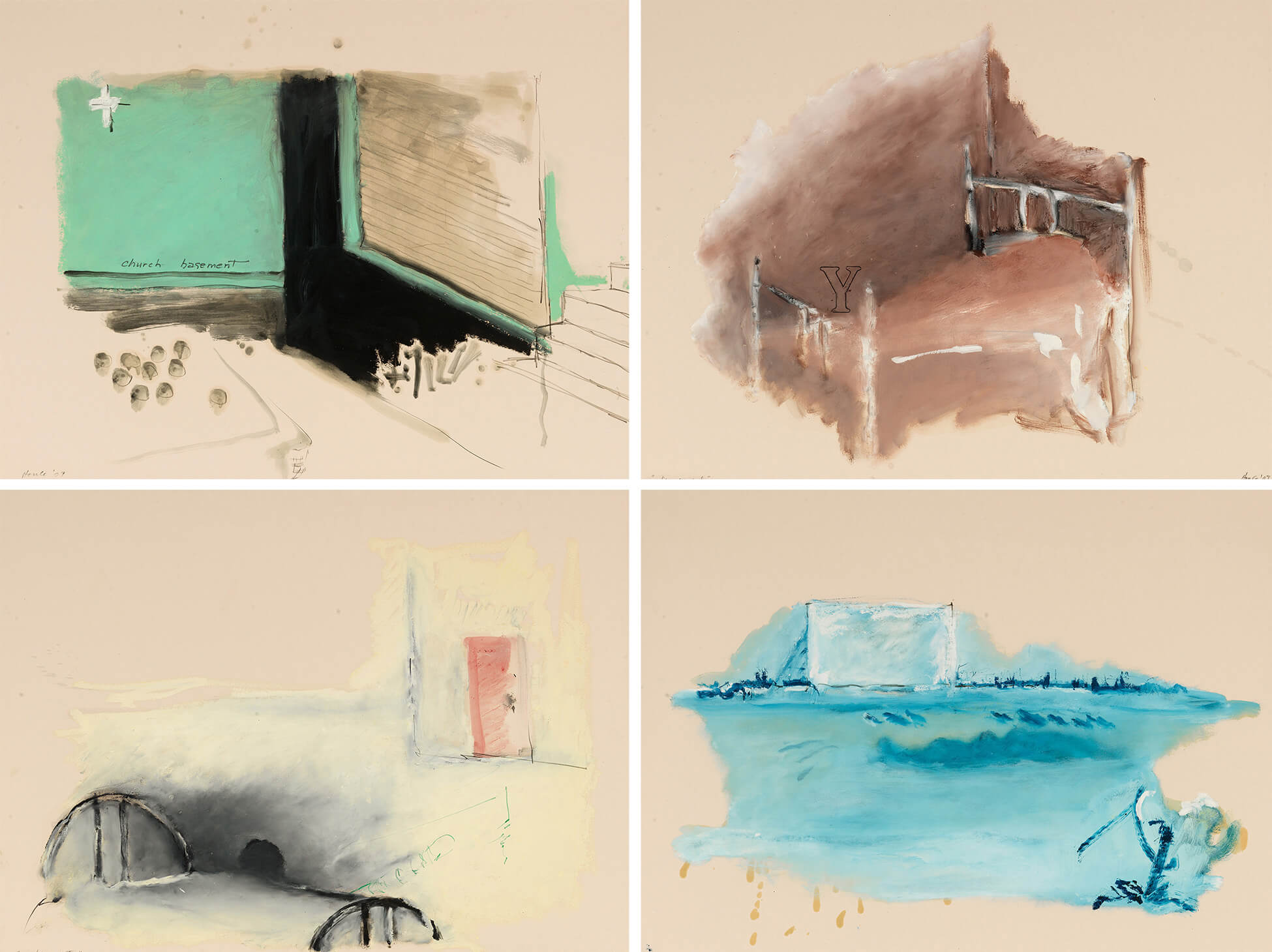 This series of twenty-four drawings was triggered, in part, by a nightmare about an incident Houle had repressed; the dream occurred after he returned to Sandy Bay for a funeral in 2009. Also an influence was Prime Minister Stephen Harper's formal statement of apology made on June 11, 2008, on behalf of the Government of Canada to former students, their families, and communities for the federal government's role in the operation of the residential schools. Houle attended the event.
The drawings embody three main subjects: the school playground, dormitory beds, and religious figures. Stylistically the works are a marked departure from Houle's abstractions. Loose and spontaneous, they emit a remarkable sense of movement and immediacy as they transition from one image to another, offering different perspectives, like frames in a film. "My residential school drawings are about what happened to me," Houle stated, "without the language of judgement and forgiveness."
This highly personal work reclaims the artist's memories of the residential school experience—of physical, sexual, and spiritual abuse. Images of dormitory beds, crosses, and shadowy figures occupy the spaces in the drawings, with disturbing inscriptions written in his own hand, such as "night predator," "I'm cornered," "outhouse abuse," "drive-in terror," "uhnuhmeahkazooh—pretending to pray," and "fear." The pieces are a powerful testament to a dark, shameful period of Canadian history.
While creating the work, as his memories came to him, Houle spoke in Saulteaux and immediately inscribed those words in pencil on the drawings. Having been forbidden to speak his maternal language during residential school, and realizing that for years he had been "thinking in English," he recognized this action as critical to a healing process and an act of decolonization. Houle considered a drawing finished as soon as the memory of an experience left him. The completion of each drawing meant pahgedenaun, "letting it go from your mind," which for him was a more meaningful concept than forgiveness.