Composition (Egg in Landscape) 2006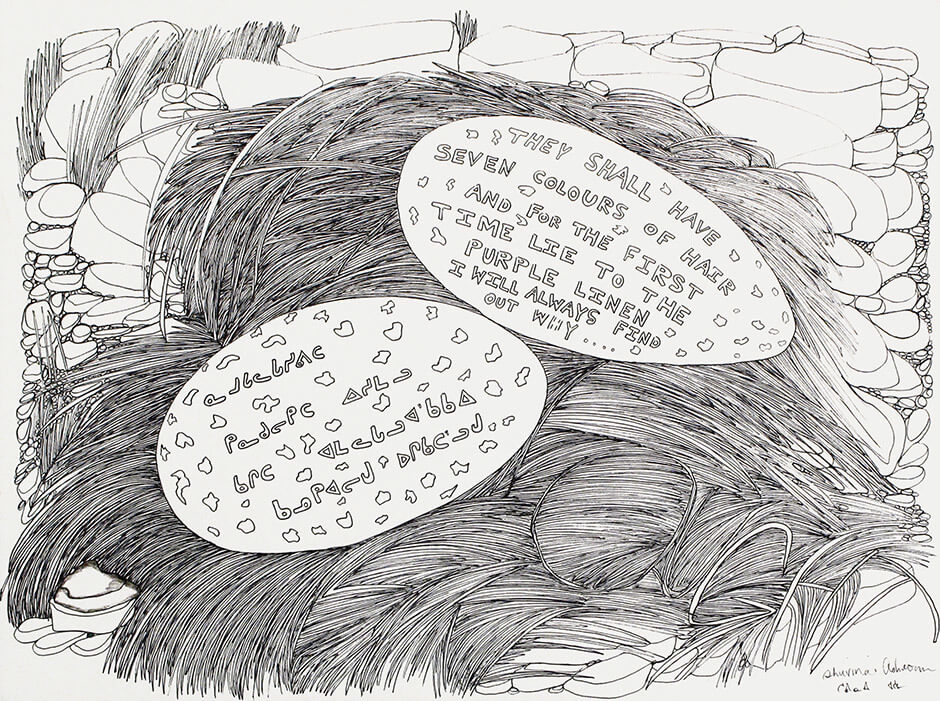 For a number of years the image of a duck egg featured prominently in many of Shuvinai Ashoona's landscapes. (A duck is pitseolak in Inuktitut, but whether Shuvinai was making a reference to her grandmother Pitseolak Ashoona [c. 1904–1983] is speculative.) Fresh eggs are considered a delicacy in the Arctic. Shuvinai would have foraged for eggs in the summer, finding them in nests on the land. Composition (Egg in Landscape) stands apart from Shuvinai's other works with duck eggs, for its strong conceptual aspect and the poetry of its textual elements.
Composition (Egg in Landscape) pictures two eggs in a nest of grass. The rocky terrain and vegetation are drawn primarily in Fineliner pen; the grasses that form the nest are heavily rendered and quite detailed. Here, the two eggs appear to be messengers, with English text, Inuktitut syllabics, and symbols drawn on the surface of the eggs. The text is poetic but cryptic: "They shall have seven colours of hair and for the first time lie to the purple linen / I will always find out why.…" The syllabics on the other egg translate as "Where are we going, who are we? Thoughts? Brain. Wondering if it's going to open. How to spit?" In addition to the text on the eggs, the word "thought" is delightfully embedded in and formed by blades of grass. The upper left corner reveals the "TH," with "OUGHT" in the bottom right. The division of the word is also a bit of wordplay by the artist and is reflective of the musings she placed on the eggs.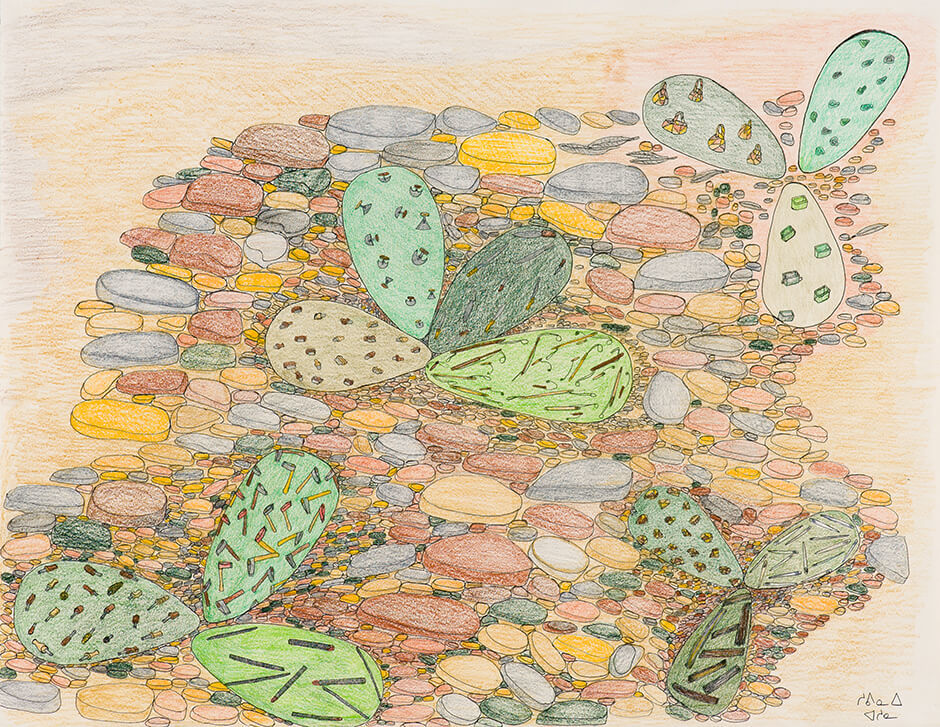 The intention or meaning of textual elements in Shuvinai's work is often difficult to determine or define. In this drawing, the words seem to have something to do with fertility and new life. The archetype of the egg certainly represents such themes in Western art and literature, but it's risky to use such associations to interpret Shuvinai's thoughts, writings, and drawings. The Beat poets of the 1950s, "a group of writers who were interested in changing consciousness and defying conventional writing" with their free-form, rhythmic writing, surrealist influences, and highly expressive individualism, offer an intriguing parallel to the artist's process with text. In Composition (Egg in Landscape), textual elements evoke a sense of wonder and cataclysm simultaneously, not unlike the best writing of the Beat poets.
Egg and Tools, 2004–5, shows another fine example of Shuvinai's use of eggs in her compositions. A conceptually rich piece, this ink and coloured pencil drawing features clusters of three and four eggs nestled in an almost flowing rockscape, another recurring motif in Shuvinai's work.