Composition (Overlooking Cape Dorset) 2003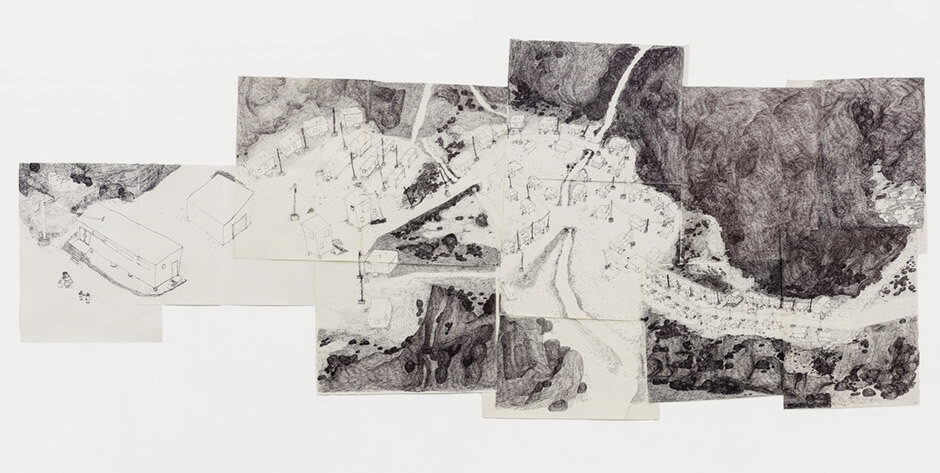 An assemblage of twelve sheets of paper, Composition (Overlooking Cape Dorset) is an anomaly among the hundreds of thousands of drawings produced in Kinngait. Shuvinai Ashoona began this black and white, bird's-eye depiction of her community in 2003. She connected large sheets of paper (each 50 by 66 centimetres) to expand the composition and include more details than she would otherwise have been able to on a smaller surface. She did this intuitively, pinning pieces while she drew in order to form her vision of Cape Dorset.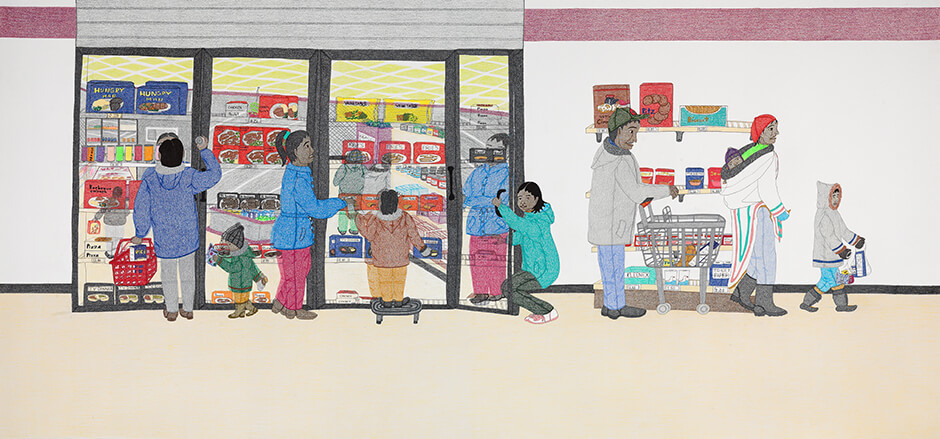 When assembled on the wall, Composition (Overlooking Cape Dorset) is more than three metres wide. Although a few large-format watercolours were produced at the West Baffin Eskimo Co-op before 2003 (for example, the watercolour Rendered Oil, 2002, by Arnaqu Ashevak [1956–2009]), this work predates the 2006 introduction of large-scale coloured pencil and ink drawings produced and facilitated by Kinngait Studios, such as Cape Dorset Freezer, 2005, by Annie Pootoogook (1969–2016). The larger format vitalized the studio as collectors of contemporary art and museums sought them out.
Composition (Overlooking Cape Dorset) depicts the view from the crest of the hill overlooking the part of town where the artist grew up. Many aspects of this vista are true to life—the houses, power lines, and roads—but this is not strictly an exercise in mapping: she adds details that are imaginary or perhaps memories of how the town used to look. Unlike most Inuit drawings, Composition (Overlooking Cape Dorset) has been exhibited, almost exclusively, in mainstream contemporary art venues. Its size allows it to sit comfortably in a contemporary art exhibition space, and the bird's-eye view and innovative construction make it a unique piece. It was first exhibited in 2008 at the Western Front Gallery in Vancouver as part of Never let the facts get in the way of the truth, a group show featuring the work of Shuvinai Ashoona, Nadia Myre (b. 1974), Allan Packer (b. 1956), and Tania Willard (b. 1977). This exhibition was curated by Candice Hopkins and dealt with issues of mapping and memory.
This landmark work was also included in the 5th Moscow Biennale, 2013, curated by Catherine de Zegher, followed two years later by SITE Santa Fe's Unsettled Landscapes: SITElines: New Perspectives on Art of the Americas, 2014–15. Shuvinai is one of the few artists from Kinngait who has successfully straddled the worlds of contemporary art and Inuit art and gained international recognition for her drawings.