Three Cousins 2005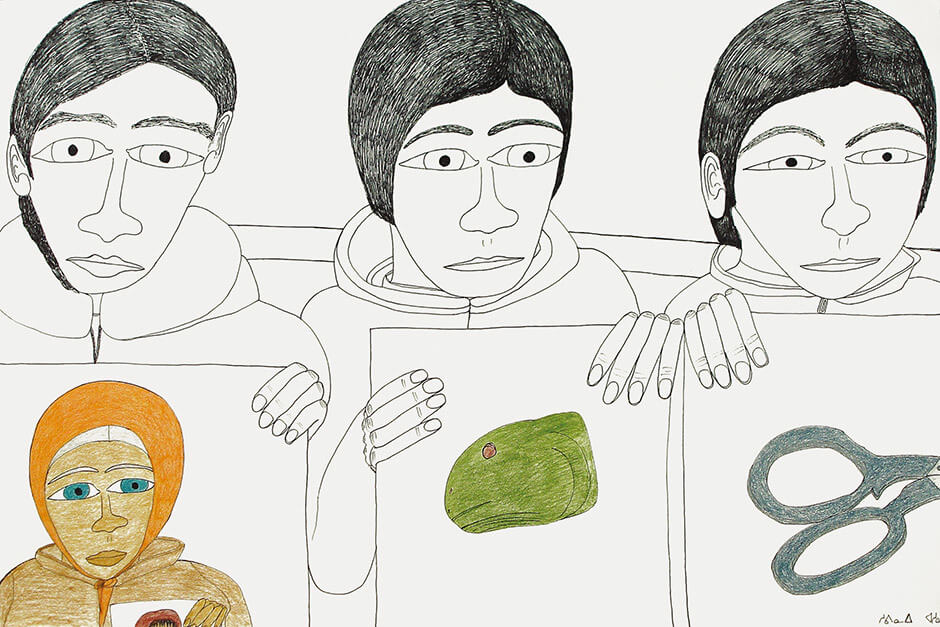 Three Cousins is one of the first drawings in which Shuvinai Ashoona employs saturated colour in parts of her work. In the piece, Shuvinai depicts a recurring subject in Inuit art: artists presenting their drawings for a buyer. This theme appears in work by Inuit artists of earlier generations, such as The Critic, c. 1963, by Pitseolak Ashoona (c. 1904–1983), and Tourist Photographing Woman Drawing, 1981–82, by Napachie Pootoogook (1938–2002). Shuvinai would have seen these drawings in the studio. Here she depicts each of the trio holding up one of her own drawings. On the left, Shuvinai holds a drawing of a woman with her signature blue eyes, and this woman is also holding up a drawing. The middle figure is identified as Siassie Kenneally (b. 1969), holding a drawing of a fish head. Siassie's work often includes animal and fish parts, the ingredients for soup or a meal. On the right, Annie Pootoogook (1969–2016) is holding up Kijjautiik (Scissors), created during a period when she was isolating objects from her everyday life and depicting them on a white ground (for example, a red bra, a Coleman stove, a bottle of Tylenol).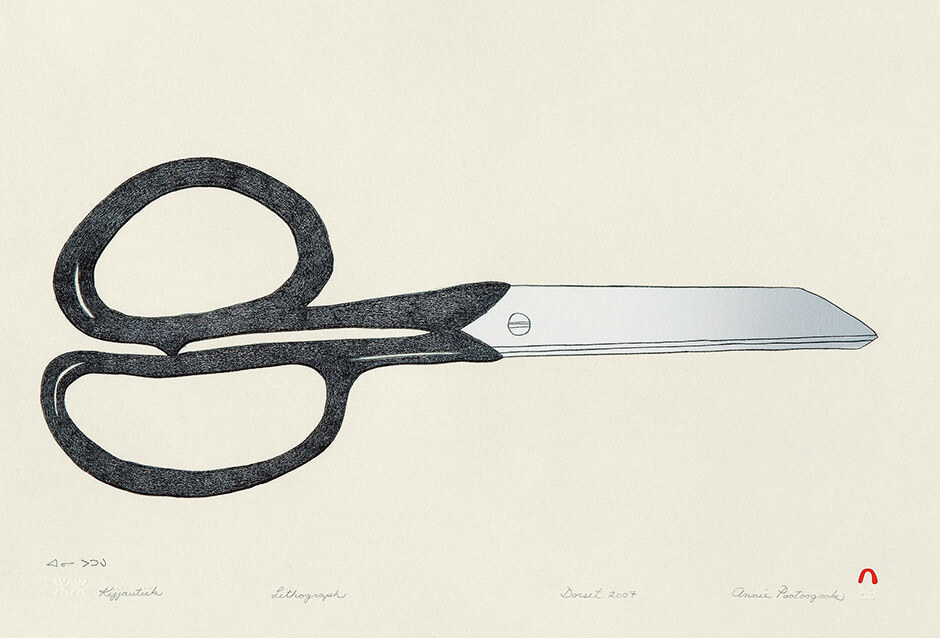 The saturated colour is used only in the drawings held by the cousins, creating a contrast to the faces above. The images in the drawings identify and date the artists in the picture. By representing specific work of each of the three artists at the time of its creation, Three Cousins cleverly stops time, documenting not only Shuvinai's life and work but also that of her peers and successfully capturing the enthusiasm of the artists working at the studio in 2005.
Three Cousins was featured in Ashoona: Third Wave, New Drawings by Shuvinai Ashoona, Siassie Kenneally and Annie Pootoogook, a 2006–7 exhibition at the Art Gallery of Alberta in Edmonton. The exhibition showcased new talent from Kinngait while highlighting the strong familial connections and influences among generations of artists in the small community. The three artists featured in the exhibition are first cousins and granddaughters of Pitseolak Ashoona and have come to be known as third-generation Cape Dorset artists. At the time this work was produced, the three cousins were working side by side in the studio at the West Baffin Eskimo Co-operative. They were part of an emerging group of third-generation artists producing groundbreaking and provocative drawings. Although they adopted elements from earlier generations of Inuit artists, in particular from their grandmother, each developed a personal style that combines the traditional with the new.