Are You Talking to Me? 1978–79

Self-portraits have strategic importance for Lake, unifying self-representation, performance, and dialogue with viewers—and in all these respects, Are You Talking to Me? is a major work. In this series of images Lake photographs herself as she repeats the iconic question from Robert De Niro's famous scene in the film Taxi Driver (1976), where he talks to his reflection in the bathroom mirror while pulling a gun from his sleeve. The photographs are, simultaneously, depictions of Lake herself, De Niro, and De Niro's character Travis Bickle, though they are more than mere documents. By referring to De Niro's character, the images address the viewer directly, leading to a relationship between who they are and what they see.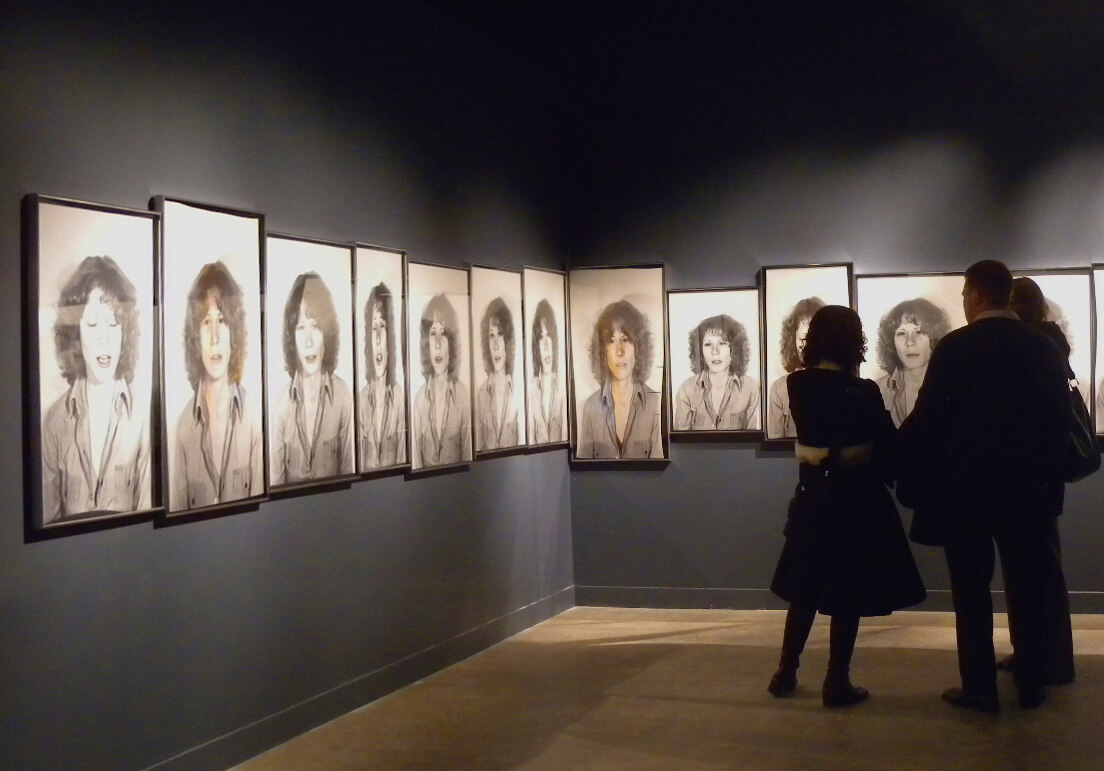 Unlike her previous series, where other people were present on- or off-camera, Lake chose to be alone in her studio as she photographed this work, so she could get into the needed state of anxiety as she repeatedly asked herself this question. She selected the final images from a mass of possibilities, grouping them in a linear order that would recount a narrative. Though the sizes of the images vary a little, they are all larger than life size, and she manipulated the negatives by heating some and stretching them vertically, exaggerating her angst. With others, she tinted or painted on top of black and white images with traditional oil paint, to accentuate the colour, and then re-photographed them using colour film. Even on the black and white prints, she hand-tinted the mouths. For the installation, she hung the framed images close together in a horizontal sequence, with all the mouths at the same level. Arranged in this way, the photographs provoke a conceptual conversation between themselves and with the viewer, enlivened by their rhythmic groupings within the gallery. "The whole room was a conversation," Lake said, "and each wall would be like a sentence in that conversation."
The monologue is inherently related to the original performance of masculinity by both De Niro and his character Travis Bickle. Because Lake is a woman, her "speech act"  becomes a form of reclamation and re-gendering of the original performance. In repeating De Niro's iconic lines, Lake not only quotes the scene but embodies it, raises questions of gender roles, and secures the pop cultural reference in art history.
Are You Talking to Me? continues the research and experimentation around performing, documenting, and representing the self that Lake began while living in Montreal with works such as Miss Chatelaine, 1973, and A One Hour (Zero) Conversation with Allan B., 1973. Are You Talking to Me? is perhaps the culmination of these experiments and marks Lake's relocation to Toronto. It was originally exhibited at the Sable-Castelli Gallery in 1979, then travelled across Canada for nearly three years with favourable reviews. It was also included in the exhibition Introducing Suzy Lake at the Art Gallery of Ontario in 2014–15.