On Stage 1972–74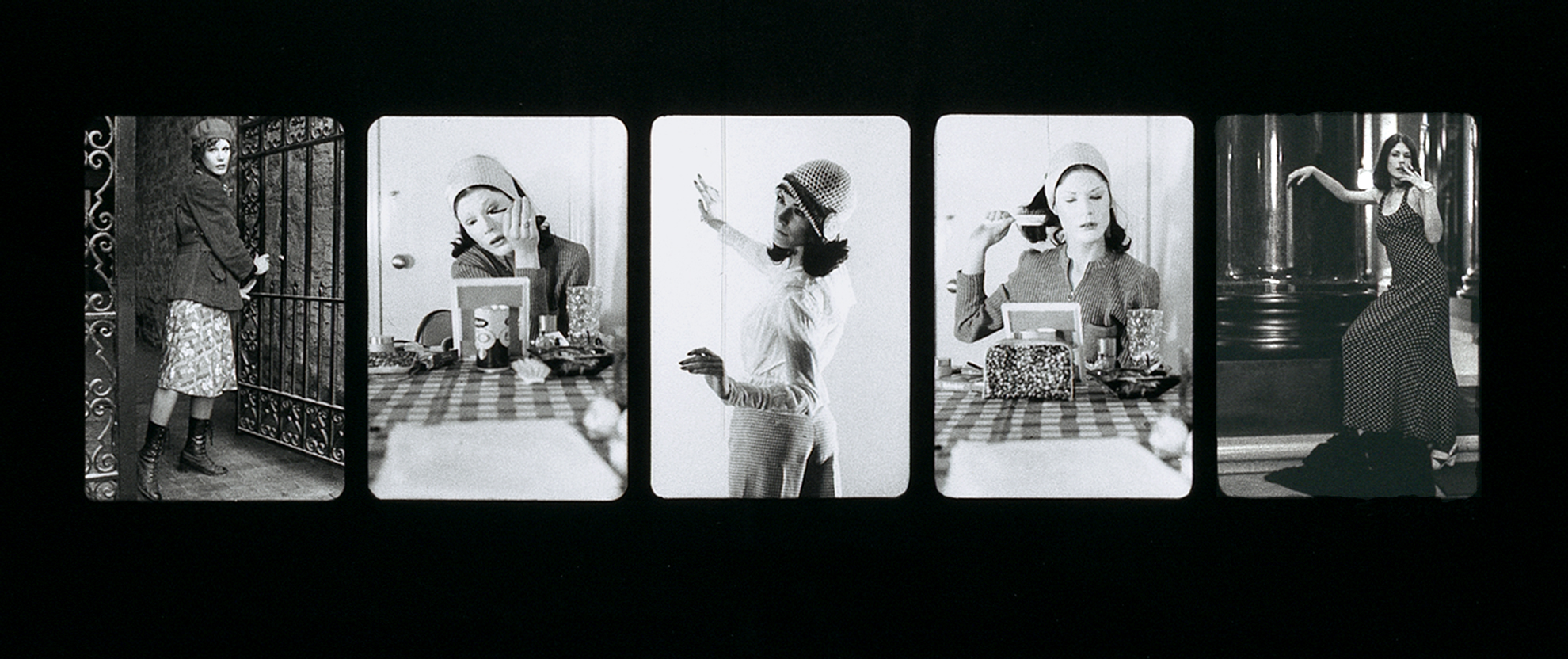 During the early 1970s, Lake created her breakthrough work, On Stage. Using herself as the model for a series of photographs, she explores how our identity is shaped by both ourselves and society. The work would have a far-reaching impact on the international art world. The American artist Cindy Sherman (b.1954) has credited it as a major inspiration for the conceptual portraits for which she became famous.  For On Stage, Lake produced three iterations of still photographs: first, in 1972, a slide projection of eighty-four photographic images in which she posed as a fashion model in different scenes and costumes; then, in 1973, a new iteration of these images with the addition of bilingual captions to explain her intentions; and finally, in 1974, a new group of close-up photographs of her upper body, in whiteface makeup, arranged in a grid.
Over the years, On Stage became iconic as the forerunner of many recurring features in her oeuvre: the use of her own body as a constant reference point; the arrangement of the images in a grid sequence, much like the contact sheets common in advertising photography; the use of whiteface to erase her own individuality and provide a "zero" slate for the work; and her interest in the themes of feminism, identity, and protest. As Lake expressed it: "Art became a mode through which to explore the social, political, and philosophical concerns of the time."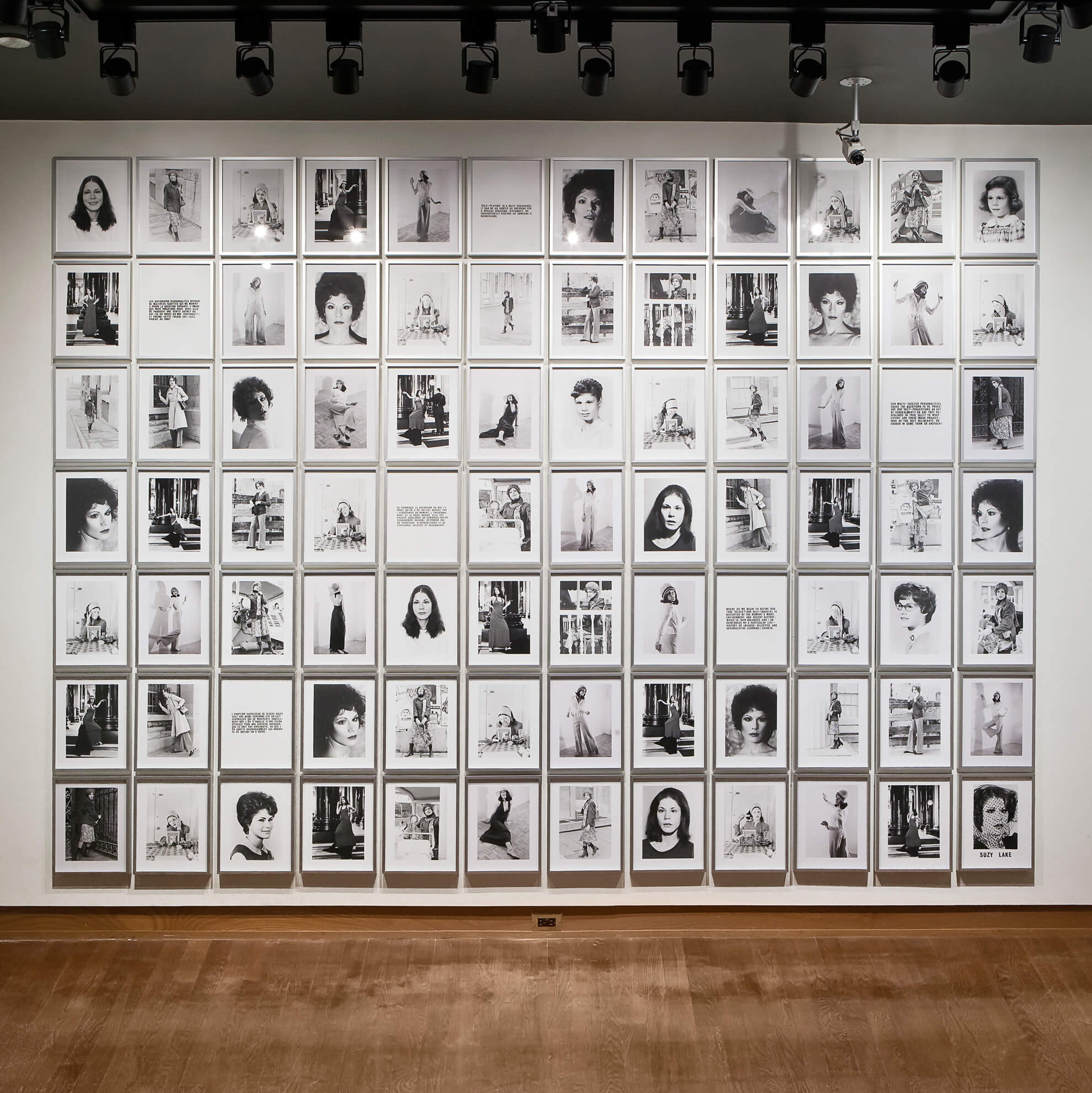 An occasional fashion model and life model for artists, Lake appears in this work in a variety of interior and exterior settings. She mimics the fashion photography that appeared in contemporary women's magazines through exaggerated poses and gestures, such as being photographed mid-stride or staring away from the camera. Lake calls this work a "provocation" of self-fashioning and role-playing, an exploration of identity at a moment of social and political upheaval.  Through the use of imitation, the fashion model, a ubiquitous signifier of ideal femininity at this time, became a sign that could be explored and critiqued from a feminist perspective. On Stage marks the beginning of Lake's preoccupation with questions of perception and formation of the self—by the self, by others, and within broader society.
The photographs range from close-up headshots of Lake as a child and young woman to portraits of the artist in a variety of costumes, hairstyles, and makeup. Lake writes in a text accompanying one of the images: "Role playing is a daily occurrence; it can be as subtle as dressing for a special occasion, diplomacy, or inadvertently picking up someone's mannerisms." In another of the captions, with text alternating between English and French, she juxtaposes three family snapshots of herself as a toddler at Halloween, a child playing the accordion, and a teenager at a prom, asking, "Where do we begin to define our true selves?" Lake did not intend to produce an autobiographical portrait but rather to examine what she refers to as "portraits as an issue of identity."
In its original iteration, the series included only the fashion photographs. However, amid the seriousness that marked the women's liberation movement and other political movements of the day, including civil rights and various decolonization movements around the globe, the subtlety of the work was not immediately appreciated. It was even mocked for being "narcissistic."  This charge led Lake to alter the work by adding subversive images and texts in order to emphasize that this self-conscious performance was both for the self and for others.
The On Stage series proved to be influential in Lake's development as an artist in the early 1970s. She went on to use whiteface in several other works from these years, including Miss Chatelaine, A One Hour (Zero) Conversation with Allan B.,  and Imitations of Myself, all from 1973. The overall effect of altering her appearance within the photograph eventually became, for Lake, a more overt strategy of manipulation and distortion of the surface of the photograph itself, techniques that can be seen in Suzy Lake as Gary William Smith, 1973–74, a work from her Transformations series.