Bell Memorial 1909–17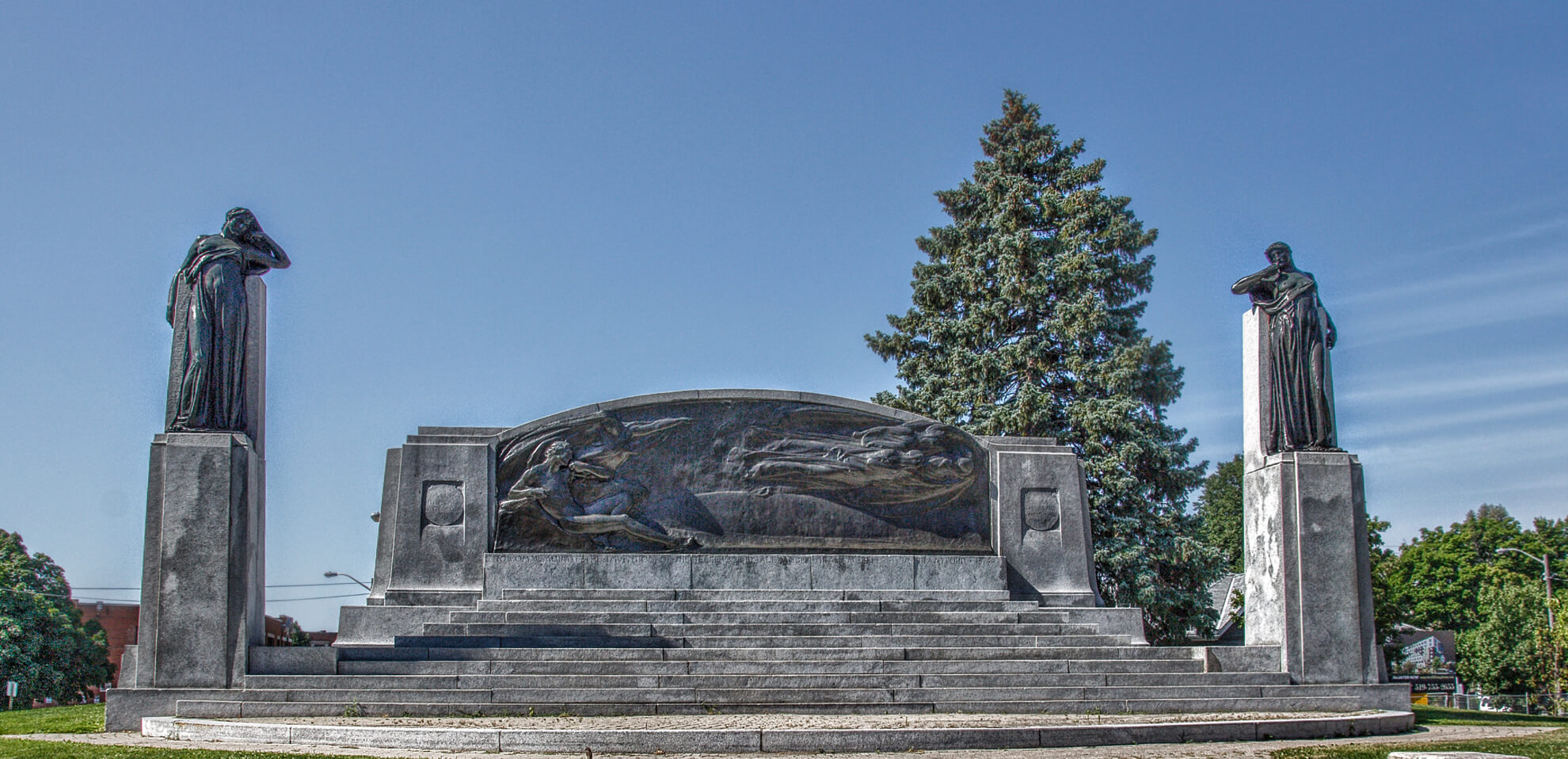 The Bell Memorial is grand in scale, befitting the subject. Allward aimed to capture the world-changing nature of Alexander Graham Bell's invention of the telephone. Bell received the first long-distance telephone call in 1876, after running telegraph wires between the towns of Brantford and Paris, Ontario, thirteen kilometres away. In describing the design, Allward noted that he had tried to "cover as much space as possible, owing to the large area of the proposed site, and to create a design which would be interesting and expressive in outline from any point of view."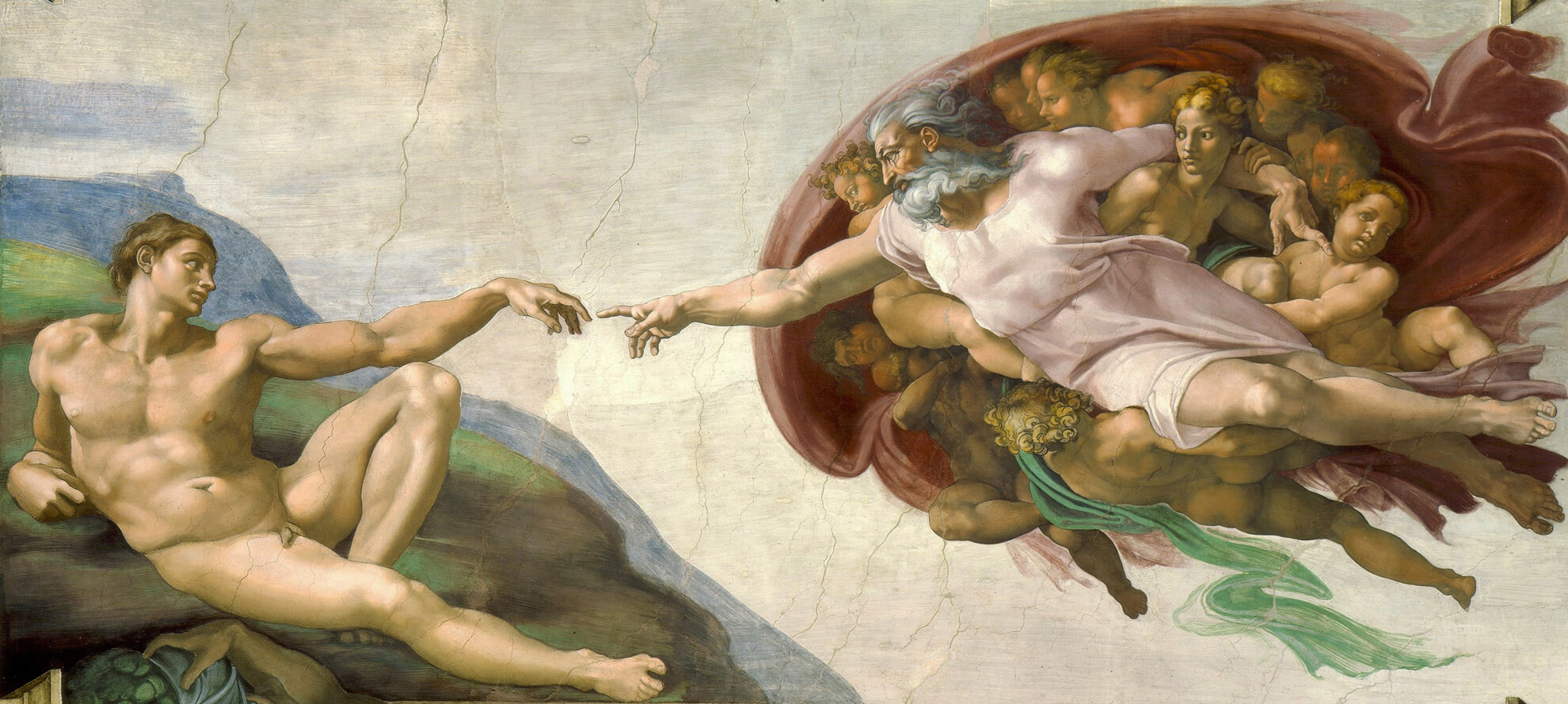 The Bell Memorial consists of two twelve-foot bronze allegorical figures representing Humanity, one talking and the other listening. They are positioned on grey granite pedestals at either end of the monument, which measures approximately fifty feet across. In the centre is a large bronze panel, carved in low relief, depicting a man sending messages over a curved surface representing the Earth. Above this man, inspired by the image of Adam on the ceiling of the Sistine Chapel, c.1512, by Michelangelo (1475–1564), is a figure symbolizing Intelligence and, on the right, are three floating messengers, Knowledge, Joy, and Sorrow. The only direct reference to Bell is in the inscription beneath the panel, "To commemorate the invention of the telephone by Alexander Graham Bell in Brantford 1874". The memorial marked a complete break from Allward's early upright Beaux-Arts sculptures by presenting classical figures within a horizontal composition, conveying the telephone's ability to span vast distances.
The idea to honour Bell's invention had originated with William Foster Cockshutt, a Conservative member of the Canadian House of Commons and president of the Brantford Board of Trade. In 1906, after securing the support of the City of Brantford and receiving an authoritative statement from Bell confirming the city's claim as the location where the telephone was invented, Cockshutt formed the Bell Memorial Association. The competition announcement, published on September 30, 1908, stipulated that the memorial "should chiefly be allegorical in its character."  It required the designs to be "in the form of sketch-models, in white plaster, made on a uniform scale of one and one-half inches to the foot" and that "a typewritten description of the design shall accompany each model." Ten designs by sculptors from Europe, the United States, and Canada were received by the selection committee; after careful consideration, Allward's design was chosen.
Allward's deadline was originally set for August 1912, but he was able to finish only the full-size plaster versions of the two allegorical figures in August 1914. After inspection by committee members, they were sent for casting to the Gorham Manufacturing Company in Providence, Rhode Island, but work there was delayed owing to the war-time shortage of French sand, a material used in the casting process, and the fact that several skilled workers had enlisted.  The project was postponed further when in the summer of 1916 an explosion at the plant during the casting of the right half of the bronze panel destroyed the mould and injured several workers. Despite these setbacks, Gorham completed both halves of the panel by April 1917. Victor Cavendish, Governor General of Canada, unveiled the Bell Memorial on October 24, 1917, in the presence of Alexander Graham Bell and several thousand onlookers.