The Dead Hear 1941
In this work five figures are raised from the dead by a trumpeter to help with the war effort. Visible in the distance through a doorway on the right is an outline of St. Paul's Cathedral, a symbol of British resilience during the Second World War. The cathedral survived a ferocious German air raid in the early morning of December 30, 1940, and was immortalized in one of the war's best-known photographs, St. Paul Survives, by Herbert Mason (1903–1964). The theme of the drawing alludes to The Bible verse 1 Corinthians 15:52: "for the trumpet shall sound, and the dead shall be raised incorruptible, and we shall be changed." It also recalls Allward's dream of soldiers rising in support of the living, which served as an inspiration for the Vimy Memorial, 1921–36.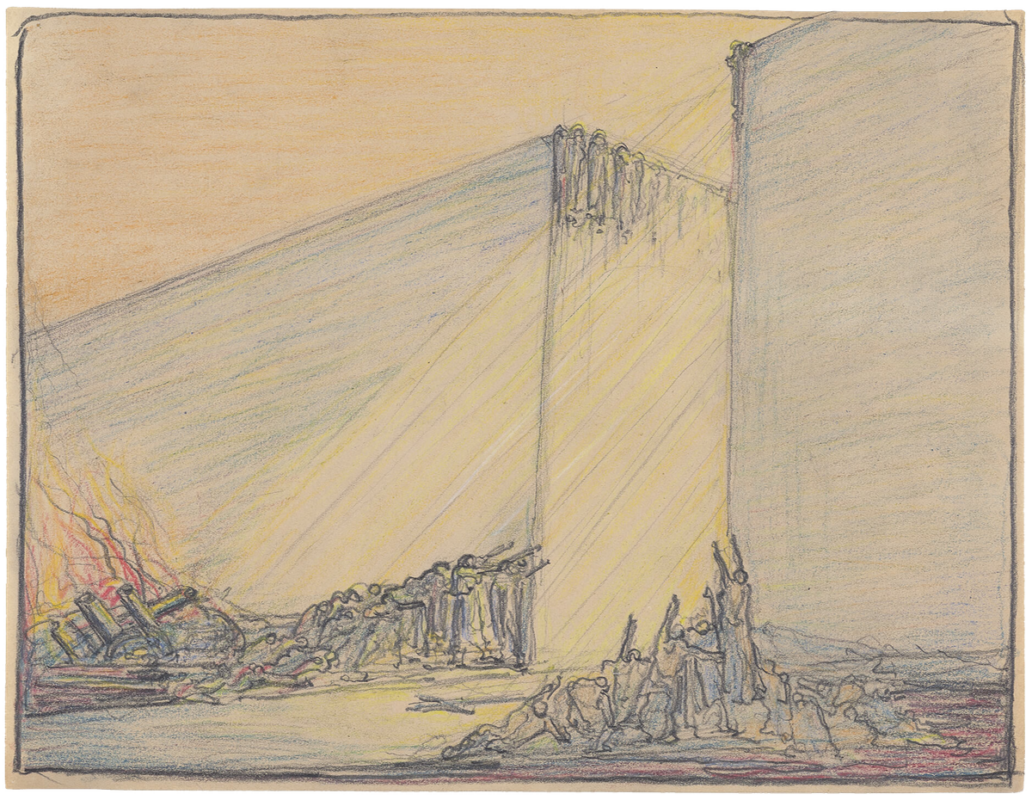 The Dead Hear belongs to a series of approximately one hundred allegorical sketches on war themes that Allward produced at the onset of the Second World War. He referred to them as war cartoons, reflecting the disillusionment and despair he felt following the Nazi invasion of Europe in the late 1930s. In contrast to his numerous sketches for monuments, the emotional directness of these works places them in the tradition of Francisco Goya (1746–1828) and the German twentieth-century Expressionist masters Otto Dix (1891–1969) and George Grosz (1893–1959).  The linear style and visionary quality are reminiscent of works by William Blake (1757–1827), whose work Allward had ample opportunity to view during his years in London. The figures in the drawings are similar to sculptural works he produced during his mature phase, including the two bronze sculptures for the Stratford War Memorial, 1919–22. Although the war cartoons remained part of Allward's private collection and were never exhibited during his lifetime, they are among his most accomplished drawings and as a group represent his last major work.
Various subjects are presented in the drawings, ranging from an anguished group of figures run through with a large sword held by the hands of God, in Victory to the hopeful image of a haloed Christ figure rescuing drowning figures from the turbulent waters below. As with The Dead Hear, many of the works contain Christian imagery. Within Allward's oeuvre, they resemble, both in emotional depth and religious content, a series of melancholic drawings that he executed at the onset of the First World War, Death of Artist, c.1914, and The Battlefield, c.1916, among them. Unlike the earlier pieces, however, where he used washes of ink over graphite, the war cartoons are executed in graphite and coloured pencil. They also differ in their immediacy and emotional impact, which Allward achieves in part by placing his figures close to the picture plane and minimizing depth throughout the composition.