Throughout history, there have always been conflicts between different peoples and rival countries. Canada is no exception: our war art reflects cultural, military, political, and social evolution over thousands of years. War art, as defined in this book, is an expansive concept, and one that is better described as visual culture than as fine art. It encompasses any artwork or artifact that can be understood as a creative response to conflict. Military art, another term for war art, can be made by anyone and in virtually any material. It embraces sculpture, graphics, film, photography, and digital media as well as craft, textiles, and carving. Nevertheless, art, like history, tends to favour the victorious, so, until recently, the bulk of Canadian war art has reflected Western traditions and genres at the expense of Indigenous expressions. This book attempts to redress the balance.
The earliest existing art is rare—a few examples of rock art and other surviving creations by Indigenous peoples from all regions of the country. In colonial times, dramatic and documentary European-style paintings and drawings were produced in ever increasing numbers in New France and British North America, culminating in a profusion of artworks in every medium during the First and Second World Wars. More recently, artists have protested, questioned, and supported wars in which Canada played no part, as in Iraq, as well as Canada's military and peacemaking initiatives in many countries, including the former Yugoslavia and Afghanistan. The ubiquity of digital media has created unprecedented visual records of war, a dramatic contrast to the many early conflicts in this country that were hardly documented in imagery at all.
War art is a challenging subject to study in Canada because it lacks the long tradition found in Europe and a few other countries. Canadian military art, in comparison, is a patchy endeavour. Furthermore, the country's art and military histories are out of balance in terms of quality and quantity. The objects provide some material evidence of conflict over time, but not the full record or the correct chronology. Rather, they tell their own stories about the relationship of war and art: for example, the allegorical Canadian National Vimy Memorial, unveiled in 1936, by Walter S. Allward (1874–1955) conveys a lot about postwar national grief in Canada but little of the tragic 1917 Battle of Vimy Ridge. As viewers, then, we must try to understand an artwork's true historical meaning and purpose as well as its relevance to us today.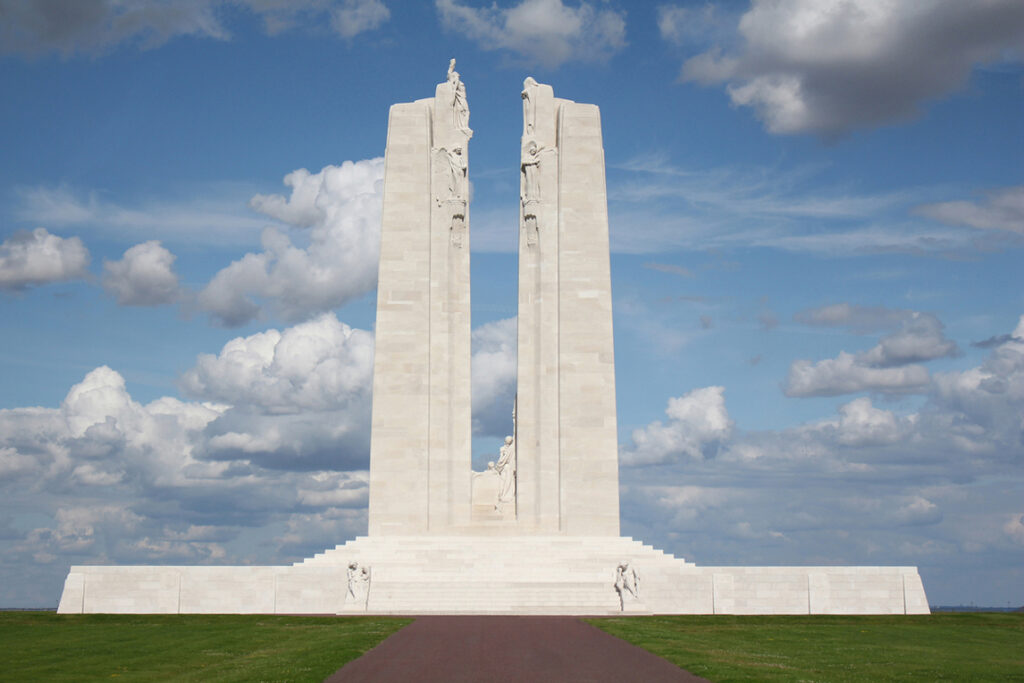 With only a few exceptions, most war art in Canada is collected in history museums rather than art galleries—and many people regard it as a reliable illustration of history. This tendency was already at the fore when, in 1971, the National Gallery of Canada transferred almost all its collection of official war art to the Canadian War Museum. It kept only a few items it considered art rather than history. The gallery ignored the fact that works of art are rarely objective; rather, they reflect the artist's subjective opinion, formal concerns, imagination, memory, and cultural and societal influences. For the most part, all that war art can do is help to bring us closer to an impression of conflict, not to an image of the conflict itself. This book shares that goal.
War Art in Canada explores an extraordinary range of artists and artworks. The first two chapters—Historical Overview and Key Works—each cover three main periods, with an unavoidable emphasis on the remarkable twentieth-century Canadian war art of the First and Second World Wars. The first period includes Indigenous art objects as well as the colonial military art in New France and British North America from the pre-contact period to the South African War (1899–1902). The second period, the largest and most image-rich in the book, highlights the significant and influential creative legacies of the First and Second World Wars (1914–45) and introduces the private and official art schemes (the Canadian War Memorials Fund and the Canadian War Records) that together generated some six thousand artworks. The third period carries on with two further government-sponsored war art schemes, the Canadian Armed Forces Civilian Artists Program during the Cold War and the ongoing Canadian Forces Artists Program, and addresses the postwar and contemporary years up to the present day. The third and fourth chapters of this book—Critical Issues and Materials and Techniques—expand these discussions. Critical Issues addresses the following subjects in the context of war and military art: official war art, exhibitions, memorials, identity, women, Indigenous representation, propaganda, protest, violence, and religion. Materials and Techniques outlines the creative modes associated with war art: painting, sculpture, prints and drawings, posters, photography, and film and video. Taken together, these chapters provide new insights into our country's deep and often disturbing relationship with combat.