Caribou Hunting, The Chance Shot 1866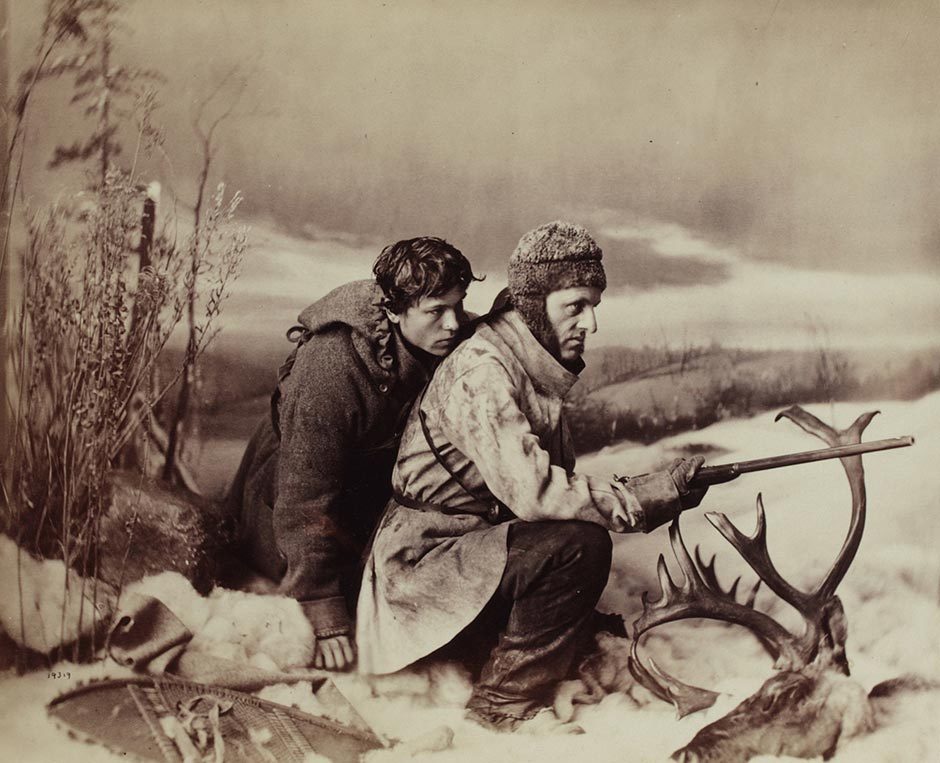 Winter scenes, recreated in the studio, were the source of much of Notman's contemporary renown and financial success. These scenes have also been the object of much subsequent derision. They are, of course, illusions. The "snow" billows in ways that snow does not. The space is shallow, and the backdrop is clearly painted. The light is too even, and the characters are too posed to be engaged in anything as adrenaline-pumping as a caribou hunt. (The long exposure time for Notman's camera would have required the use of head and body rests to keep sitters still.)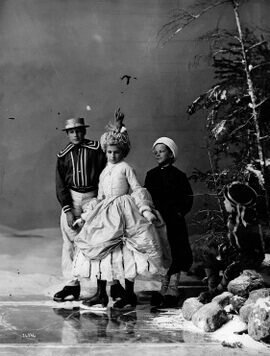 Notman was immensely proud of his innovations in genre photography and set aside a special room in the studio for the purpose of experimentation. He and his team of artists created the snowbanks around the hunters by fluffing lambswool and photographing it slightly out of focus. To approximate falling snow, they would spray glass negatives with white paint. One of Notman's more celebrated and eventually patented innovations was a plate of zinc polished to such a degree that it could appear to be ice, ready for skaters. Another image from the Caribou Hunting series featured a campfire created by a magnesium flare—a lighting technique Notman used for many purposes, given they were operating without electricity.
These were meant to be momentary deceptions, clever visual tricks that allowed viewers to feel a sense of reality. Edward L. Wilson, editor of the influential journal Philadelphia Photographer, featured this image on the cover of the May 1866 issue and raved, "Nature has been caught—not napping—but alive! Out of doors has been brought indoors with the elements…. We have never seen anything more successful and true to nature, without being nature itself. Oh! What a future there is for photography!"
The Caribou Hunting series was commissioned by William Rhodes, a British military officer who had settled in Canada and went on to become a successful landowner and politician. The series consists of nine photographs featuring Rhodes, his son, and their Huron guides. In this scene Rhodes crouches, waiting for the caribou, all the while being quietly coached by his Native guide (played here by one of Notman's employees). Rhodes and his crew used their own clothes and equipment in an attempt to make these thematic portraits as authentic as possible.
Reminding us that naturalism is always a historically contextual illusion, these images were described by contemporary viewers as miraculously lifelike. Notman submitted them to many periodicals and to exhibitions, including the Paris World Exposition of 1867, where they won awards. Thematically, they capture an appealing view of the Canadian experience, filled with adventure and friendly indigenous guides. Rhodes was able to collaborate with Notman to record his rather heroic view of himself in the Canadian landscape. Thankfully for Notman, it was a view that appealed to many, and he sold copies of the image in several sizes.