In this gripping image, Kinngait (Cape Dorset) artist Pitseolak Ashoona (c.1904–1983) strikes a balance between the familiar and the otherworldly. The figure of the shaman's wife boldly faces the viewer and exudes a powerful sense of mystery, yet equal attention is given to the details of her traditional clothing and facial tattoos.
By 1980 the Cape Dorset printmakers excelled at the stonecut print and were able to capture the quality of Pitseolak's energetic line. The linear outline in the print, not easy to accomplish, is in keeping with her original drawing. Even the texture of the sealskin clothing and the pattern of the facial tattoos appear to be active, true to Pitseolak's interest in conveying movement throughout her artworks.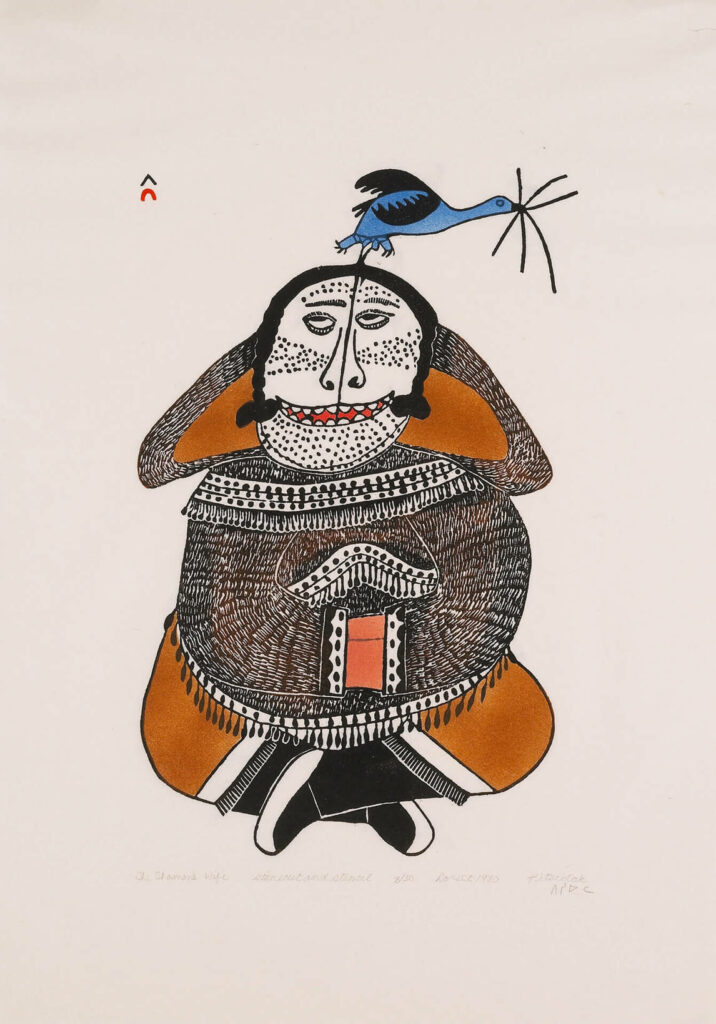 The woman sits in a meditative pose with arms tucked into sleeves and legs crossed. Her mouth is slightly distorted, and her eyes are turned up as if she is in a trance. On top of her head is a bird—a prevalent feature in Pitseolak's art—which in this instance likely represents the shaman's spirit helper. A shaman in a trance was believed capable of seeing through the eyes of the spirit helper and could therefore assist hunters in locating game.
This Spotlight is excerpted from Pitseolak Ashoona: Life & Work by Christine Lalonde.