In 1984–85 the Canadian painter and Holocaust survivor Gershon Iskowitz (1919–1988) produced twenty-two paintings, both single canvases and diptychs, titled Northern Lights. All have similar compositions, with ovoid blips clearly expressed on the grounds. Also in 1984, he embarked on six known multipanelled works that he called "polytychs" because he painted them on seven separate but joined sections: "I had in mind for a long time to paint a polytych where I could really create lots of space and depth in terms of the sky and flying shape. . . . [E]ach shape forming the polytych is different, and yet the entire composition is harmonious."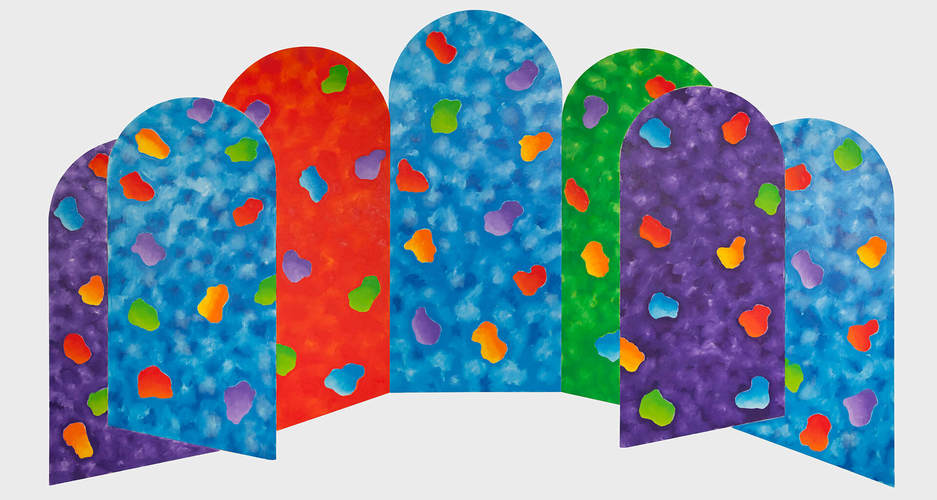 In these works, the paradox of direction and movement is now actualized in a pronounced optical distortion in the left and right segments, which each comprise what appear to be three overlapping arched pieces but are in fact seven individual paintings mounted as one. The centre panel in each of the Septets is the only one that is not distorted.
Curator Roald Nasgaard writes:
[The Septets are like] giant tablets or stained glass windows, or segments of an altarpiece. Stylistically, these works resemble the abstracted colour-field landscapes, but Gershon has upped the expressive ante. They are less lyrical, somehow shriller, the colours searing rather than glowing. They are magnificent but not benign, more hieratic than secular. What had precipitated such a reorientation toward something Mystical? We can only speculate.
This Spotlight is excerpted from Gershon Iskowitz: Life & Work by Ihor Holubizky.