Myself, one of the best-known works by Paraskeva Clark (1898–1986), is a bold self-portrait painted when the artist was pregnant with her second child. A fairly recent newcomer to Canada, Clark was invited to contribute to the inaugural exhibition of the Canadian Group of Painters in November 1933. Two of her works were included in the show, signalling her position as a progressive, modern artist in Canada. The painting remained in the artist's collection until the National Gallery of Canada purchased it in 1974. The following year, the gallery featured it on the catalogue cover and poster for Canadian Painting in the Thirties, the exhibition that resuscitated Clark's position in the history of Canadian art.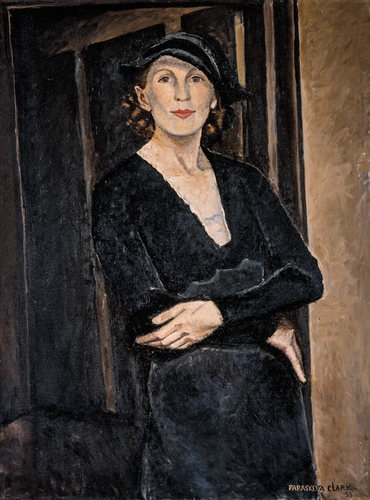 Writers have commented on the self-confidence that the artist exudes in this solidly constructed work. Clark appears much larger than she was in life, standing almost the entire height of the canvas, leaning against a low table in front of an open door. Her height is enhanced by a number of formal devices such as the diagonal line formed by the door panels above her head, rising toward the upper right corner. Her signature red lips provide the only spot of bright colour in the otherwise limited palette.
Clark had once wanted to be an actor: here she makes her entrance on the stage of modern Canadian art.
This Spotlight is excerpted from Paraskeva Clark: Life & Work by Christine Boyanoski.