In 1912 Tom Thomson (1877–1917) bought an oil-sketching kit for painting outdoors. With Ben Jackson (1871–1952), a colleague at Grip Limited where they were both commercial artists, he took his first canoe trip early that spring in Algonquin Park, a vast forested recreation area of rivers, lakes, and three luxury hotels that was about three hundred kilometres northeast of Toronto. Teams of loggers had built dams, sluices, and chutes, and much of the park's acreage of first-growth forests were clear cut. Thomson recorded one of these decaying dams in Old Lumber Dam, Algonquin Park, 1912—a sketch that illustrates his transition from the formalities of commercial art to a more imaginative style of original painting.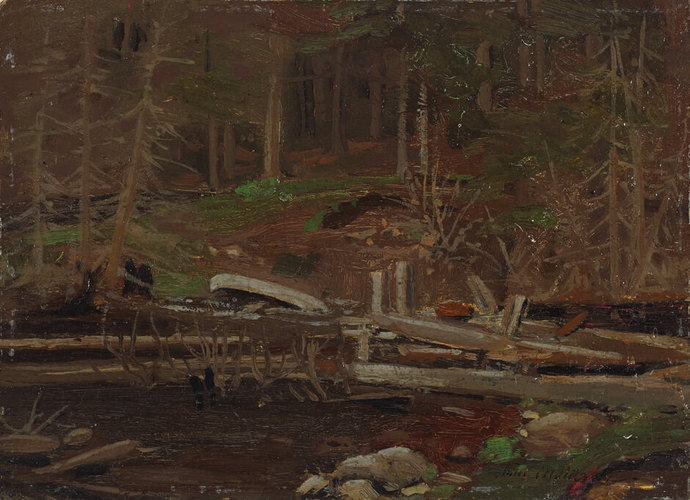 The precision of Drowned Land, 1912, reveals the rapid progress Thomson was making as an artist during that first summer of outdoor painting. The drowned land, perhaps near Lake Scugog or Owen Sound, is the work of enterprising beavers or loggers who, by damming a creek, have drowned a section of meadow and forest at the edge of a lake. The recovering second growth is clearly visible in the background. The painting shows Thomson's obsessive attention to detail—a constant in his work even as he pursued more complicated ideas and ways of painting his "northern" landscapes.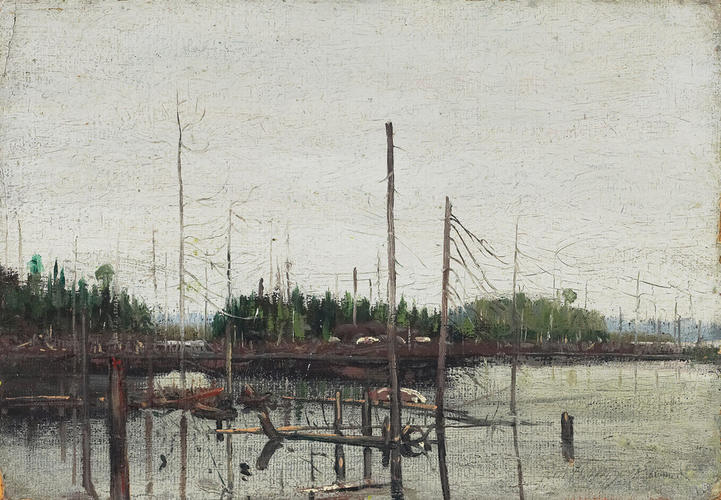 In the fall Thomson then set out on a two-month canoe trip with another artist friend from Grip, William Broadhead (1888–1960), up the Spanish River and into the Mississagi Forest Reserve (now an Ontario provincial park). There they explored the rough and beautiful terrain north of Manitoulin Island and Georgian Bay. They had two bad spills, however, in which Thomson lost almost all his oil sketches and several rolls of exposed film. Undeterred, and encouraged by the success of the paintings that came out of these early trips, he began to devote his life to making art.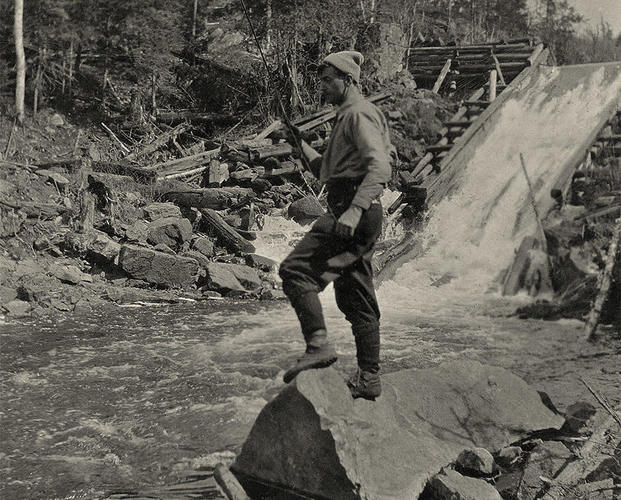 By 1914 he settled into a regular pattern: every spring he headed north to Algonquin Park as early as possible and stayed there as long as he could into the fall. The same year, the National Gallery of Canada, Ottawa, under director Eric Brown (and advised by board member Lawren Harris [1885–1970]), began to acquire Thomson's work, first Moonlight, 1913–14, from the Ontario Society of Artists exhibition for $150; then Northern River, 1915, the following year for $500; and a year later Spring Ice, 1915–16, for $300.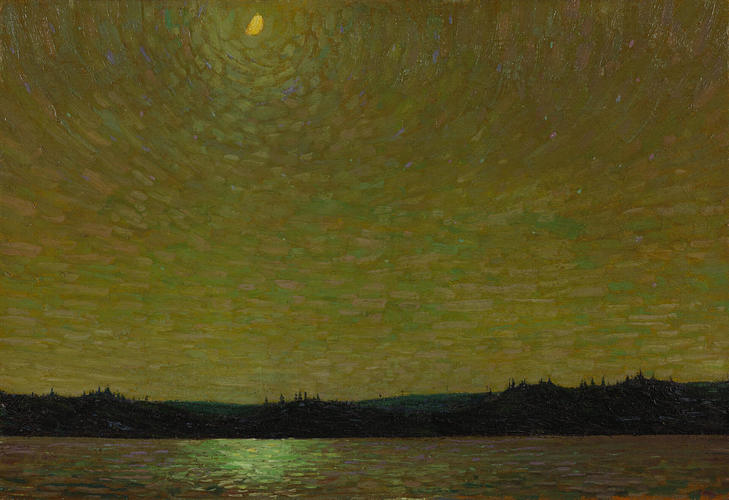 As Thomson's patron Dr. James MacCallum later recalled, when he first saw Thomson's sketches from 1912, he recognized their "truthfulness … they made me feel that the North had gripped Thomson," just as it had gripped him too as a boy. Though his vaunted skills as a canoeist and bushman would be exaggerated by his artist colleagues and admirers after his death, Tom Thomson's paintings of Algonquin Park and Georgian Bay remain an iconic touchstone in Canadian art.
This Essay is excerpted from Tom Thomson: Life & Work by David P. Silcox.