A Polish immigrant and Holocaust survivor, Gershon Iskowitz (1919–1988) arrived in Toronto in 1948 and found his place in Canadian art in the mid-1950s when he switched his subject matter from memories to landscapes, initially in the Parry Sound area north of the city. While a stylistic comparison can be made between works by Group of Seven artists—like Spring, Cranberry Lake, 1932, by Franklin Carmichael (1890–1945)—and Iskowitz's work of this period, his painting was not a "project of the land." Rather, it was a way out of his memories of Poland and the concentration camps, allowing him to break with the past and begin a new life as an artist in Canada.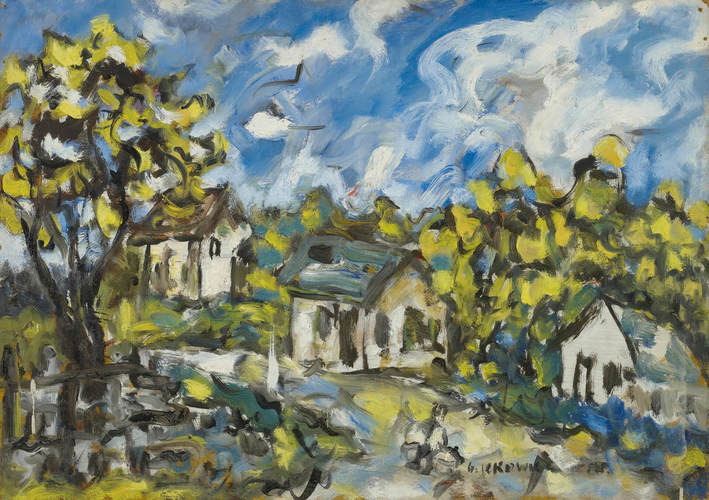 Around 1960 Iskowitz stopped painting literal landscape works and made a significant shift toward abstraction—as in Late Summer Evening, 1962, and Spring Reflections, 1963. While he maintained some pictorial elements in these beautifully coloured paintings, he dissolved the skies into glowing ribbons of light and deconstructed tree forms into brightly hued shapes that seem to explode outward from their trunks. He followed this artistic trajectory for the rest of his life. Iskowitz never explained the reason for this change, but perhaps, amid the freedom and independence he now enjoyed, he decided to pursue his own visual language and discover where it led.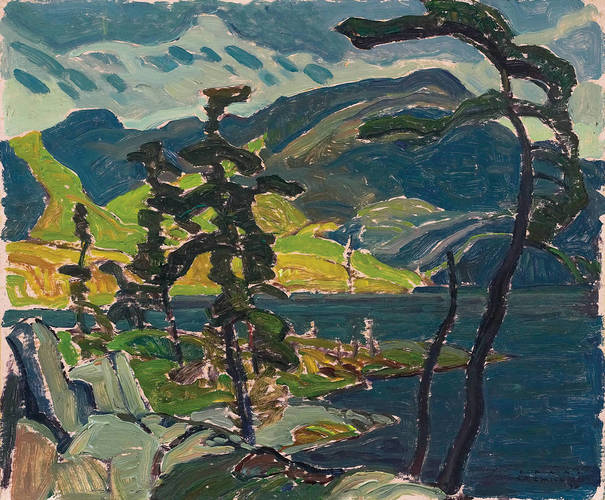 By the late 1960s Iskowitz's abstract pieces had become larger, with reduced elements—as in Autumn Landscape #2, 1967—and they fit with the progressive art being made at that time. Works by Painters Eleven members Jack Bush (1909–1977) and Harold Town (1924–1990), for instance, echoed the dominant trends in painting in the United States and Europe as well as in Canada.
In 1966 Harry Malcolmson was the first art critic to position Iskowitz in the Toronto art scene. In the text he wrote for Iskowitz's solo exhibition at Gallery Moos, he grappled with questions of how Iskowitz's abstract style fit into the contemporary scene, describing how "[Iskowitz's] Canadianism comes out directly in [his] subjects [of] this country's landscape . . . . His personal vision and warmth at first foreign has passed into the community and after a period of time has become an integral part of it."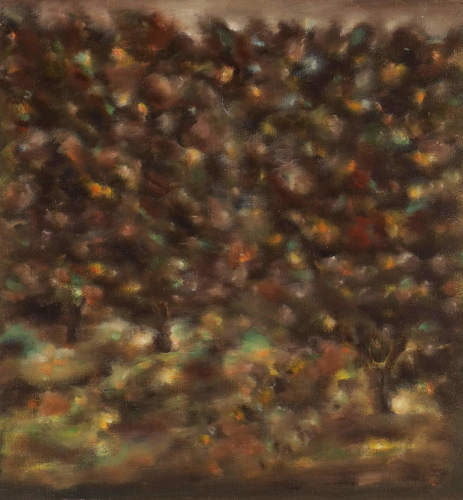 Critic Kay Kritzwiser's review of the 1966 exhibition described Iskowitz's recent work as a "lyric abstraction" that he was now applying "to a countryside usually painted with Group of Seven eyes. Iskowitz," she wrote, "makes us look at it anew." In fact, as Malcolmson had astutely noted, Iskowitz had turned his view away from the horizon line, which defines a view of the land, and looked instead to the sky. He used colours from the land and applied them to the sky, and, because the sky has no shape or form, the works became abstract.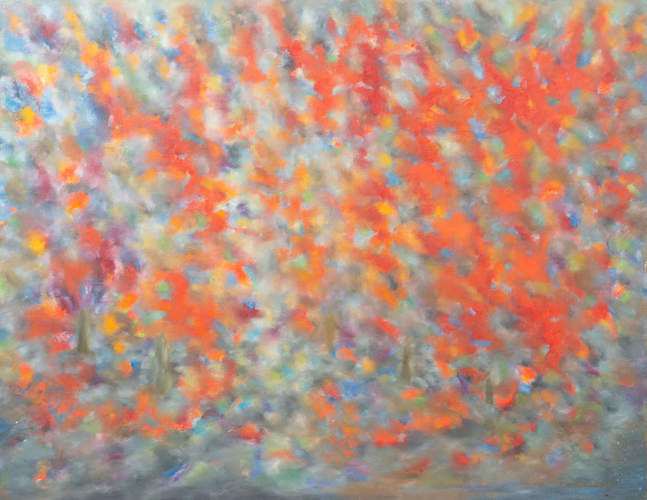 On the few occasions when Iskowitz talked to art critics about his art practice, he defended his independence and refused to be described by any of the common labels. In a 1975 interview with Merike Weiler, he said:
People say, oh, Gershon Iskowitz is an abstract artist. . . . But it's a whole realistic world. It lives, moves . . . I see those things . . . the experience, out in the field, of looking up in the trees or in the sky, of looking down from the height of a helicopter. So what you do is try to make a composition of all those things, make some kind of reality: like the trees should belong to the sky, and the ground should belong to the trees, and the ground should belong to the sky. Everything has to be united. . . .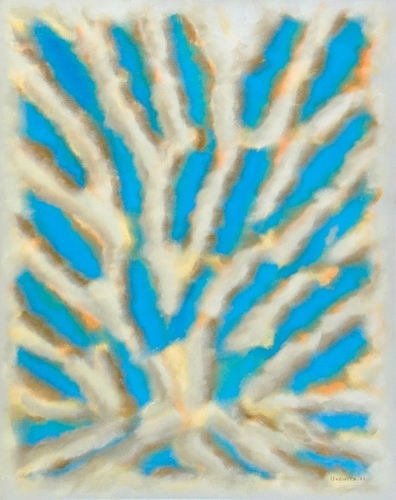 Iskowitz was expressing something beyond the literal, just as instrumental music is formed with sound, tempo, and interval (the space between the sounds), not words. For him the sky was a universal view, one we can all experience regardless of where we live.
This Essay is excerpted from Gershon Iskowitz: Life & Work by Ihor Holubizky.