Lionel LeMoine FitzGerald (1890–1956) was the only member of the Group of Seven based in Western Canada. He was also heir to ideas engendered by two powerful artistic developments from the nineteenth century, the Arts and Crafts movement and Art Nouveau, and he drew from these in his representations of the prairie light and landscape.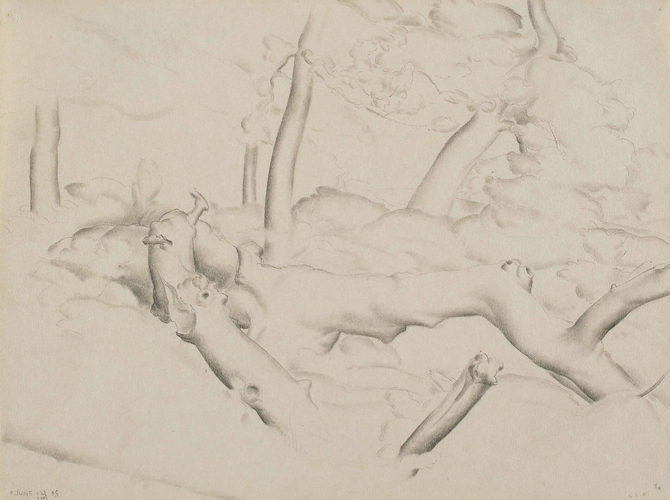 FitzGerald valued the anti-industrial ethos promulgated by the members of the Arts and Crafts movement, who advocated handmade artistic expressions using a wide variety of media. Art Nouveau, in which architecture and sculptural forms could be transformed into seemingly living, growing plant forms, would have appealed to FitzGerald's belief that nature was animated by a vital, living force. As he put it: "The seeing of a tree, a cloud, an earth form always gives me a greater feeling of life than the human body. I really sense the life in the former, and only occasionally in the latter. I rarely feel so free in social intercourse with humans as I always feel with trees."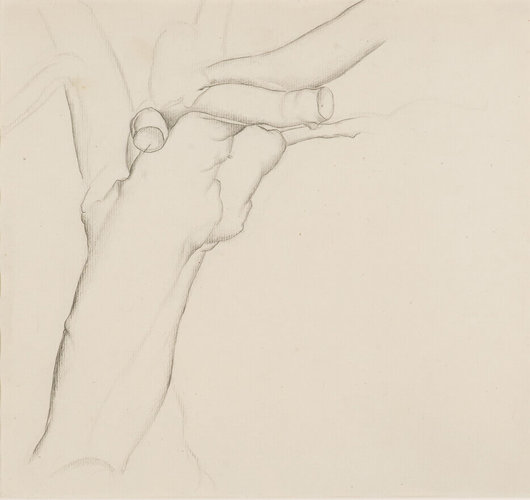 Like the later artist Jack Chambers (1931–1978), who would articulate a theory of "perceptual realism" in the 1960s, FitzGerald was intensely devoted to capturing the world he saw around him. Both artists wished to convey a heightened sense of what it means to look at the ordinary elements of one's surroundings, whether it be a landscape, backyard, or objects on a windowsill. And each artist gave special emphasis to light as an essential component of perception. It is FitzGerald's genius at representing the prairie light—moving away from the blending effects of atmospheric light in his early Impressionist-inspired works such as Figure in the Woods, 1920, to a light that isolates "compositional elements … stressing their formal relationships" in a mature work such as At Silver Heights, 1931—that sets him apart from any other artist of his generation.
Canadian abstract painter Bertram Brooker (1888–1955) immediately seized on the notion of the vital quality in FitzGerald's work when he first acquired a pencil sketch from the artist's 1928 exhibition at the Arts and Letters Club of Toronto. Presumably he is referring to this drawing in his 1949 lecture: "[I]t was a very fast drawing of a bulbous, twisted tree. Looking at it often I came to think that the tree might just as well be a carrot or an elephant—in other words it was not so much an object as an attempt to search out the organization of any living thing. It was not really a thing, it was a verb—a picture of living!"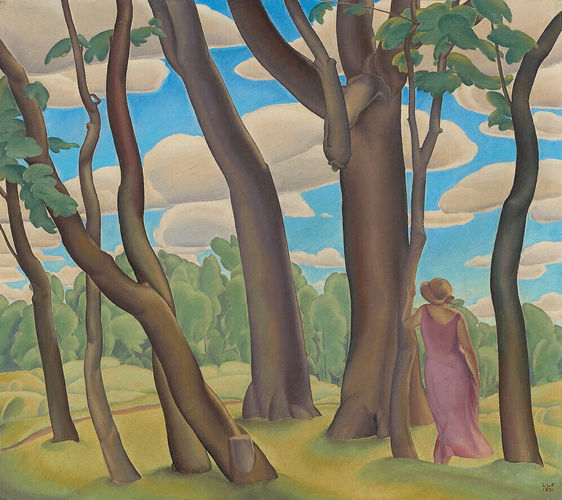 FitzGerald did not publicly or privately align himself with any scientific, religious, or philosophical position, which suggests that his views on art and nature were not codified but rather evolved over time in accordance with what he thought it meant to be an artist. The advice he gave to his students at the Winnipeg School of Art, recorded in notes from a lecture possibly given in 1933, articulates his artistic credo: "It is necessary to get inside the object and push it out rather than merely building it up from the outer aspect. So appreciate its structure and living quality rather than the surface only. Through this way of looking at a thing elimination takes place and only the essential things appear." The goal was to gain "an appreciation for the endlessness of the living force which seems to pervade and flow through all natural forms even though they seem on the surface to be so ephemeral."
This Essay is excerpted from Lionel LeMoine FitzGerald: Life & Work by Michael Parke-Taylor.