You love me, you hate me, you know me and then / You can't figure out the bag I'm in
—Sly and the Family Stone, "Everyday People," Stand!, 1968
For more than two decades, Toronto-based artist Sandra Brewster has continued to develop a unique visual vocabulary to explore frameworks of community, identity, place, and belonging relative to the positioning of the Black body in Canadian society. In fact, her thought-provoking, multidisciplinary artwork questions the very idea of a monolithic Black community, choosing to interrogate the complex diversities and lived realities of African diasporic people as a continually shifting possibility. By complicating tropes of visibility and (mis)representation, her powerful imagery gives emphasis to the performative nature of Black identity in the Americas, opening up ways of thinking about how her subjects negotiate and re-narrativize historical and contemporary geographies.
She is particularly attuned to the overlooked narratives (both individual and societal) of Caribbean migrants to Canada and their settlement experiences within metropolitan centres, and the effects of naturalization on ensuing generations. Brewster's immediate family came from Guyana, part of the wave of post-Independence migration during the 1960s and 1970s. When Brewster was nine, her family moved from Toronto, where she was born, east to Pickering, a growing city also diverse with immigrants from around the world. After high school, Brewster joined the Fine Art programme at York University, and would later complete a Masters Degree in Visual Studies from the University of Toronto, both campuses comprising some of the nation's most multicultural of student bodies.
Investigating the everyday life of mobilized people using different modes of figuration, Brewster's art probes into what cultural theorist Mieke Bal refers to as a "migratory aesthetic," exploring how identities and identifications are made, contested, and reformulated through relocation and remembrance. Her attention is on everyday people, and the way they choose to represent themselves, through gestures, style, speech, and attitude. Creating a unique and intimate pictorial genealogy built from the distinctive characteristics of individuals from her immediate environment in Toronto—family, friends, artists—Brewster builds on this alternative visual archive, documenting "individual" and "community" representations.
Her early work began with more traditional illustrative conventions, and she produced high contrast drawn portraits rendered in pencil, ink, and charcoal that move back and forth between realism and abstraction. Faces and bodies are closely cropped, fragmented, and sometimes featureless, ground surfaces reworked and erased, echoing the mechanisms of how blackness in the Western imaginary is bound not only by the polarities of black and white, but by the visual regimes of hypervisibility/invisibility. Her formal and conceptual strategies embody the materiality of resistance, troubling the hegemonic gaze by obscuring visibility while refuting objectification. Despite their elusiveness, there is a marked intimacy that emanates from Brewster's compelling figures. Her practice could be read as a form of anti-portraiture, not necessarily bound to physiognomic likeness, but to rethinking the genre and its historically limited connotations, particularly within the Western art canon. Contemporary portraiture is being less defined by external resemblance, and more so by the articulation of personal or impersonal conditions.
Brewster's subjects seem to exist simultaneously in different time periods and spatial zones, a quality made especially evident with the introduction of photography into her practice. Experimenting with the constructed image, she began putting together compositions with pictures taken with her own camera and incorporated vernacular snapshots sourced from family albums and personal archives, which she reproduced and transferred onto various surfaces using a gel medium—a process which has become her artist's signature.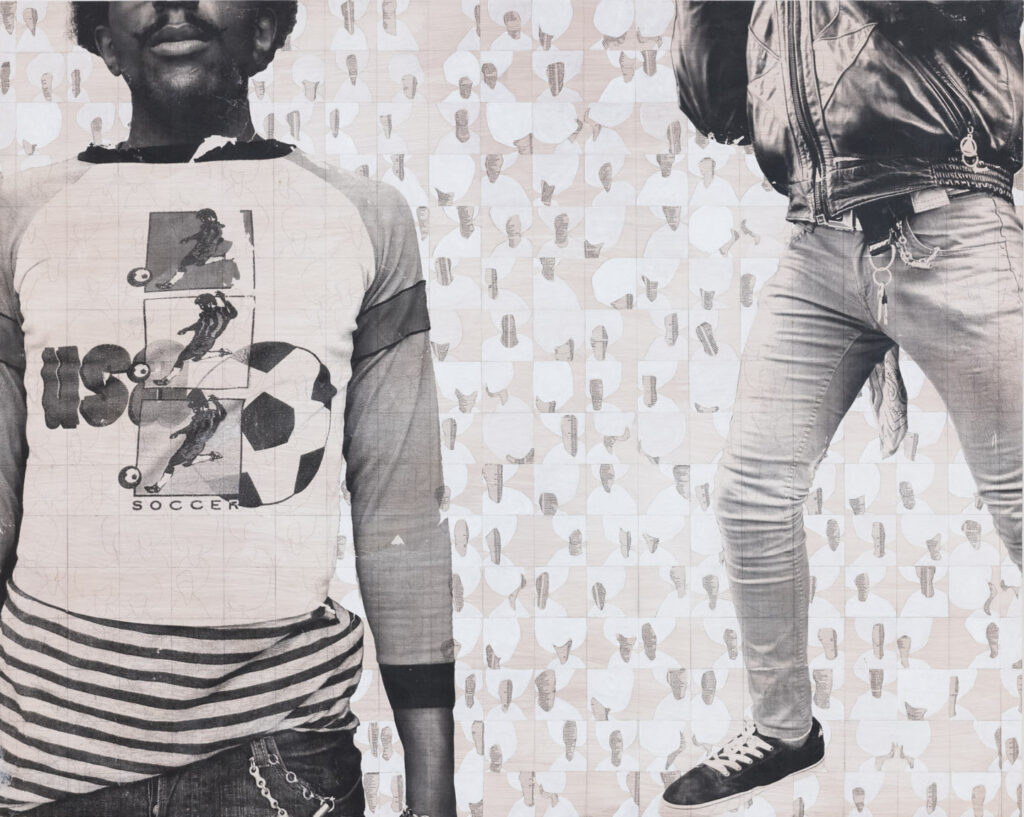 An important symbol in Brewster's visual lexicon is the Afro, which is used as a repetitive motif in numerous works, as in her notable series Smith, 2004–10. She employs the natural hairstyle which became especially popular in the 1960s as a reductive form and ambiguous symbol of Black pride and resistance. Round abstracted shapes (serialized in grids and geometric backgrounds) stand in for the Black body and when grouped together, the Black "community"—itself an abstract and contested notion. The "Smiths" characters appear as faceless heads and torsos, amorphous silhouettes whose distinguishing features have been erased and replaced by pages cut from the once familiar "white pages" of the Toronto phone book. Breaking once again with the realism of representational portraits, these strangely haunting, masked-like figures are also an apt metaphor for the dehumanizing force of racial stereotyping.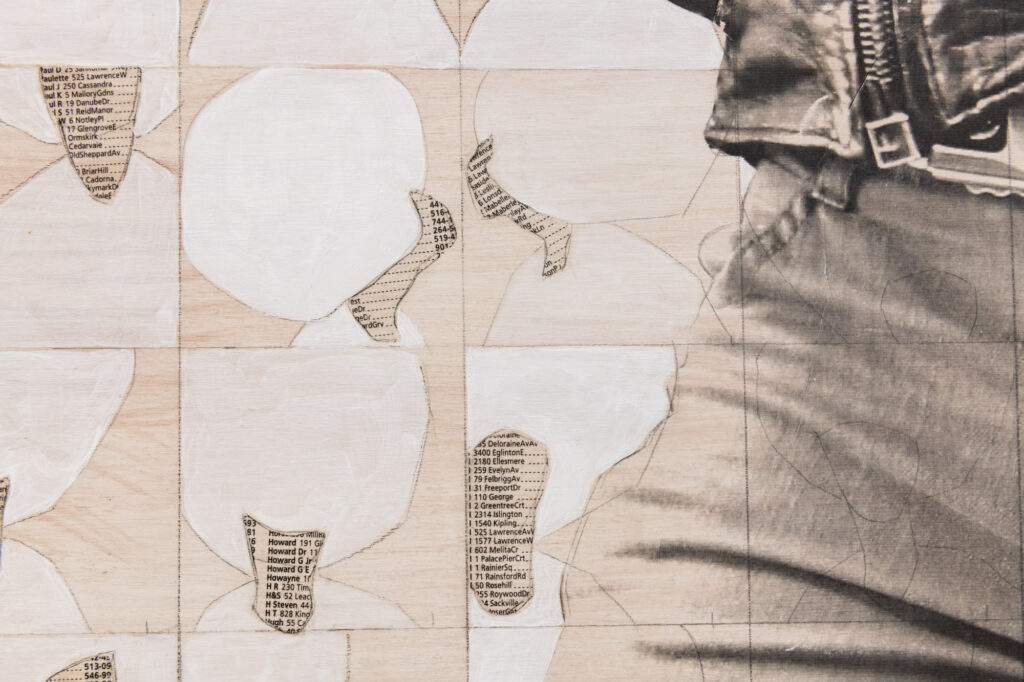 Mixed-media works such as Untitled (Plain Black), 2011–12, highlight Brewster's ongoing concern for representing an individuality that counters distorted media perceptions of Black male youth, including negative associations of Black masculinity relative to violence, hip-hop and sports. Ephemeral figures float freely in these powerful compositions, their gesturing bodies unbounded in rhythmic backgrounds blanketed by crowds of "Smiths", or subjects are set inside an empty blankness, in a sort of undefined space of refuge and openness. By upturning the objectifying nature of the photographic gaze, Brewster engages viewers not only in alternative modes of looking, but by presenting the Black diasporic body in transposed space, she also distances her subjects from any one fixed location or identity but into an ever-elusive agency and fluidity.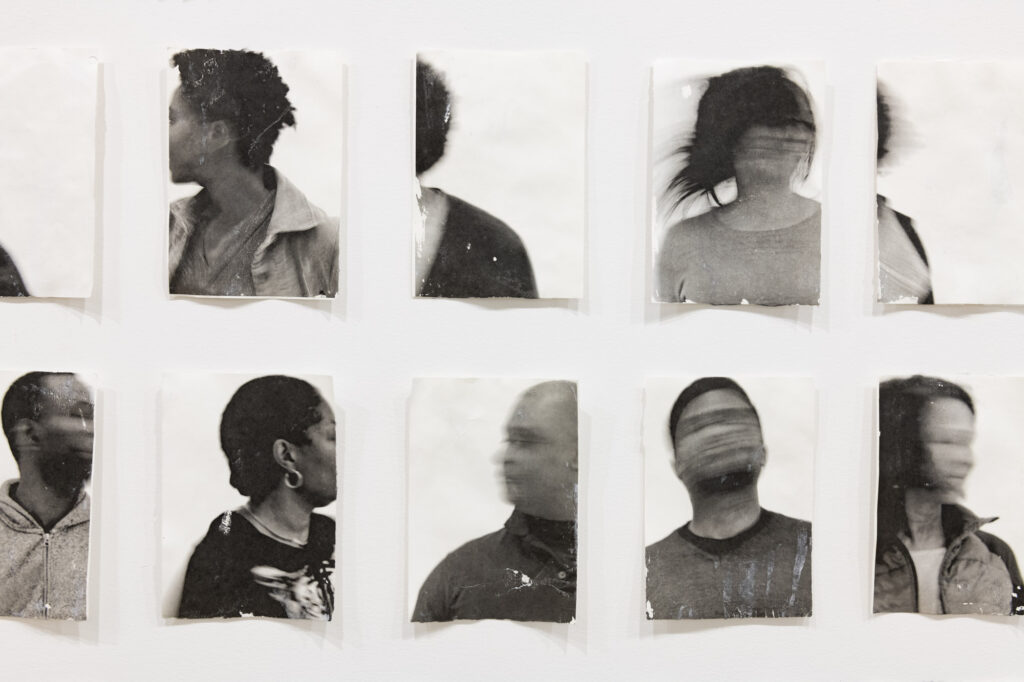 In her Untitled (Blur) series, 2017–19, Brewster plays with both scale and focus, using camera techniques like long shutter speeds and double exposure photography to create pictures of her sitters in movement. Deliberately obscuring and cropping their features, they travel in and out of focus and framing in monumental wall installations or gridded arrangements. There is a performative aspect to Brewster's handling of materials—the remnants of the gel transfers act as gestures or markers of what she carries over through this physically demanding process. These ephemeral images bear the marks, scratches, tears, and creases as evidence, where transferred inks adhere to surface areas, while others are rubbed away. These surface imperfections can be read as analogous to migratory experiences replicating notions of loss, displacement, erasure, and transferal. Although her body is visually absent from the work, even when an installation is painted over, it continues to reside as a presence by virtue of the residual traces it leaves behind.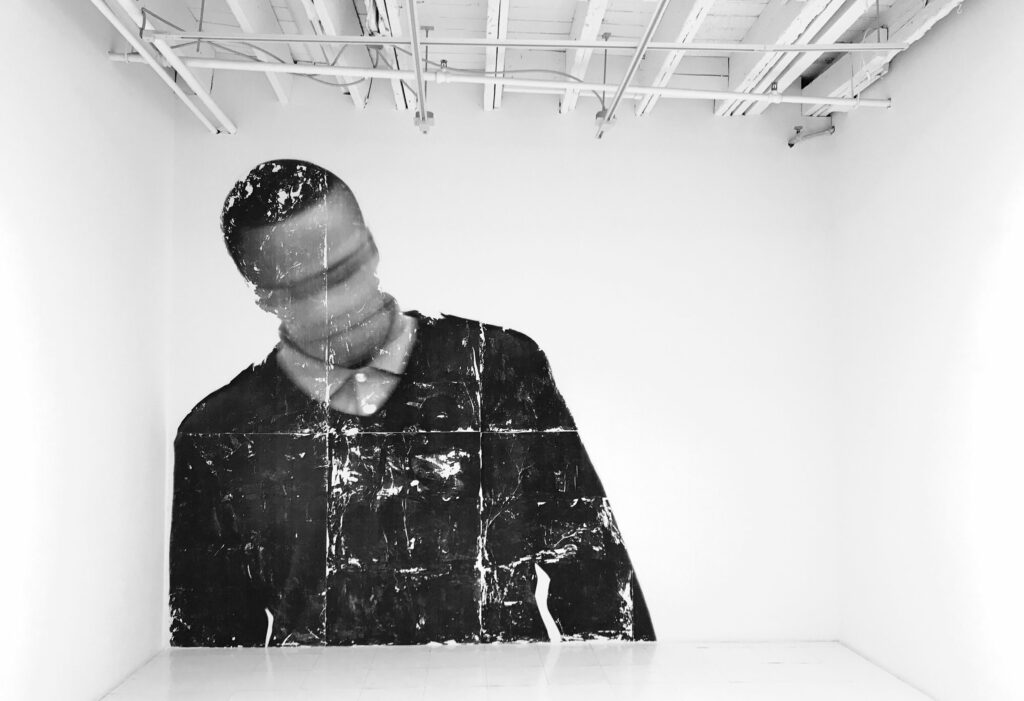 A quality of timeless dissonance is similarly transmitted in Walk on by, 2018, a silent colour video shot on Super-8 film, an analogue format made popular in 1960s and 1970s for personal home-made family movies. The footage, also blurred and out of focus, is presented at varied frame speeds and depicts everyday Black subjects as they walk and move through the city, blending into the transitory landscape.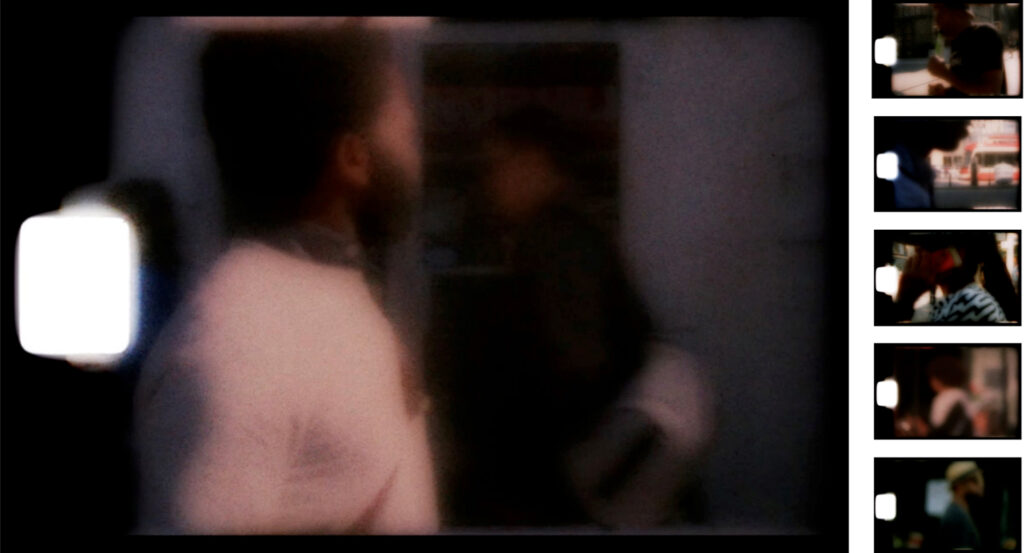 There is an unassuming playfulness in Brewster's works that also draws in the viewer, led by the rhythmic ebb and flow of movement and patterning, which has music-like inflections. Just as the video title Walk on by brings to mind great 60s soul song classics by Dionne Warwick and Isaac Hayes, Sly Stone's pertinent anthem for peace and equality in "Everyday People," cited in the opening quotation, suggests the need to establish understanding between difference races and social groups through a common ground.
Feminist writer and critic bell hooks contends that it is necessary to learn how to look at blackness with "new eyes" and posits the idea of cultivating an "oppositional gaze" through film and the visual arts as a means of mediating resistance and agency, and as a critical intervention to reclaim (mis)representations. By reimagining encoded meanings of Black diasporic life using strategies of countervisuality, Brewster's aesthetic materialism ultimately allows us to "see" at face value the transformative capacity to upend and expand outmoded representational paradigms, and discover new ways of understanding intercultural and transnational histories and subjectivities.
References
Aranke, Sampada. "Material Matters: Black Radical Aesthetics and the Limits of Visibility." e-flux journal 79 (February 2017). https://www.e-flux.com/journal/79/94433/material-matters-black-radical-aesthetics-and-the-limits-of-visibility/.
Bal, Mieke and Miguel Á. Hernández-Navarro, eds. Art and Visibility in Migratory Culture: Conflict, Resistance and Agency. Amsterdam and New York: Rodopi, 2011.
hooks, bell. Black Looks: Race and Representation. Boston: South End Press, 1992.
Johnstone, Fiona and Kirstie Imber, eds. Anti-Portraiture: Challenging the Limits of the Portrait. London and New York: Bloomsbury Visual Arts, 2020.
Price, Neil. "The Legacy of Presence: Artist Sandra Brewster talks about her process and the influence of memory." Canadian Art. Accessed November 24, 2021. https://canadianart.ca/interviews/the-legacy-of-presence/.
Pamela Edmonds is Senior Curator at the McMaster Museum of Art in Hamilton. She began her curatorial career in Halifax with positions at the Anna Leonowens Gallery (Nova Scotia College of Art and Design University), Dalhousie Art Gallery and Mount Saint Vincent University Art Gallery to name a few. In Ontario, Edmonds has had programming and curatorial roles at A Space Gallery, the Art Gallery of Peterborough, and most recently at the Thames Art Gallery in Chatham.
For more works by Sandra Brewster and to see other works mentioned in this essay visit the online exhibition.