A carver based in Cape Dorset, Inuit artist Oviloo Tunnillie (1949–2014) created highly personal work in which expressive postures capture nuances of feeling. She is notable because few of her Inuit artist peers address such subjects as inner emotional states and grief. Other sculptors of her era—for example, Osuitok Ipeelee (1923–2005) and Kiugak Ashoona (1933–2014)—most typically favoured depictions of Arctic animals, domestic and hunting scenes, the sea spirit Taleelayu, shamanic transformations, and episodes from well-known legends and stories.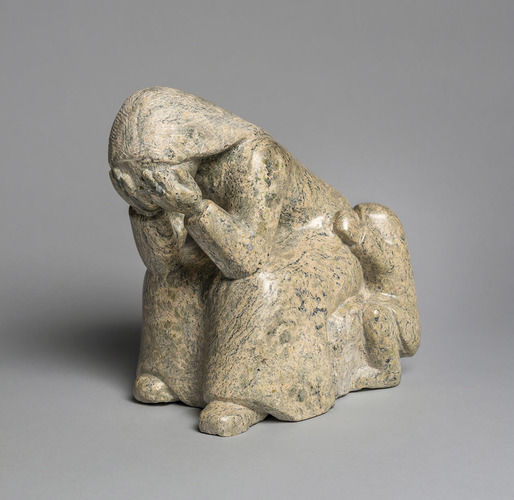 Human figures were impersonally dressed in culturally explicit fur clothing and were engaged in activities relating to pre-settlement living. Depictions of single human figures were rare and unemotionally engaged in an implied activity. Women were usually shown in their maternal roles with a child or children. The deep emotional expression conveyed in Oviloo's work, as in such sculptures as Repentance, 2001, transcends the cultural or traditional while also speaking deeply to the artist's own experiences.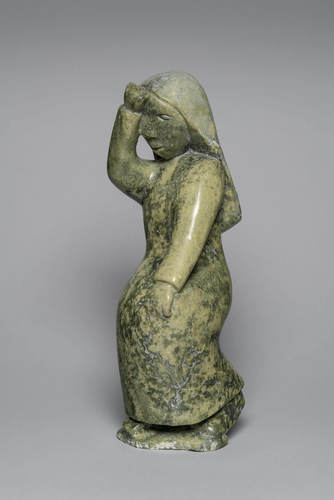 The tragic episode of the death of her beloved father, Toonoo, must have contributed to Oviloo's several self-portraits of grieving women. In 1969 Toonoo was shot to death by Mikkigak Kingwatsiak, the husband of Toonoo's daughter Nuvalinga, in what was believed at the time to be a hunting accident. This shock re-emerged twenty-five years later when Mikkigak confessed to murdering Toonoo. Grief at her father's death is the subject of Oviloo and Toonoo, 2004, in which the memory of him appears as a small figure that seems to be trying to reach his weeping daughter from a distance.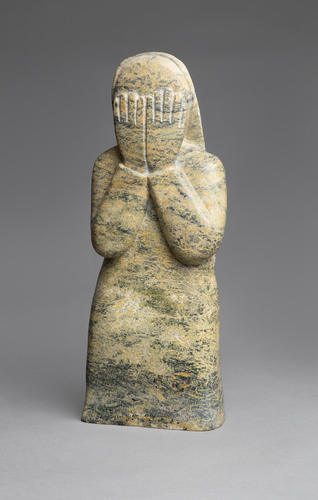 In her work, Oviloo also addressed the suicide, in 1997, of her thirteen-year-old daughter, Komajuk. Mental anguish is expressed in a number of Oviloo's sculptures from this date on, beginning with Grieving Woman, 1997, a quiet work that expresses profound grief through the body language of the female figure who moves slowly forward with head bowed and one hand pressed to her forehead. No facial expression is necessary to capture the figure's anguish. In 2000, Oviloo created a nude and vulnerable Crying Woman, her face buried in arms folded on knees drawn up into herself. In both of these, covered faces cut the figures off emotionally from the outside world and create focused images of isolation and sadness.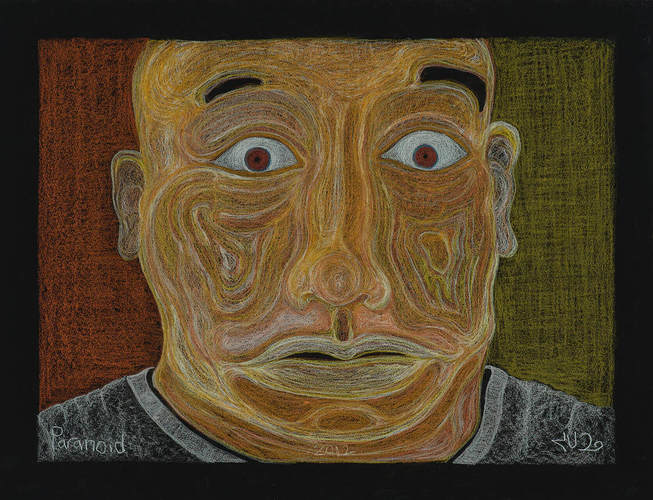 The unorthodox expression of inner states of mind was also a powerful feature of the graphic art and sculpture of Oviloo's brother Jutai Toonoo (1959–2015), who may have been influenced by his sister. Both artists uniquely created human forms and figures devoid of a narrative context. Jutai's non-narrative images of human heads and figures, such as Paranoid, 2012, are deeply personal and often portray restless sleep or dreamlike states. A bipolar disorder influenced his fierce independence from conventional subjects. Both he and Oviloo created their unique imagery in a community that had deep roots in culturally specific and narrative art forms.
This Essay is excerpted from Oviloo Tunnillie: Life & Work by Darlene Coward Wight.