London, Ontario, artist Greg Curnoe (1936–1992) created few works that do not include text of some kind. This artistic development had its genesis in Curnoe's childhood: he was given a rubber stamp set as well as small rubber letters that were set in a wooden three-line holder, and he produced occasional newsletters with his cousin Gary Bryant, who had a drum printing press. Curnoe also experimented with date stamps discarded from his father's office. He explained, "It was so natural for me to associate type and text with a picture. And I quickly learned there are things you can do with a text that you can't do with a picture."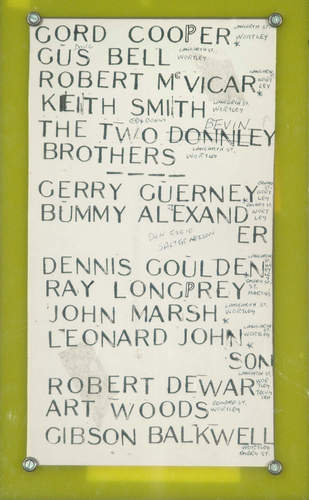 In 1961 Curnoe bought a new rubber stamp set, the first of many sets with uppercase letters that he used over the years. His early stamped works were lists: for example, lists of names of boys he grew up with. These were often very simple—black words stamped from individual letters combined with "found" texts. He also began the practice of making unique artists' books: his seventy-one-page Rain and seventy-eight-page The Walk, both from 1962, have been acknowledged as the first artist books in Canada. Curnoe made over a dozen such works, perhaps as a more intimate and portable form of working with words and images. Like his paintings, most of these were diaristic, recording his daily thoughts and observations.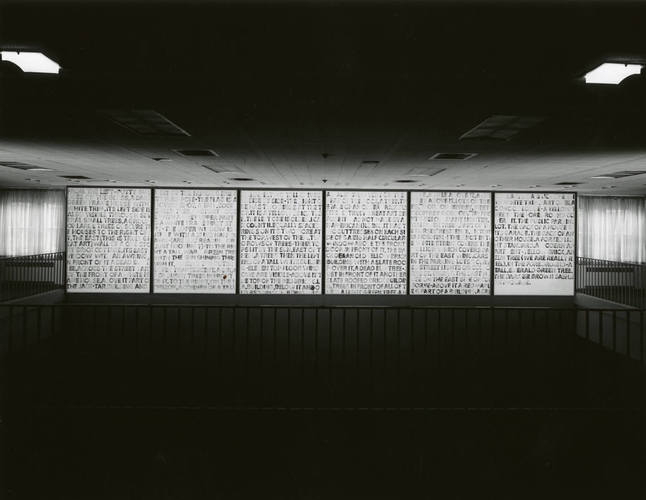 In 1968 Curnoe stamped the monumental six canvases of View of Victoria Hospital, First Series: #1–6. As art critic John Noel Chandler noted, the significance of this text series cannot be overstated: "Perhaps what is most novel and striking about what Curnoe has done is that by portraying the physical landscape with words, which are more abstract than pictures of things (at least in a phonetic language like our own), while at the same time making his language as simple and concrete as possible, Curnoe has accomplished the very interesting paradox of making pictures which simultaneously are abstract and concrete, making one reconsider the value of the dualism."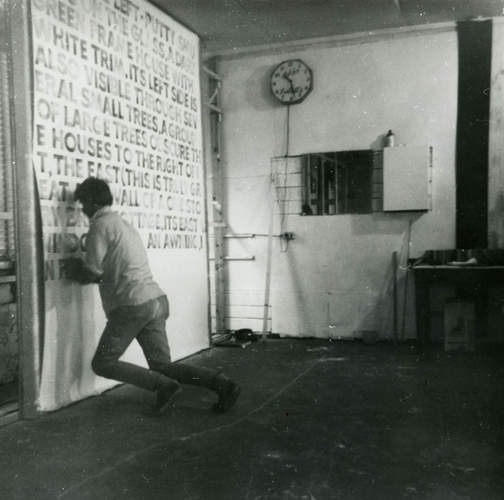 Text in Curnoe's work was stamped, stencilled, embossed, or handwritten, with the break in the lettering determined by the size of the support. Curnoe explained, "I discovered that a sans serif typeface isn't as legible as the more traditional serif faces. In other words, the letters stick out, they don't disappear. It makes you look and read at the same time."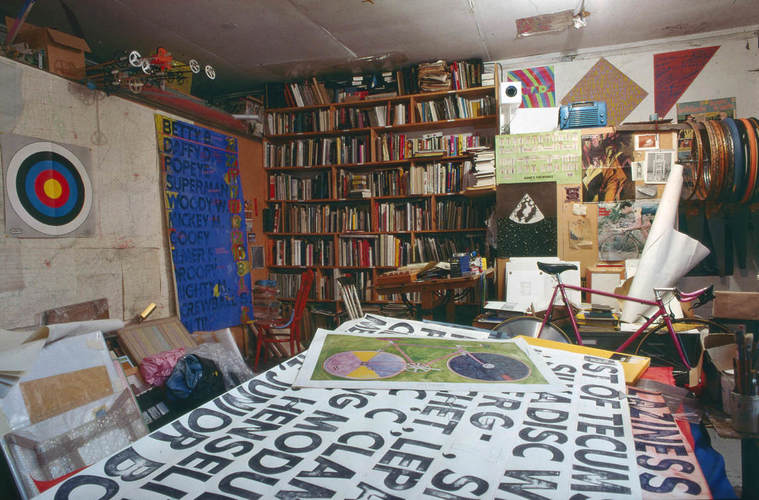 Curnoe was himself an omnivorous reader, and he amassed a large library over the years. Poetry anthologies and exhibition catalogues vied for space with atlases, novels, art books, and catalogues of bike parts. A novel that had a lasting influence on his work was The Voyeur (1955) by French writer and filmmaker Alain Robbe-Grillet, whose emphasis on precise language with an absence of metaphor was the literary equivalent of the visual style Curnoe was developing in the early sixties. Curnoe noted: "It is still one of my favourite novels and served to confirm my interest in using simple language and simple direct description."
This Essay is excerpted from Greg Curnoe: Life & Work by Judith Rodger.