Composition: Watching Porn on Television 2005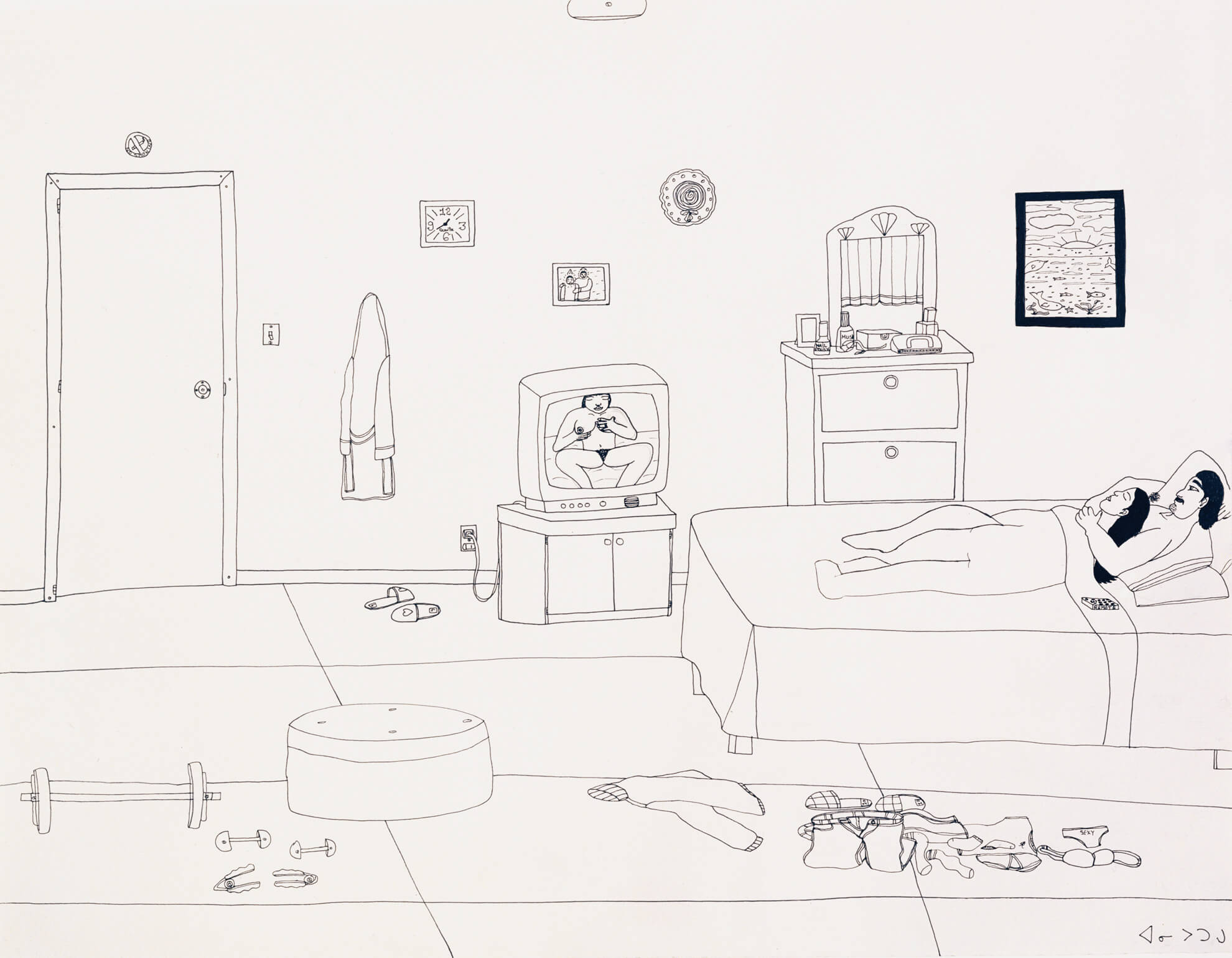 Composition: Watching Porn on Television is an interior scene rendered in Fineliner pen and rich in detail. Pictured in the work are a couple who embrace in bed. They are under the covers and are watching a pornographic movie. The domestic interior is filled with details of the individuals' daily lives. Clothes are strewn on the floor, a set of weights sits neglected in the corner, and pictures hang on the wall. A dresser is littered with makeup bottles. The television is the focus of the drawing, and the sexually explicit image on the screen surprises the viewer of this setting, which is cluttered with otherwise unremarkable objects. Composition: Watching Porn on Television suggests a direct correlation between life in the North and life in the South, where many homes are lit by television screens until the early morning. As the couple in the drawing are lying quietly in bed, this image is not an explicit sexual scene; however, the drawing invites the viewer into the reality of the common modern practice of consuming erotic media.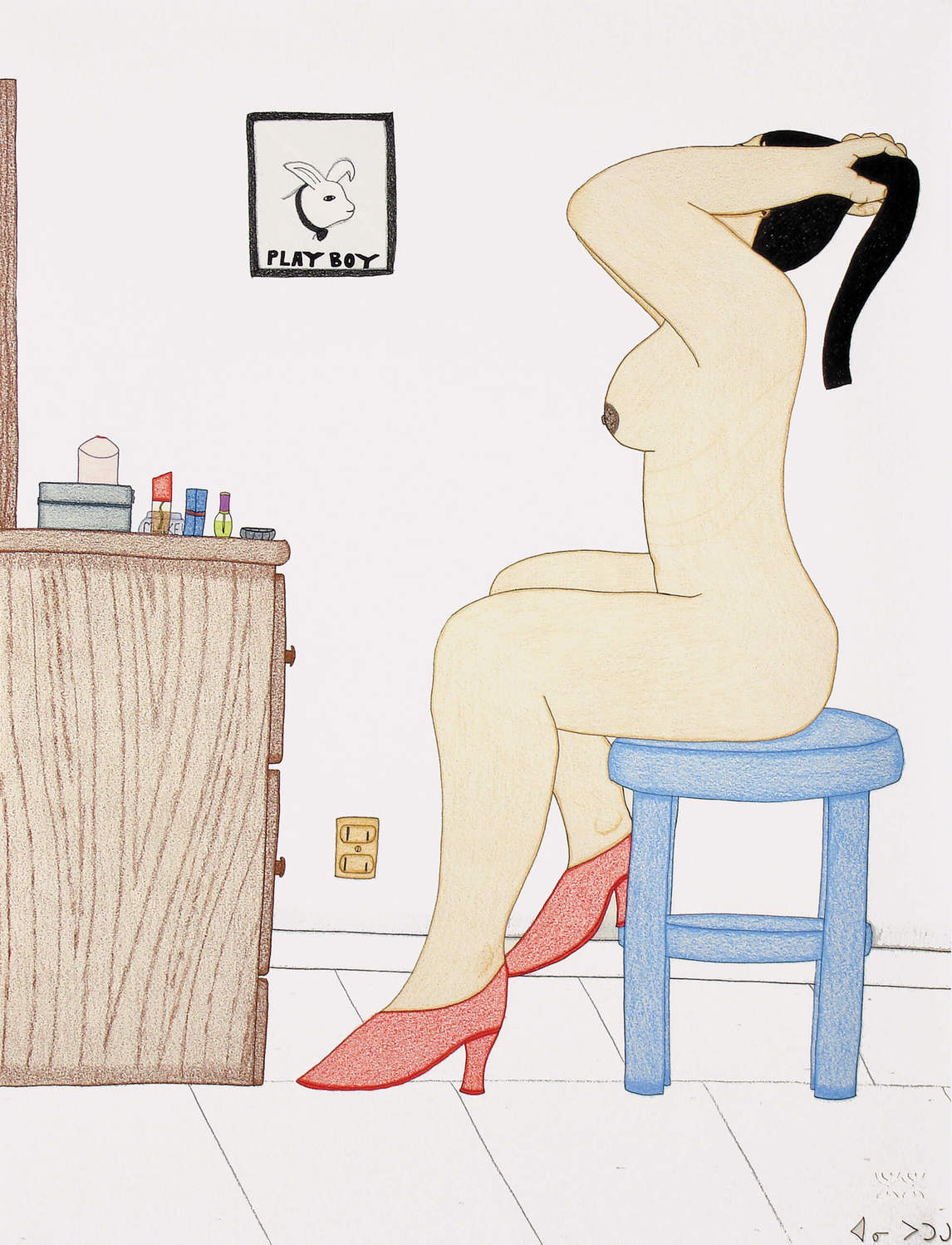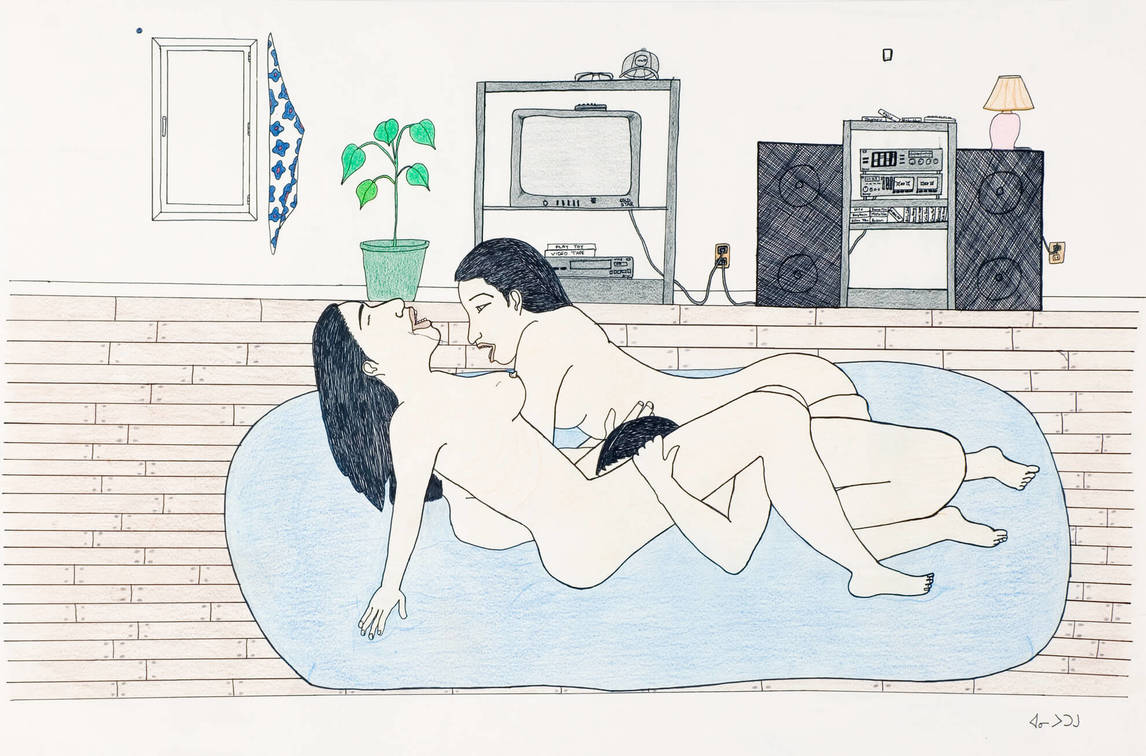 Annie Pootoogook's erotic drawings, like many of her drawings that present scenes from life, are sometimes tender and sometimes humorous. These sexual scenes are a departure from what has come to be expected of Inuit visual art in Southern exhibition contexts. Although sexuality is present in traditional Inuit storytelling, the history of Inuit drawing before Annie offers few figurative representations of lust, desire, or intimacy; likewise, these subjects are rarely seen in carvings done in the North (a notable exception is the work of sculptor Oviloo Tunnillie [1949–2014]).
This work is comparable to Annie's earlier drawing Erotic Scene – 4 Figures, 2001, which is a much more graphic image of sexual activity. The interior of the room is once again quite detailed. Making up the background are a television set, a stereo system, a lamp, a plant, and a window draped with an open curtain. The four people in the centre of the composition are in the throes of a group sexual encounter on a rug on the floor. Annie presents this scene with a sense of detachment and the same stark realism that we see in her other drawings.
Annie's erotic drawings, like her other works, are neither sentimental nor romantic. They represent a kind of narrative realism that shows these scenes in as commonplace a light as that seen in her depictions of eating dinner. Like many of her pictures that found a ready market in the South, Annie's erotic drawings, including Composition: Watching Porn on Television and the humorous Woman at Her Mirror (Playboy Pose), 2003, were purchased by a select group of collectors of Inuit and contemporary art. They remain a rarity. To this day, erotic images are uncommon in Inuit art.