The National 2003
The National demonstrates Annie Pootoogook's increasing skill at depicting interiors and interest in the arrangement and detail of her subject matter. An adolescent in cargo pants walks from one room to another wearing his iPod and a baseball cap turned sideways. A female figure looks at a calendar on a wall that is covered with many familiar items often found in Annie's drawings: a clock, a light, snowmobile keys, and a Jesus sign. On the table is Southern food, and the television on the left side of the drawing shows Peter Mansbridge, at that time the anchor of the CBC news program The National.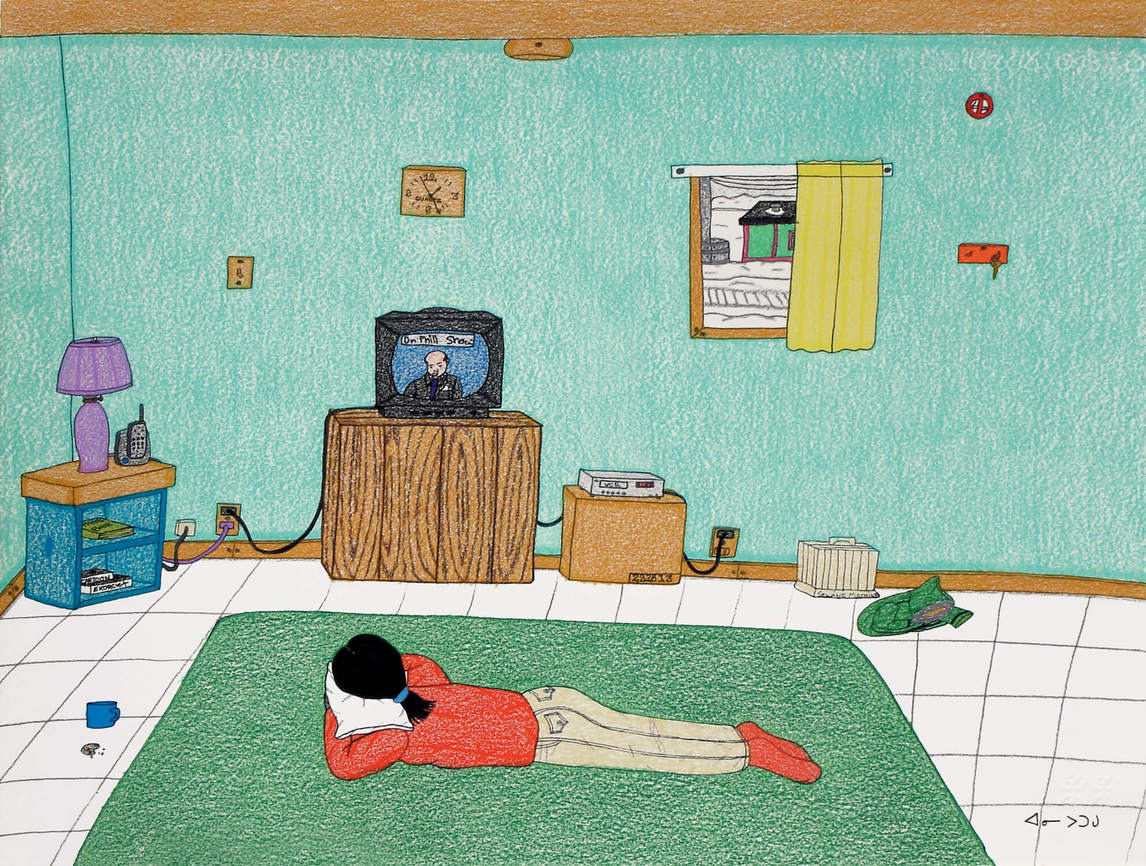 This drawing recalls the importance of the arrival of Southern broadcasting in the North in 1972 with the Canadian government's launch of the Anik A-1 satellite, when Annie was just three years old. The new technology had a profound impact on a remote community; numerous Arctic households now have satellite television. Annie's generation grew up with this technology, and so it has influenced how she and her peers interpret the world. In the North, the news—both national news and local broadcasts on television or community radio—is a constant source of information and connection. Seldom does one enter a house or workplace without hearing the background noise of the radio or the television. On the screens in her interiors, Annie frequently shows familiar television personalities—as in the drawing Dr. Phil, 2006—or popular programs such as The Simpsons. Onscreen gaming is also a common subject, as can be seen in Playing Nintendo, 2006, where a young boy is absorbed in a game and has his back to the viewer. Scenes such as these might be found in any living room in Canada.
Annie's drawings are unusual in their repeated acknowledgement of two cultures colliding and sometimes merging. She takes no stand on this issue, either for or against; she shows little nostalgia for the past and often appears to prefer an ironic detachment. In this drawing she invites Southerners to watch Northerners watching Southerners, igniting a playful engagement with the contemporary world.