Sounds Assembling 1928
Sounds Assembling is often considered Brooker's most accomplished work because of the majestic and intricate way it takes the viewer into a mysterious realm. It comes near the beginning of the extraordinarily productive period in his artmaking, from 1927 to 1931, when he painted a series of masterful abstract canvases unlike anything previously produced by a Canadian artist. Brooker, in part, may have been motivated to begin this series of paintings by his contacts within the Arts and Letters Club of Toronto, especially Lawren Harris (1885–1970). These large canvases mark the artist's second foray into abstraction.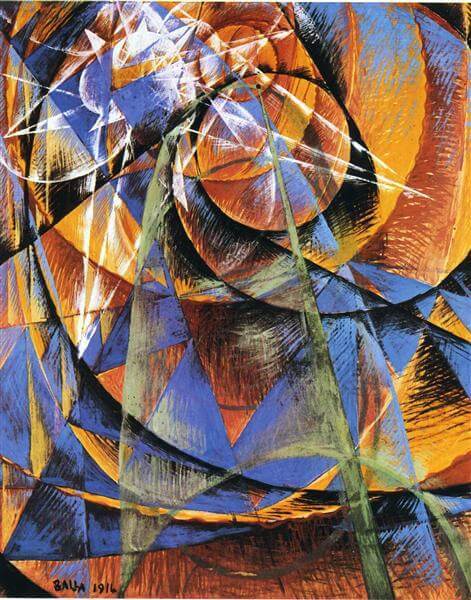 Here the composition gives the viewer a sense of movement and penetrating energy that is enhanced by the geometric exactness of the lines intruding into the four circular shapes that form the background. This meticulously and precisely painted work shows that Brooker's self-assurance in painting had advanced rapidly since the period when he made Oozles, c.1922–24. Sounds Assembling shows some marked similarities to the work of Futurist Giacomo Balla (1871–1958), although the Italian was interested in capturing flashing, dynamic movement, as can be seen in Mercury Passing Before the Sun, 1914.
As Sounds Assembling demonstrates, Brooker was also trying to find a correlative of musical form in visual form. In this work the various contrasting sounds have reached a moment of accord, although their individual differences are preserved.
In his essay "Painting Verbs," Brooker explains how a canvas such as Sounds Assembling came into being:
I shamelessly used a ruler and compass, trying to compose on the canvas some sort of replica of the colour, the volume and rhythm I experienced when listening to music. . . . Most of the shapes were floating areas of colour—they were verbs, representing action and movement—and when, in some cases, they came close to recognition as objects, such as spheres or rods or peaks, these were only intended as the oath or climax or culmination of a movement, not its finish.
It is possible the word "assembling" has a spiritual connotation: the convergence of the various colours may be like a congregation gathering for worship. As such, it can be said that this painting is spiritually as well as musically inspired.