Cretan Cycle 2, no. 3 1985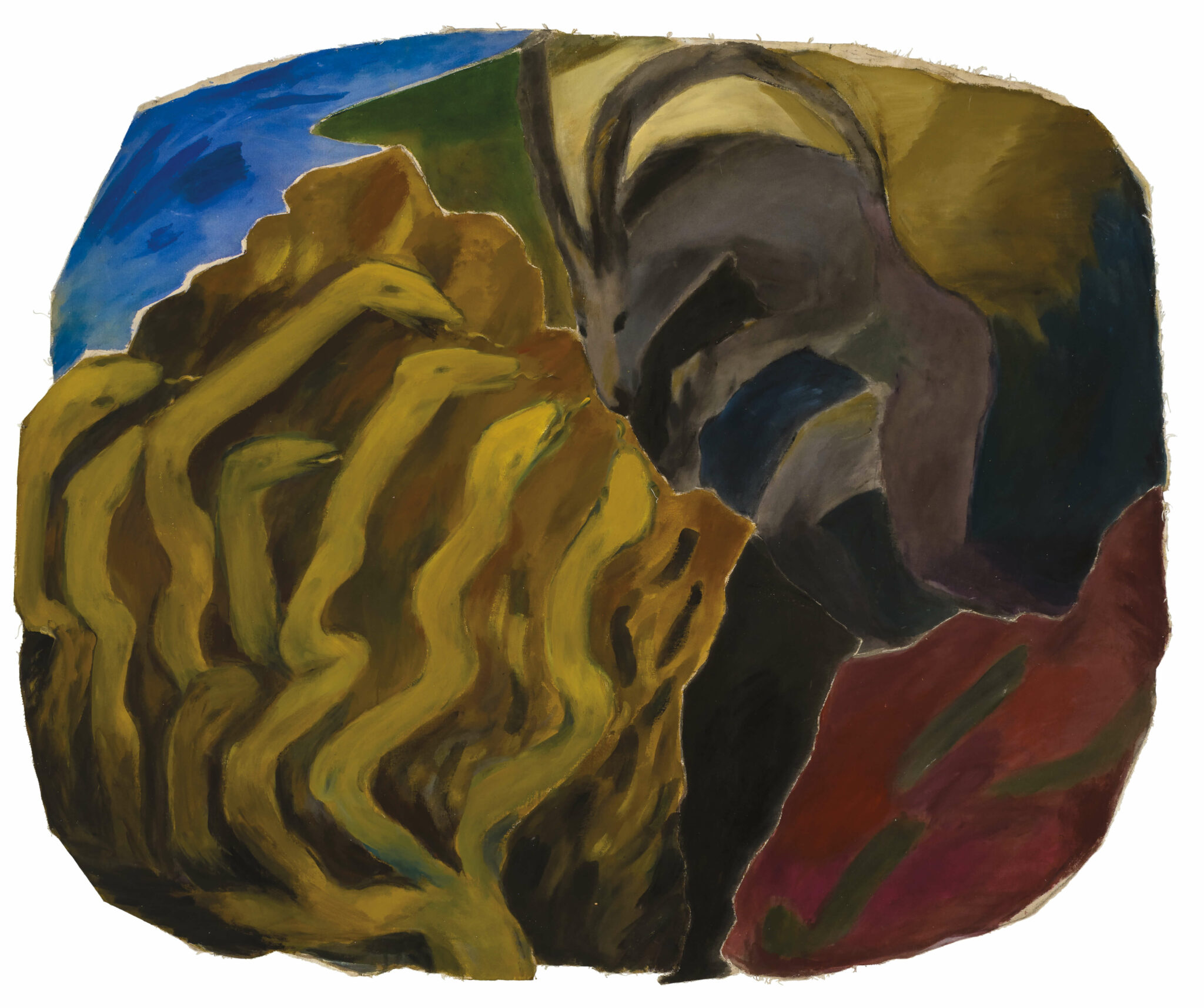 One in a series of some twenty works created from 1983 to 1985, Cretan Cycle 2, no. 3 is an irregularly shaped assemblage, unframed and hung directly on the wall. Fragments of canvas, roughly painted in browns, greys, and blues, are sewn together and juxtaposed in a way that suggests tectonic plates. A horned figure, half-human, half-animal, appears to be dancing, perhaps in a trance, on the rugged, textured landscape of the fabric. In front of him, seven snakes stand on their tails, as if charmed. In the upper left corner, a blue expanse suggests water or sky.
The series marks Sullivan's return to figurative painting and was created following a year (1983–84) she spent in Crete. There she encountered ancient ruins and sculptures, as well as a parched, barren landscape that captured her imagination and renewed the interest in primal forces and myth that had punctuated her practice from the beginning, from her early painting Amerindian Head I (Tête amérindienne I), 1941, to the photomontage Encounter with Archaic Apollo (Rencontre avec Apollon archaïque), 1974.
A complex mythical universe unfolds over the span of the Cretan Cycle series, 1983–85, which is particularly vivid in Cretan Cycle 2, no. 3. Motifs are carried over from one painting to the next. Sullivan combines a beast-like horned figure, birds, snakes, rivers, and mountains to suggest creation myths, meditative moments, or secret rituals. She does not represent mythical stories, but rather invents situations of prayer, sacrifice, or conflict, moments when ancient Cretans might have experienced divine intervention.