Near the Close of a Stormy Day 1884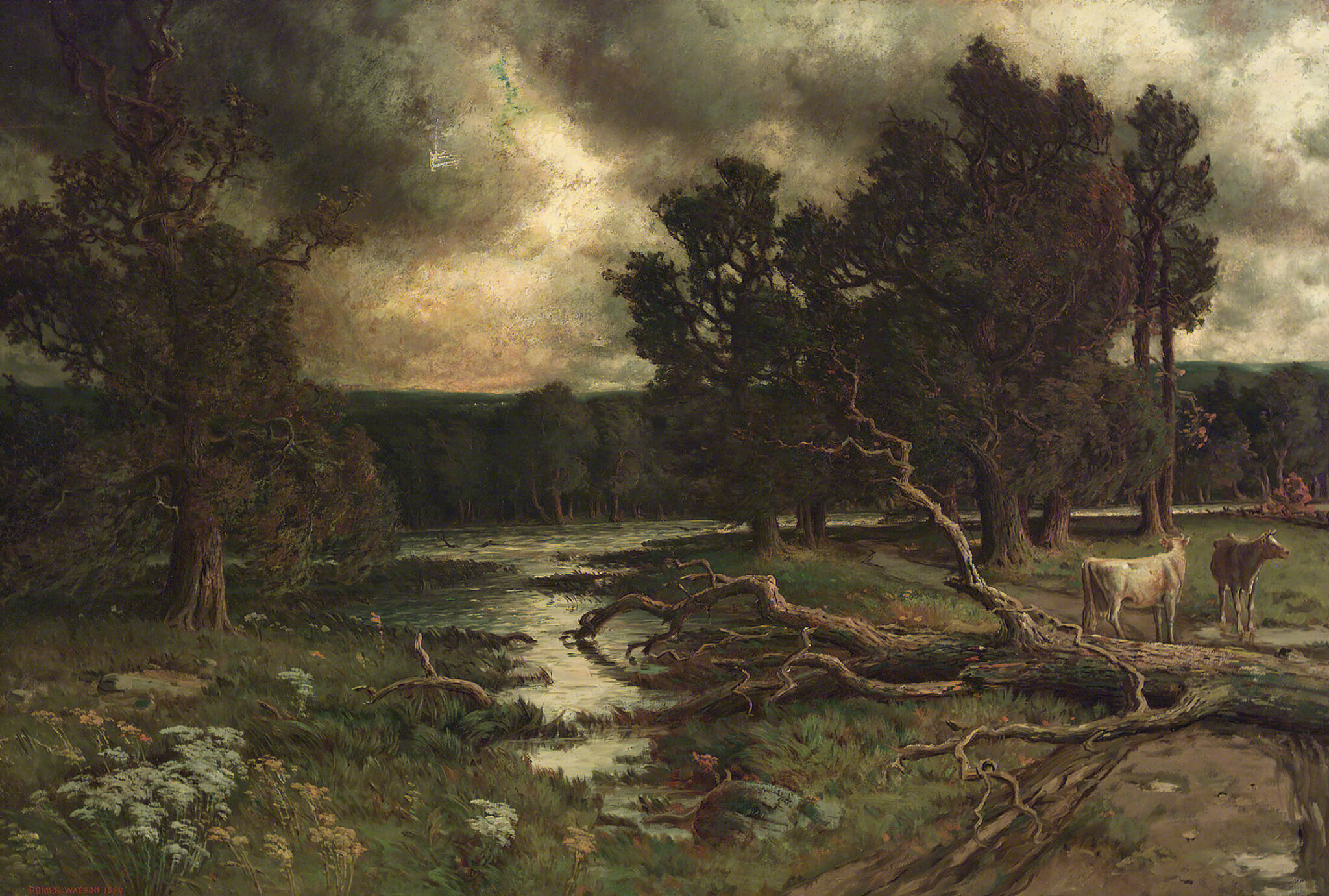 Near the Close of a Stormy Day is a splendidly accomplished example of Watson's ability to paint the mood-inducing and pictorially unifying atmospheric effects that root his landscapes in the lived experience of familiar locales—a quality that brought the artist critical and popular success during much of his long career. At the same time, the painting moves away from the comparatively histrionic effects of A Coming Storm in the Adirondacks, 1879, not least by transposing the setting from an awe-inspiring wilderness, complete with a bear, to a more human-scaled landscape that features, in the aftermath of a violent storm, the reassuring presence of farm animals.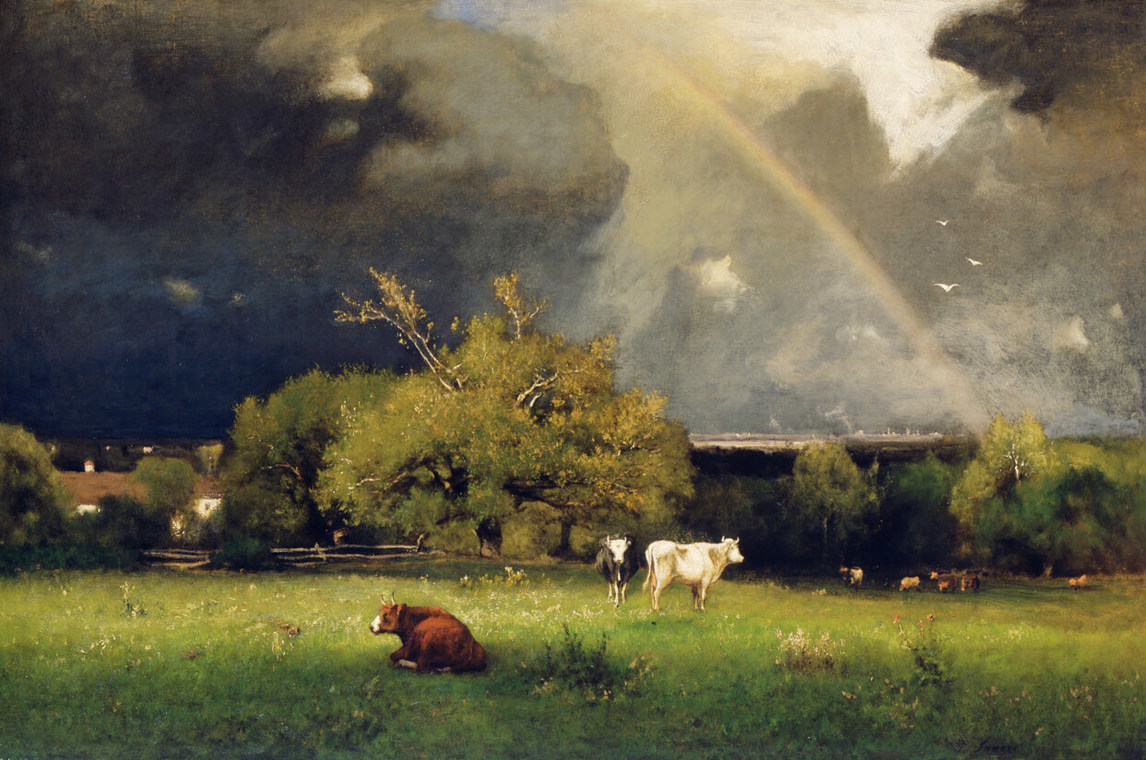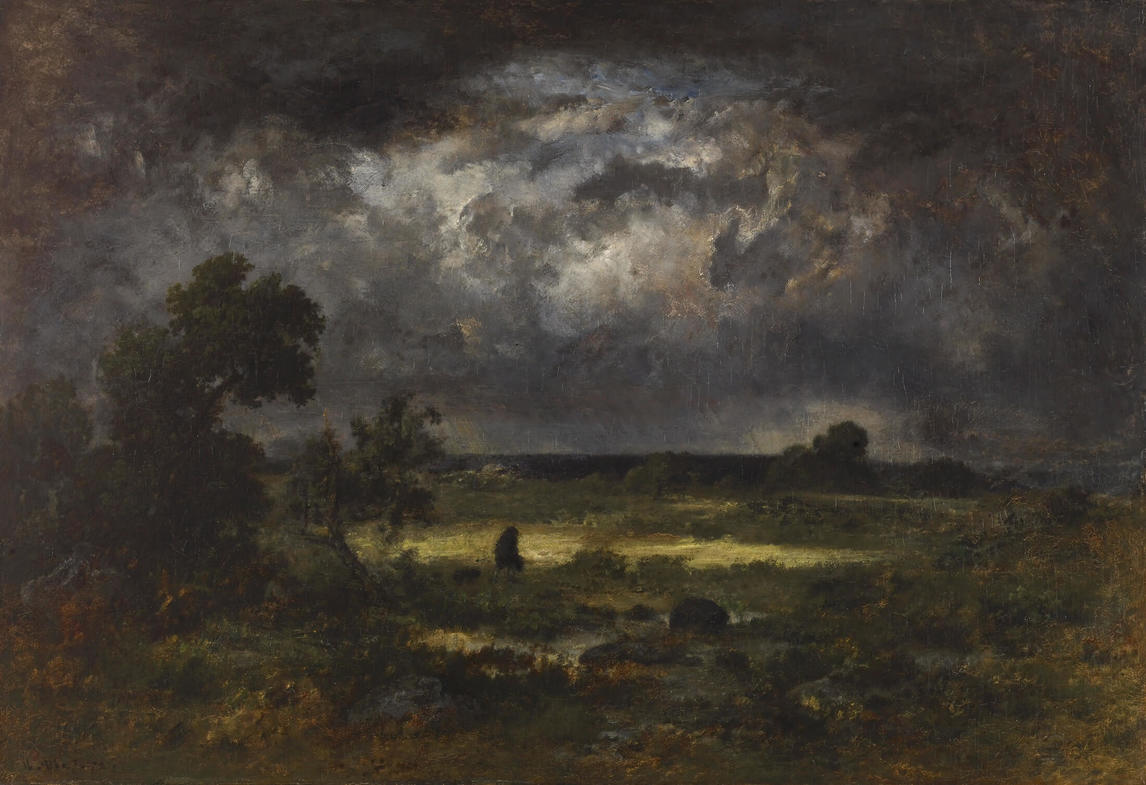 Like A Coming Storm in the Adirondacks five years earlier, Near the Close of a Stormy Day recalls the romantic Hudson River School landscapes that Watson surely saw during his time in New York in the late 1880s. More particularly, however, its juxtaposition of a tumultuous sky and a human-scaled landscape, and its concomitant poeticizing of the landscape as if it were a metaphor for a higher meaning, suggests the influence of George Inness (1825–1894). It is unlikely that the two artists actually met, although Watson may well have seen Inness's work while in New York. In any case, Inness paintings, such as The Rainbow, c.1878–79, feature compositional arrangements and an emphasis on striking atmospheric effects that prefigure Watson's Near the Close of a Stormy Day, even though the moods evoked in the two paintings are quite different.
For most viewers and critics, however, Near the Close of a Stormy Day appears to have been understood less in terms of contemporary American painting than of the art of the Barbizon painters who worked in France during the four decades around mid-century. Certainly those painters' presentations of familiar landscapes in poetic but unsentimentalized terms—as in The Storm, 1872, by Narcisse Díaz de la Peña (1807–1876)—had a strong following in North America. In Canada, a Barbizon sensibility was pursued by artists as diverse as Wyatt Eaton (1849–1896), William Brymner (1855–1925), and Horatio Walker (1858–1938), and was much admired by prominent collectors. Indeed, when Watson exhibited Near the Close of a Stormy Day in the 1884 Royal Canadian Academy of Arts exhibition, newspaper critics signalled their approval in phrases akin to those usually employed to praise Barbizon aesthetics. The columnist from Toronto's The Week, for example, described it as a "capital [specimen] of his style, strong, truthful, and with good atmospheric effects." It was therefore unsurprising that the painting quickly found a purchaser: the businessman, politician, and philanthropist Edmund (E.B.) Osler, one of Watson's most munificent and frequent Toronto patrons.