Hinged Raven Bracelet c.1955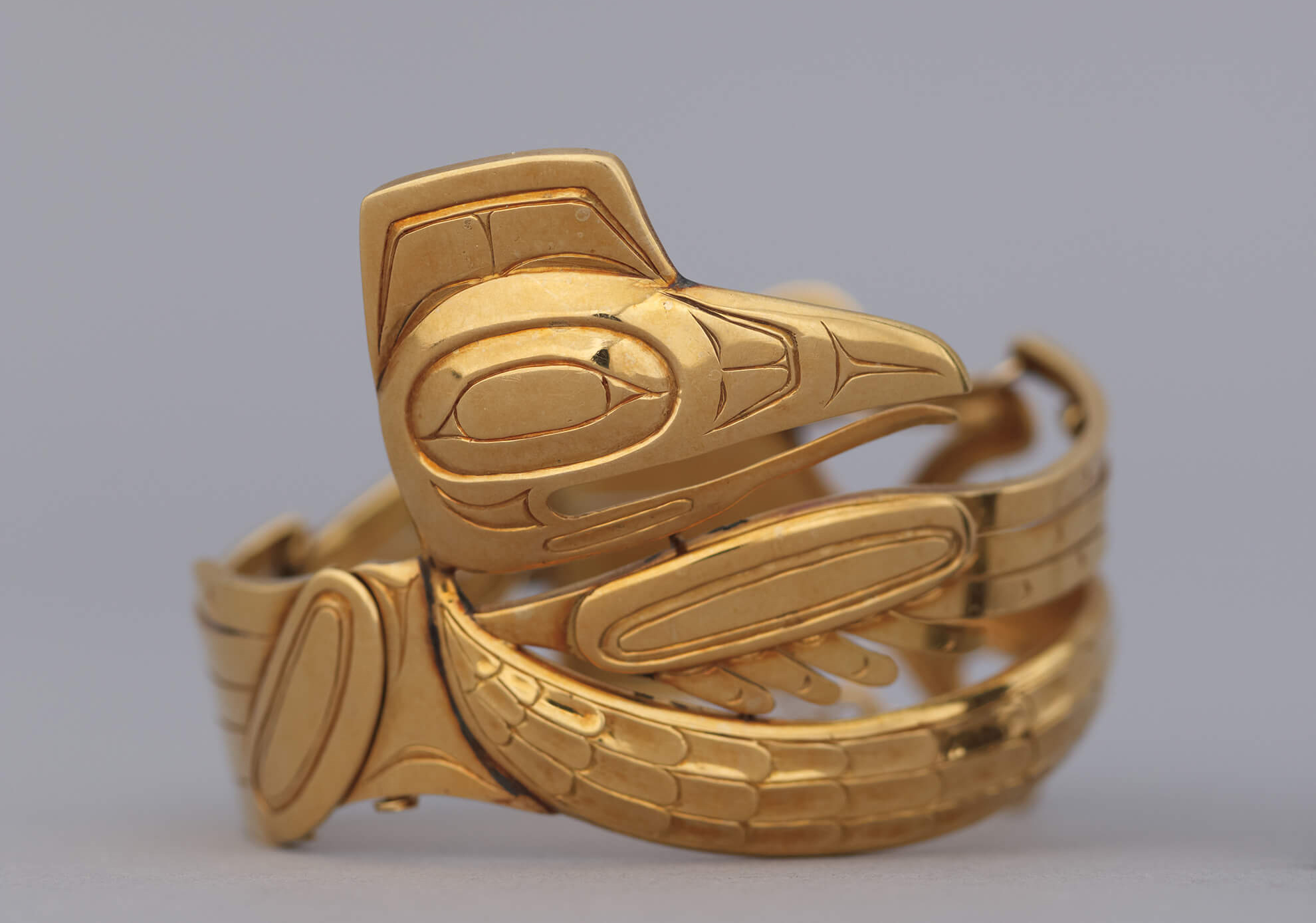 Hinged Raven Bracelet provides a rich entry point into the early life and work of Bill Reid. It depicts the Raven (Xhuuya)—cultural hero and trickster of Haida supernatural times—a subject Reid would return to throughout his career. It is fabricated in gold and is entirely asymmetrical in design, and, as its name points out, is innovatively hinged to allow it to fully encircle the wearer's wrist. Reid's view that "every time the vandals melt down the shiny baubles of our past, the goldsmith puts them together again in a different form" is reflected in this early work.  Most conventional Haida bracelets were formed from symmetrically engraved flat bands of silver, often obtained by hammering out American silver dollar coins.  Here, Reid takes inspiration from a tattoo design drawn by Haida artist John Wi'ha and employs traditional European fabrication techniques—soldering and hingeing—to allow the mythical Raven to take on dramatic sculptural form and embody new-found freedom of movement.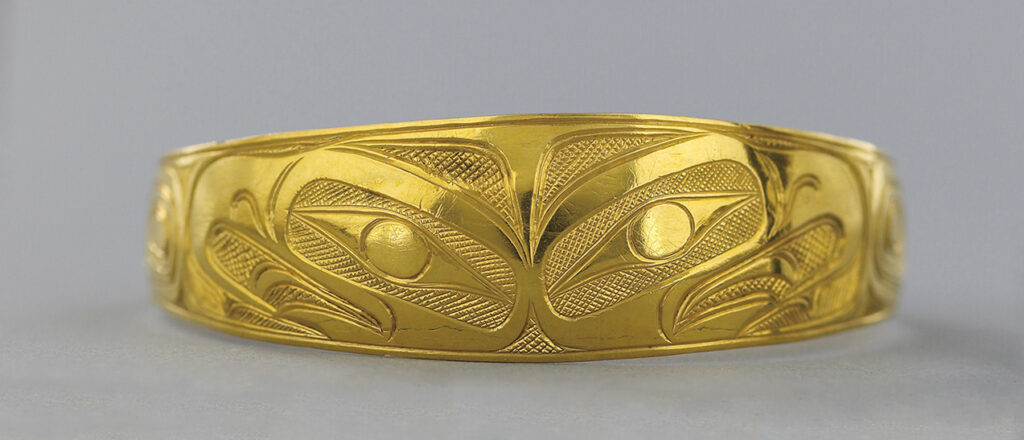 This bracelet was made in approximately 1955, when Reid was still working as a broadcaster at the CBC and concurrently establishing his reputation as a skilled jeweller and goldsmith in Vancouver. He became captivated by Haida design after encountering two gold bracelets made by Daxhiigang (Charles Edenshaw, 1839–1920). In spite of Reid's growing familiarity with a wide range of Haida material held in museum collections, for him the bracelets worn by his mother and aunts "constituted the absolute epitome of Haida art."  Jewellery, he came to realize, had played a significant role in Haida culture for centuries, and bracelets had particular significance as individually worn visual indicators of oral knowledge and familial lineages.
While much changed for the Haida people as a result of government attempts to eradicate their culture, Reid witnessed that some Haida women continued to wear their bracelets, an act that can be seen as a statement of self-identity and resistance.  Though Reid looked to nineteenth-century Haida artistry for inspiration, we can also locate the beginnings of his significant artistic practice in his lived experience of the women in his life and the jewellery they wore. Hinged Raven Bracelet is an outstanding example of Reid's commitment to learning and expanding the cultural vitality of Haida jewellery.