Black Evolving Forms 1953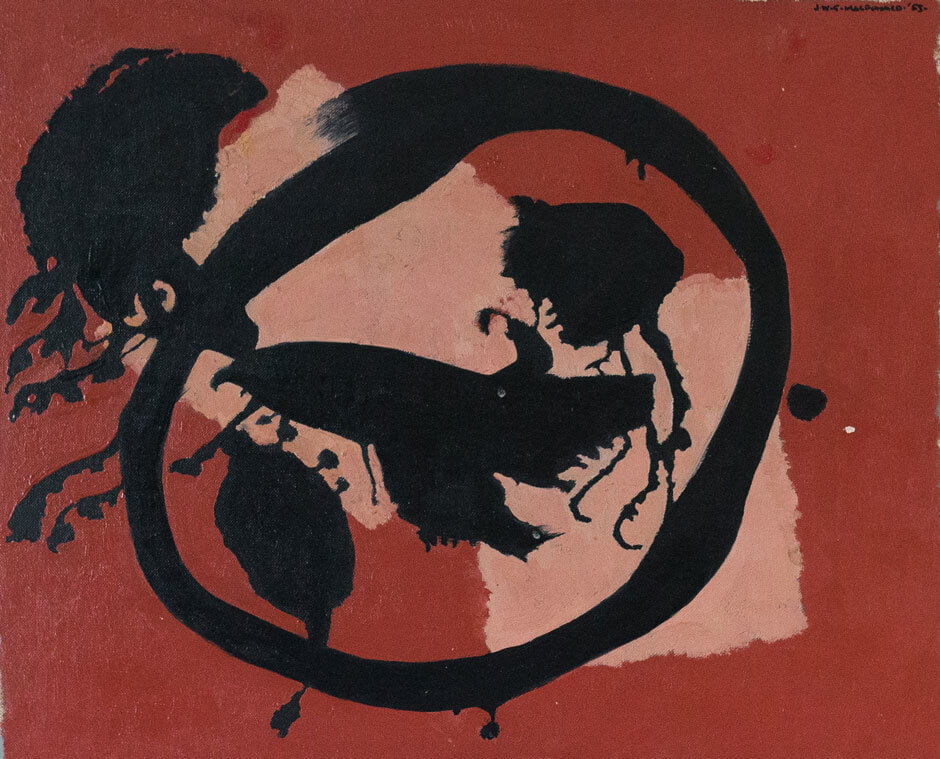 Black Evolving Forms is one of Macdonald's most successful early non-objective paintings in oil. The composition is strong, with an irregular black circular motif suggestive of bird forms heightened by an orange ground, but its apparent simplicity is deceptive.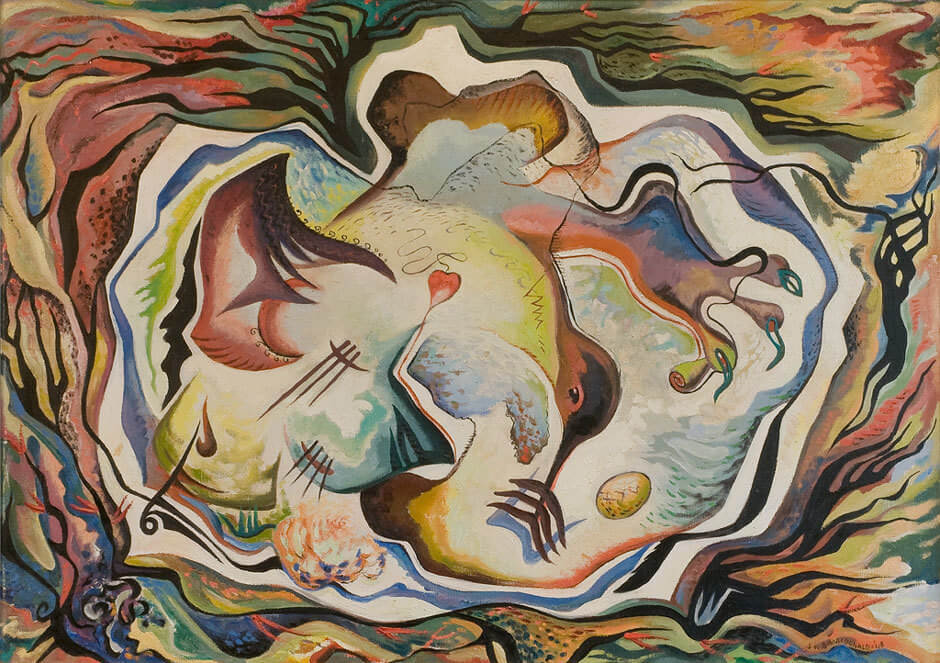 Macdonald seems to be experimenting with the "push-pull theory" he learned in the classes he attended in the late 1940s with Hans Hofmann (1880–1966). Hofmann said that shapes and colours interact to create the feeling of both space and movement, actively engaging the viewer with the work. Warm colours appear to advance, cool ones to recede, as the light and dark values and overlapping shapes create the illusion that the composition is breathing. In Black Evolving Forms Macdonald subtly situates an almost monochromatic ground against an irregular square of a lighter shade while employing a painted grey border as an internal framing device. The layering of forms in a shallow space and the tension between these layers of colour suggest an awareness of Hofmann's theories and a remarkable growth and development in Macdonald's style.
Compared with earlier automatic paintings in oil, such as Ocean Legend, 1947, in which Macdonald attempted to create the dynamic and flowing qualities of his watercolours, this work is fluid and uncluttered, though he still has not achieved the leap in scale that acrylics would soon make possible. His colour, however, is freed from the constraints of line and design elements present in works such as Bird and Environment, 1948.
Macdonald must have been pleased with Black Evolving Forms. In January 1954 he submitted it to the Willistead Gallery (now the Art Gallery of Windsor) exhibition Four Modern Canadians, which featured his art alongside that of Hortense Gordon (1889–1961), Sydney H. Watson (1911–1981), and Percy Taçon (1902–1983). In February he arranged to have the painting transferred to the Roberts Gallery in Toronto so it could be included in the first Painters Eleven exhibition. Macdonald had enormous faith that this group would introduce contemporary abstract art to the Canadian public outside Quebec—and it did.