Formative Colour Activity 1934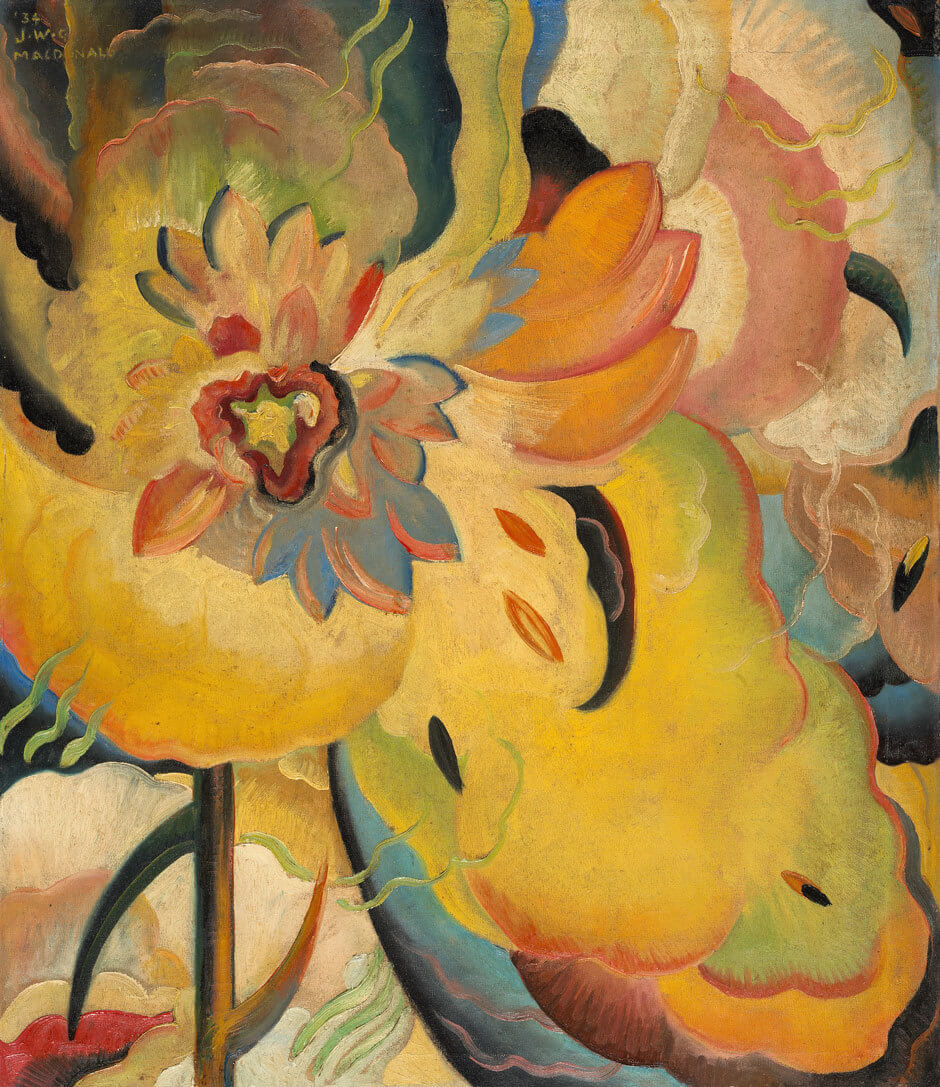 This experimental work—Macdonald's first semi-abstract painting—marks the beginning of his search to express the underlying principles of nature in art through the study of science, mathematics, and philosophy. At the time, Macdonald was steeped in the multidisciplinary curriculum of the British Columbia College of Arts. Working from a still-life arrangement of flowers, he created an exercise in which he would "look at a patch of them and deal with them quite abstractly." By magnifying a flower and painting only parts of it, he broke free from representation.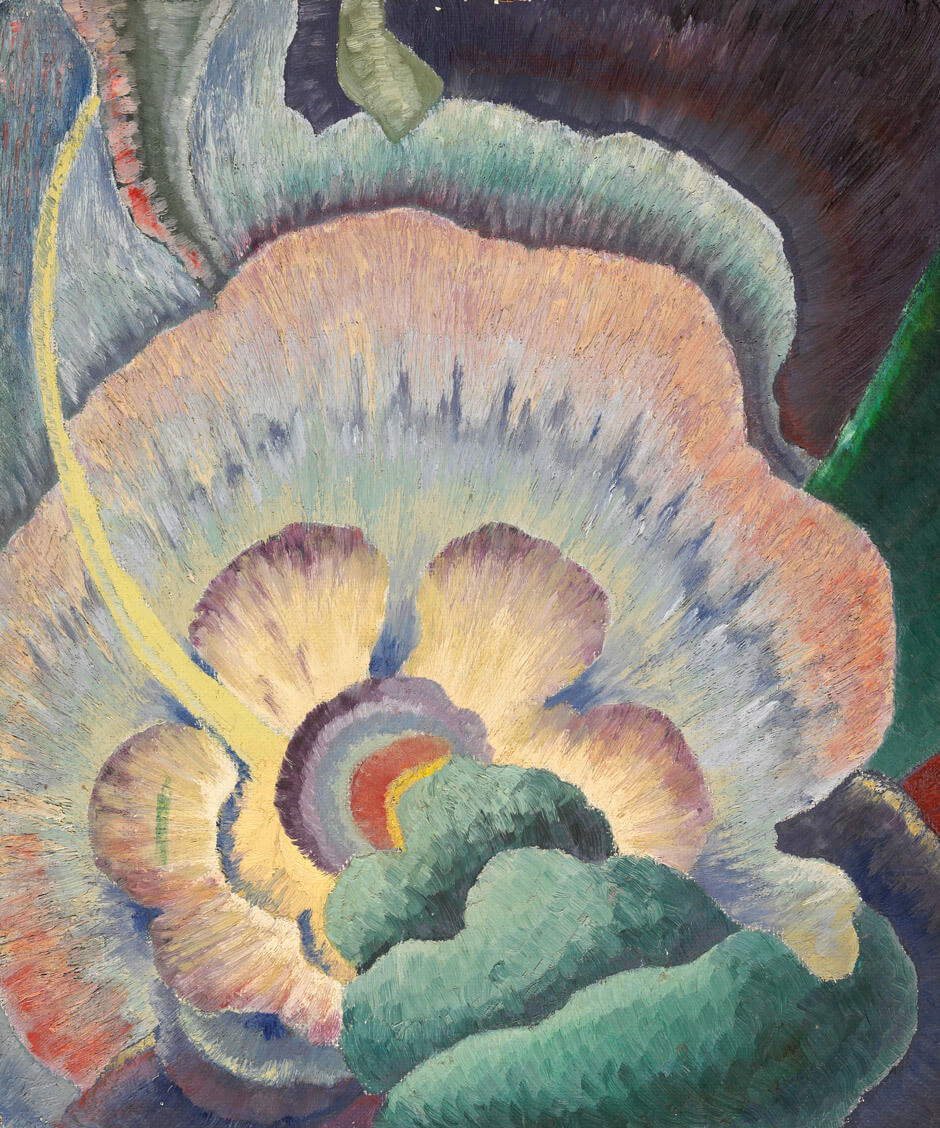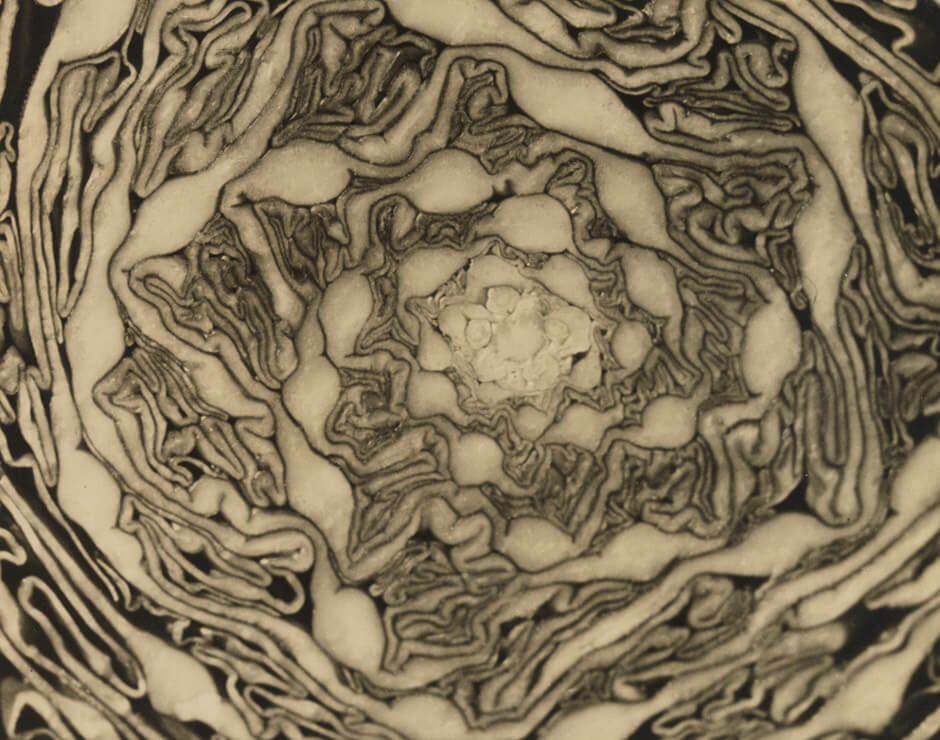 In the panel oil sketch that preceded this canvas, undulating areas of colour flow upward from the centre of the flower. Beatrice Lennie (1905–1987), a former student who had become one of Macdonald's colleagues, recalled his excitement after he completed the painting. In this work, Macdonald was most certainly influenced by his friend John Vanderpant (1884–1939) who, in Heart of a Cabbage, c. 1929–30, and similar photographs, closed in on his subject, using light, shadow, and pattern to reveal its inner rhythm seemingly independent of objective form. In his classes he quoted from Amédée Ozenfant (1886–1966): "A flower is no longer one of nature's smiles … but magnetic waves directed along certain axes, so rapid that they become matter, colour."
In Formative Colour Activity the flower image stands on a sturdy stalk at the left of the canvas. The rest of the painting, however, is composed of fields of colour, radiating outward and filling the canvas with waves of flowing and dynamic movement. While the image is still very structured in its design, Macdonald was thrilled with the breakthrough it represented.
Caught up in the closure of the British Columbia College of Arts and the responsibilities of earning a livelihood during the Depression, however, Macdonald did not return to experiments with pure form and colour for another two years. Later, however, he dated his exploration of abstraction to this painting. So confident was he in the importance of this new direction that, while he was living in Nootka Sound in 1936, he submitted this work to the first Canadian Group of Painters exhibition at the Art Gallery of Toronto (now the Art Gallery of Ontario).