Indian Burial, Nootka 1937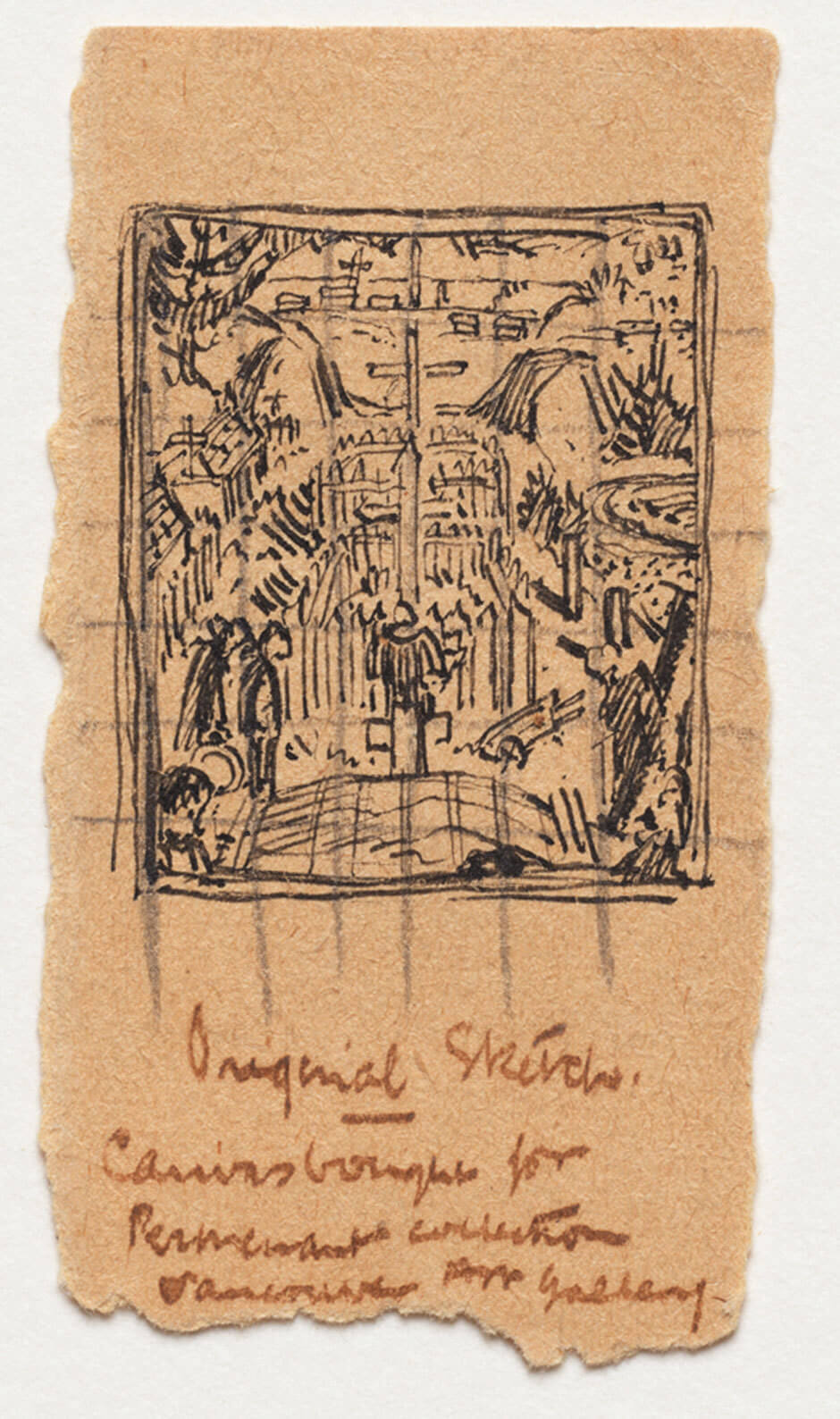 In this image, as in his other Nootka sketches and paintings, Macdonald attempts to capture the spirit of life in the Nuu-chah-nulth village. Although he painted a number of small oil-on-panel works, he completed only one major canvas, Friendly Cove, Nootka Sound, B.C., 1935, during his stay at Nootka. This work, based on a sketch he had done in situ, was painted after the artist's return to Vancouver.
Though the graveyard and the priest in Indian Burial are clearly Christian, Macdonald has added a level of complexity to the narrative by introducing in the right foreground a mourner with a traditional ceremonial mask. The mask was absent in the preliminary sketch, and it seems to challenge our entry into the scene, its expressive features dramatically evoking the continuing presence of the power of the old ways.
The painting is striking in its organization, displaying a designer's delight in carefully balanced areas of colour and pattern. The priest, his hand raised, creates a strong vertical focus, leading us both forward toward the open grave and the mask and then beyond the blue cross on the casket toward two centrally located crosses in the middle ground and on, following the curving path, into the distance, where totem poles and a lighthouse border the ocean. In September 1938 the Vancouver Art Gallery reproduced the recently acquired painting on the cover of its Bulletin, and the following year included it in the Canadian exhibition at the San Francisco Golden Gate Exposition.
Though Macdonald would return to themes from Nootka in later works, Drying Herring Roe, 1938, was the last representational canvas he painted of life in Nootka. At the time, he considered it the best painting he had ever made. He worried that the unfamiliar subject matter would not be understood, so he explained in some detail the Nuu-chah-nulth custom of taking twenty-foot branches out in canoes and submerging them in deep water. "In two weeks the branches are raised up, plastered with herring eggs [which are hung up] to dry out and cure in the sun. The village is festooned with masses of mimosa coloured (yellowish) hanging foliage." The painting received immediate praise and was included in the Century of Canadian Art exhibition at the Tate Gallery in London that same year.