The Daddies 2016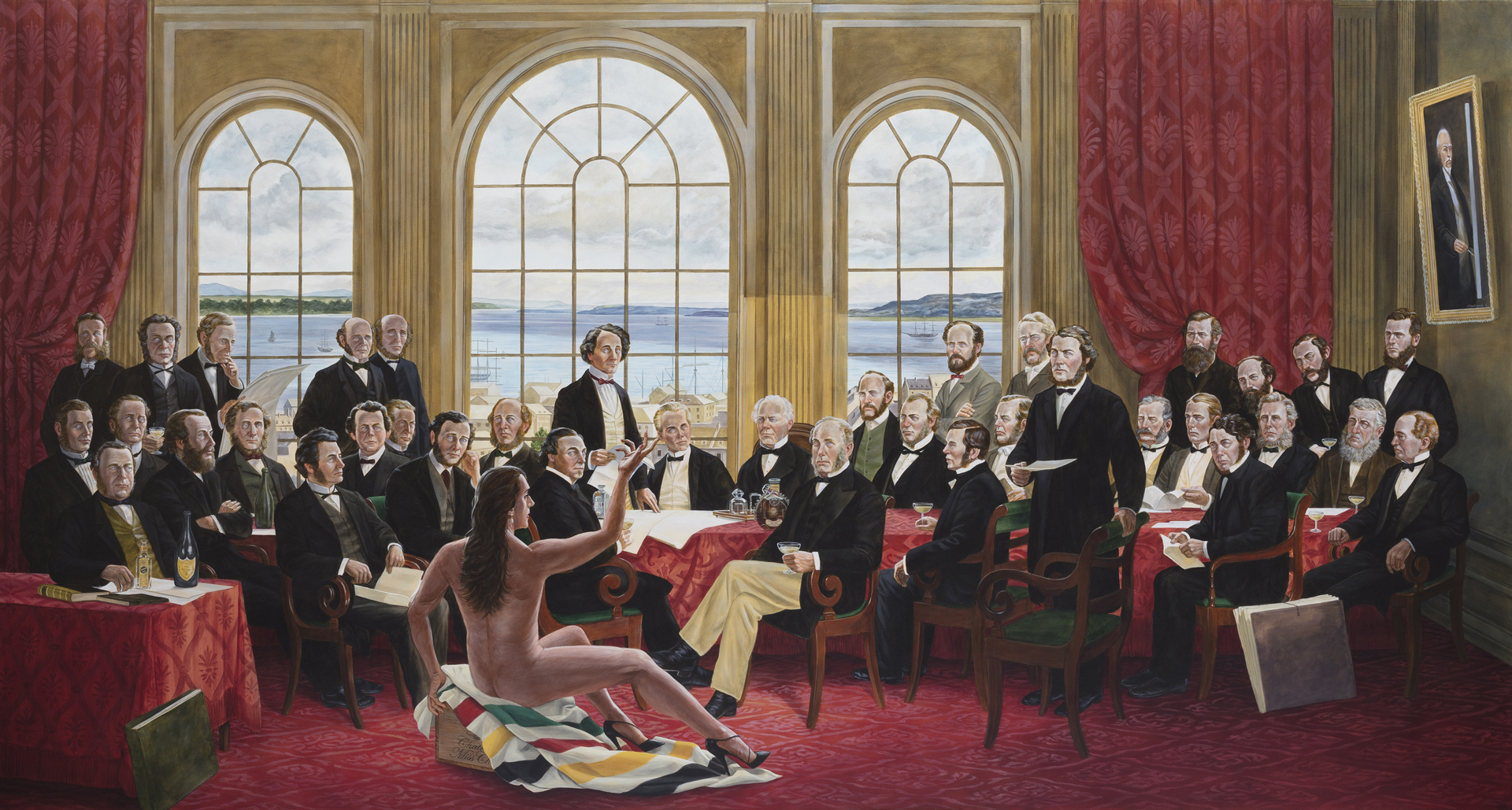 The Daddies is an appropriation of Meeting of the Delegates of British North America to Settle the Terms of Confederation, Quebec, October 1864, 1884, by Robert Harris (1849–1919), which was intended to document the 1864 Conference where political leaders discussed plans for the formation of the Dominion of Canada—the painting is often referred to as The Fathers of Confederation. In Kent Monkman's work, Miss Chief Eagle Testickle perches on an ottoman covered with a Hudson's Bay blanket, a salute to the Indigenous hunters and trappers who worked for the company.  She is nude save for her signature black Louboutin heels. She has invited herself to this gathering of white men who are deciding her people's fate, and she gestures to the fathers, asking them to consider Indigenous title to territory. Miss Chief subverts both official portraiture conventions and Canadian political history by imposing an Indigenous, queer presence on the origins of Confederation.
This work was created just before a critical national moment. In 2017, Indigenous rights activists occupied the grounds of Parliament Hill four days before Canada Day celebrations marking the 150th anniversary of Confederation in protest of the concept of commemorating a history that ignores the tumultuous relationship between Indigenous peoples and the rest of Canada. #Resistance150 was a way to inspire other Indigenous people to reclaim what they lost during colonization. In this painting, Miss Chief, by being present, establishes a reoccupation as well. With a gesture of her arm, she raises attention to the confiscation of Indigenous lands brought on by the government, highlighting a serious issue concurrent with #UnsettlingCanada150, the National Day of Action.
In Harris's composition, twenty-three men in velveteen nineteenth-century British attire were arranged in a semi-circle around a long table, with John A. Macdonald, Canada's first prime minister, gripping a document and presumably about to launch into oratory. The original painting was destroyed in the Parliament Hill fire of 1916. Forty-eight years later, in anticipation of the centennial celebrations of 1967, Confederation Life Insurance Company commissioned Rex Woods (1903–1987) to recreate the work, which still hangs in the House of Commons in Ottawa as part of the permanent collection.
The Daddies was included in the exhibition Shame and Prejudice: A Story of Resilience, organized by the Art Museum at the University of Toronto in January 2017 and curated by Monkman.