Three Black Cats 1955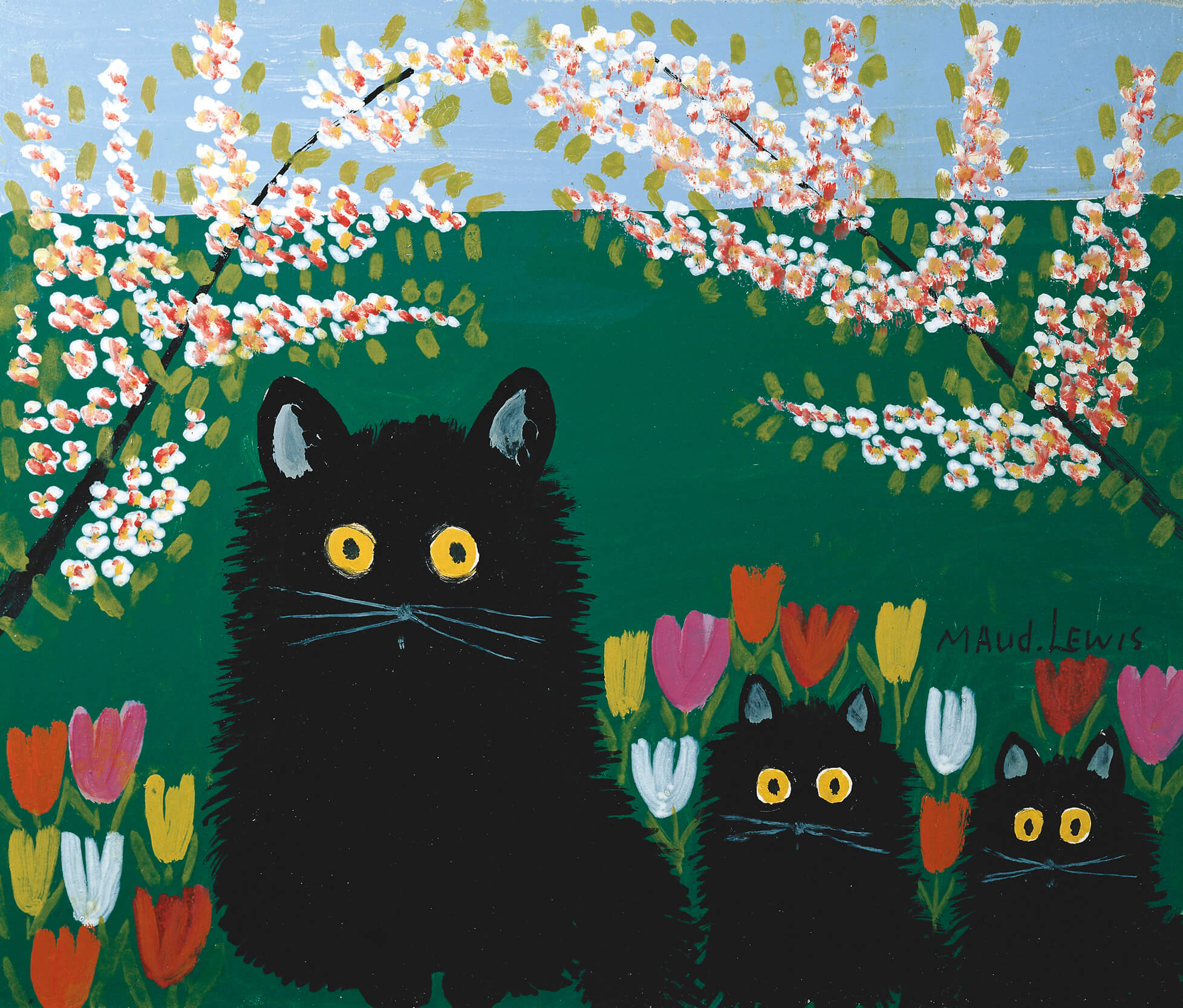 This image is among Maud Lewis's most iconic works, perhaps her most famous composition. Lewis's childhood cat was named "Fluffy," and in later years she painted several versions of her memory of this black, longhaired family cat from Yarmouth.  Usually portrayed with two kittens, black cats are among her most common, and popular, subjects. In this painting the cats are framed by two sprigs of flowering apple blossoms and sit amid a bed of tulips. In addition to her "portraits" of black cats, she also depicted white cats, though usually without kittens, and, in one instance, a grey cat with its child owner (a commission).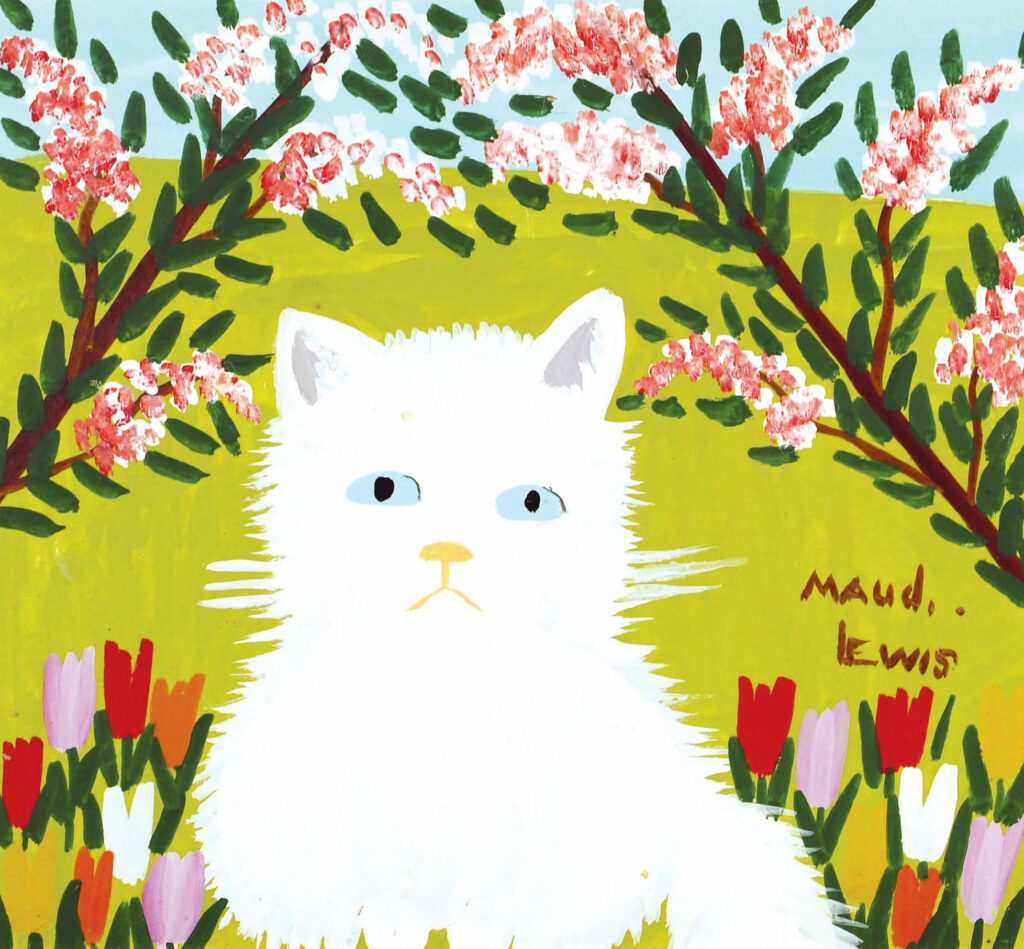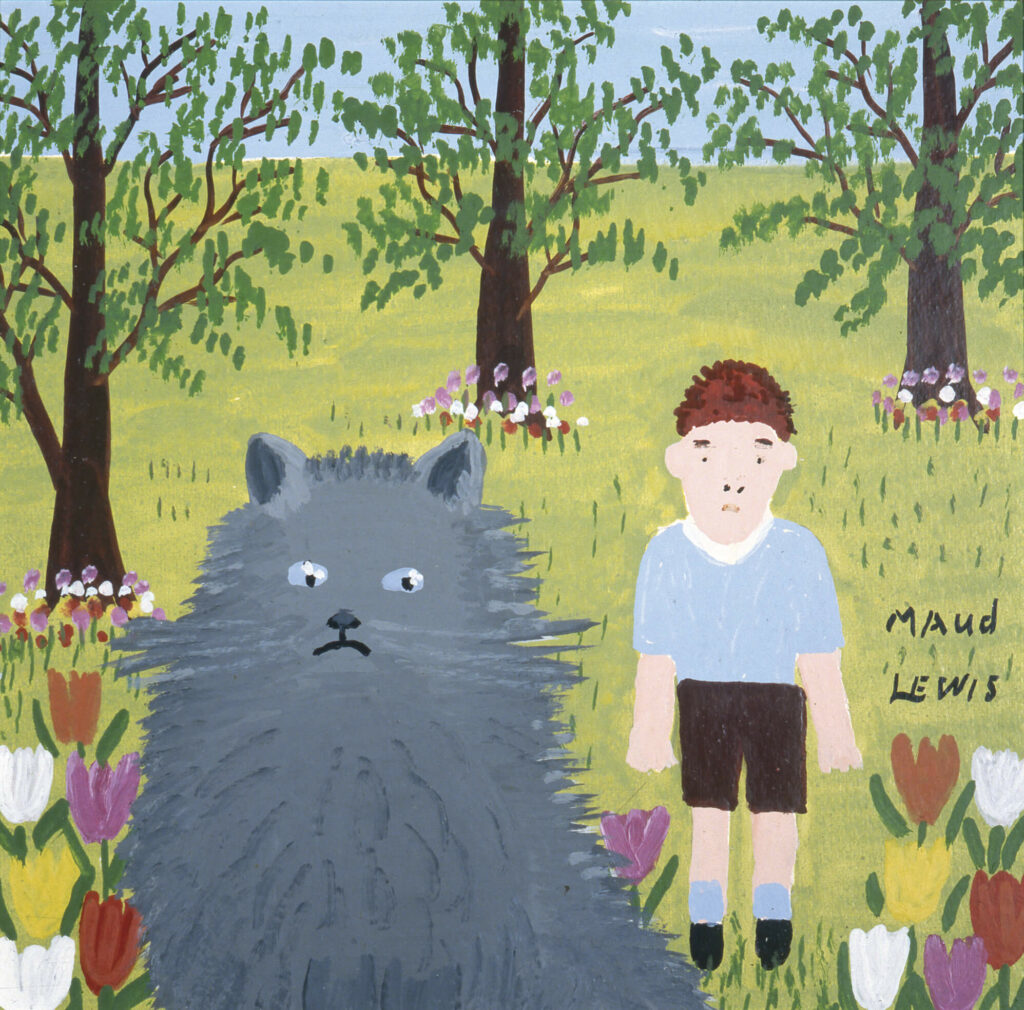 Lewis devised simple, yet effective, compositional motifs to make these images, including the yellow rings for eyes, the three bold strokes of colour for the tulips, and the lace-like quality of the apple blossoms, done with repeated stabs of colour. The flatness of this image, with the cats sitting right in the foreground against the flat background, makes it quite striking and strongly graphic, like a flag or a logo. Not incidentally, it also made the image easier to paint, an important consideration, especially through the 1960s, for what was one of her bestselling images.
The media attention she started receiving from the mid-1960s onward generated huge interest in her paintings, and she had a hard time keeping up with the demand. She painted this image dozens, if not hundreds, of times. The cats were traced from stencils made by Everett in her later years, as were the other popular images often ordered by customers. Her husband also assisted with making many of the works, doing the outlines of the central figures and even painting some of the backgrounds.
Three Black Cats bears some similarities—in composition, if not in content—to the traditional icon painting of the Eastern Orthodox Church. These religious paintings are highly stylized and formalized, and their images are often limited and repetitive. Art educator Harold Pearse argued that paintings such as Three Black Cats "are iconic, not only because of the restricted subject matter and rendering style, but because, through repetition, they create an ongoing serialized narrative."  That is, their reiteration in Lewis's work tells a story about her vision of an idealized Nova Scotian past.
In recent years, the strong graphic qualities of Three Black Cats have led to the image's being easily adapted into other forms. The cats can be found on pins, fridge magnets, aprons, T-shirts, socks, dust pans, umbrellas, trays, and even dish cloths. It is a fitting proliferation given Lewis's own history of finding influences in just such decorated consumer goods.