Ataata (Father) 2002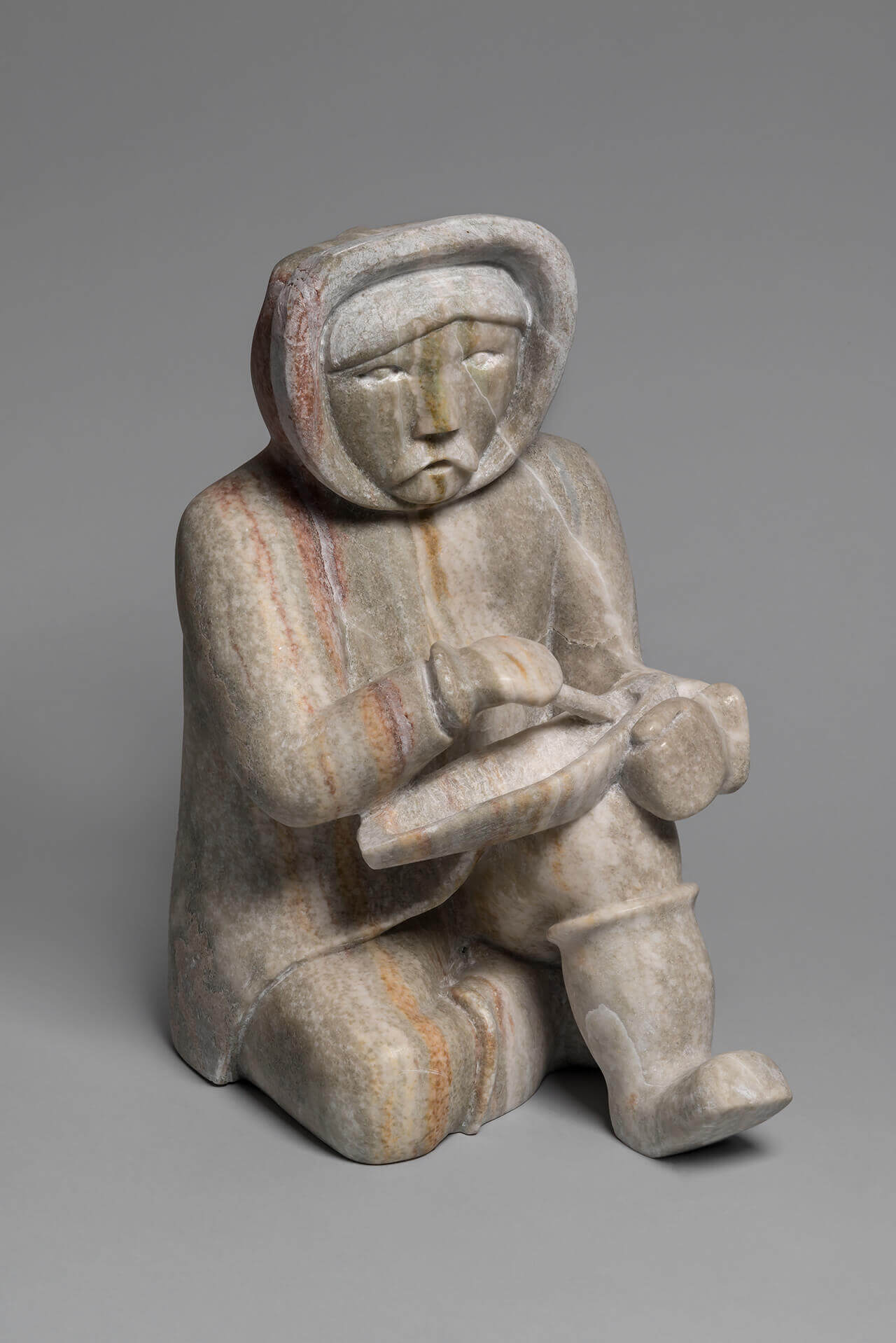 Many of Oviloo Tunnillie's carvings include members of her family, and particularly her beloved father, Toonoo (1920–1969), who inspired her early interest in carving. Ataata (Father) is one of only a few portraits Oviloo made that shows Toonoo alone. It presents the viewer with an image that conveys the artist's deep affection for her father and his formative influence on her work. In the sculpture, Toonoo, who was known for his carvings of this domestic necessity, is shown carving a qulliq, a traditional stone lamp that burns rendered animal fat to give light and heat to dwellings.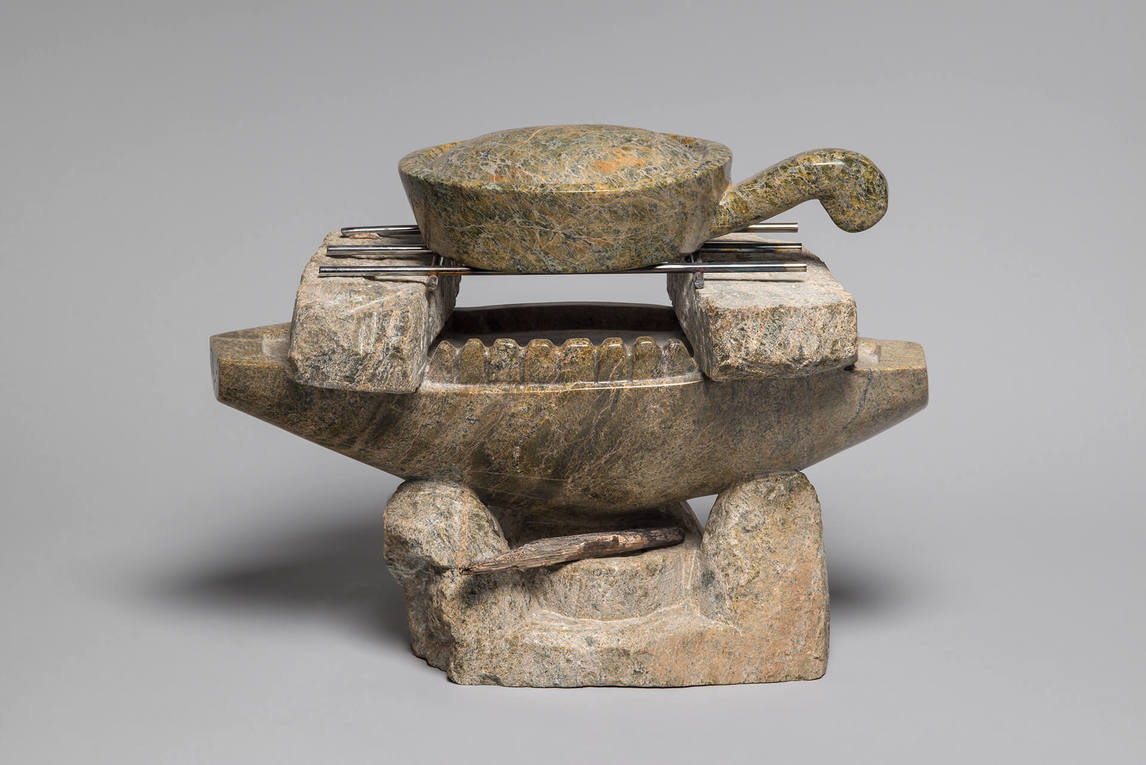 Oviloo's portraits of her father seem to reflect the quiet, gentle nature that has been attributed to him by commentators such as Jimmy Manning and Terry Ryan of the West Baffin Eskimo Co-operative. Oviloo uses a particularly colourful stone, with rose and tan streaks, for this tranquil carving inspired by a photograph she had of her father: "There is a photo of my father like that, carving a kudlik (qulliq) in stone. It stays in my mind." Three years earlier, in 1999, Oviloo had carved a different qulliq, that one being used to heat a pan for cooking bannock. The carving was featured on a poster commemorating the formation of the territory of Nunavut that year.
Ataata (Father) was included in the 2002 exhibition Toonoo's Legacy organized by Feheley Fine Arts in Toronto and was probably inspired by the theme of the exhibition. The show featured art works spanning three generations: by Toonoo; Oviloo's mother, Sheokjuke (1928–2012); Oviloo herself; her brothers Jutai (1959–2015) and Sam Toonoo (1969–2017); and her three sons, Tytoosie (b.1974), Noah (b.1976), and Etidloi (b.1982) Tunnillie.
The sculpture was made when the family was living in Toronto, and the exhibition catalogue gives insights into the work they were doing at that time. Pat Feheley explains: "Today Oviloo is the matriarch of a large and busy family, transplanted to Toronto for the past year. She enjoys the longer working hours for outdoor sculpting in the southern environment." Oviloo commented to Feheley that the only thing she missed about Cape Dorset was getting country food from her relatives.
Oviloo's comments obscure the struggles the family experienced during their time in the South. The reduced market for Inuit art following the September 11, 2001, terrorist attacks in New York City made it more difficult for Oviloo to support her family. The sculptures of her father that Oviloo created for the exhibition organized by Feheley, Ataata (Father) and On My Father's Shoulders, 2002, show the continuity of her artistic vision through this challenging time.