Ikayukta Tunnillie Carrying Her Drawings to the Co-op 1997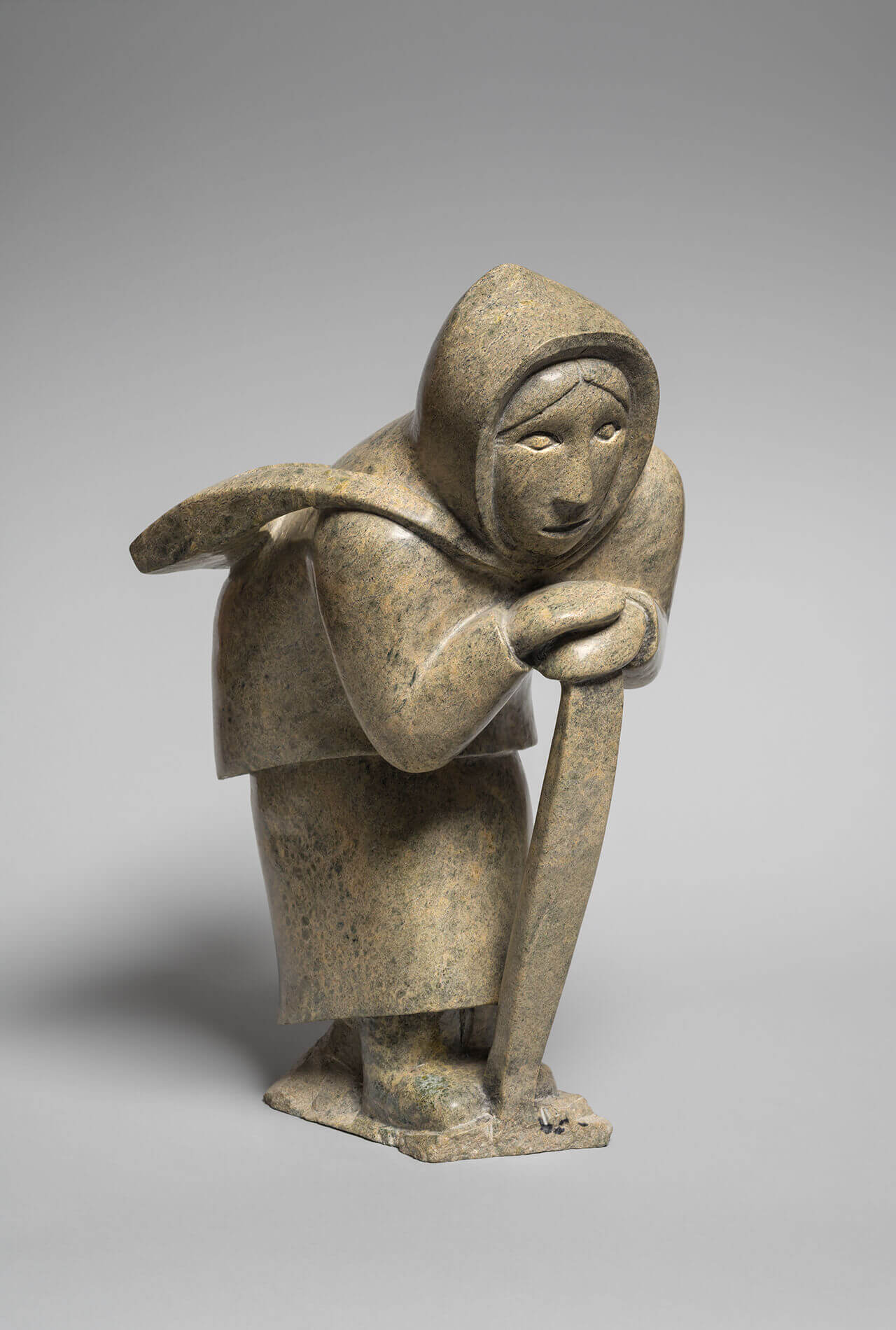 Oviloo Tunnillie created at least three sculptures that portray graphic artist Ikayukta Tunnillie (1911–1980), the grandmother of her husband, Iyola. In her later years, Ikayukta lived with Iyola and Oviloo and was a respected member of their family. This work, the earliest of the carvings depicting her, shows the artist carrying her drawings rolled up in a tube holder as she walks to the West Baffin Eskimo Co-operative. This large, masterful carving conveys the determined effort exerted by the elderly woman as she trudges forward, stooped under the weight of the drawings on her back and leaning heavily on her cane. The softly coloured, light green stone and the highly polished surfaces all contribute to a sense of gentle strength.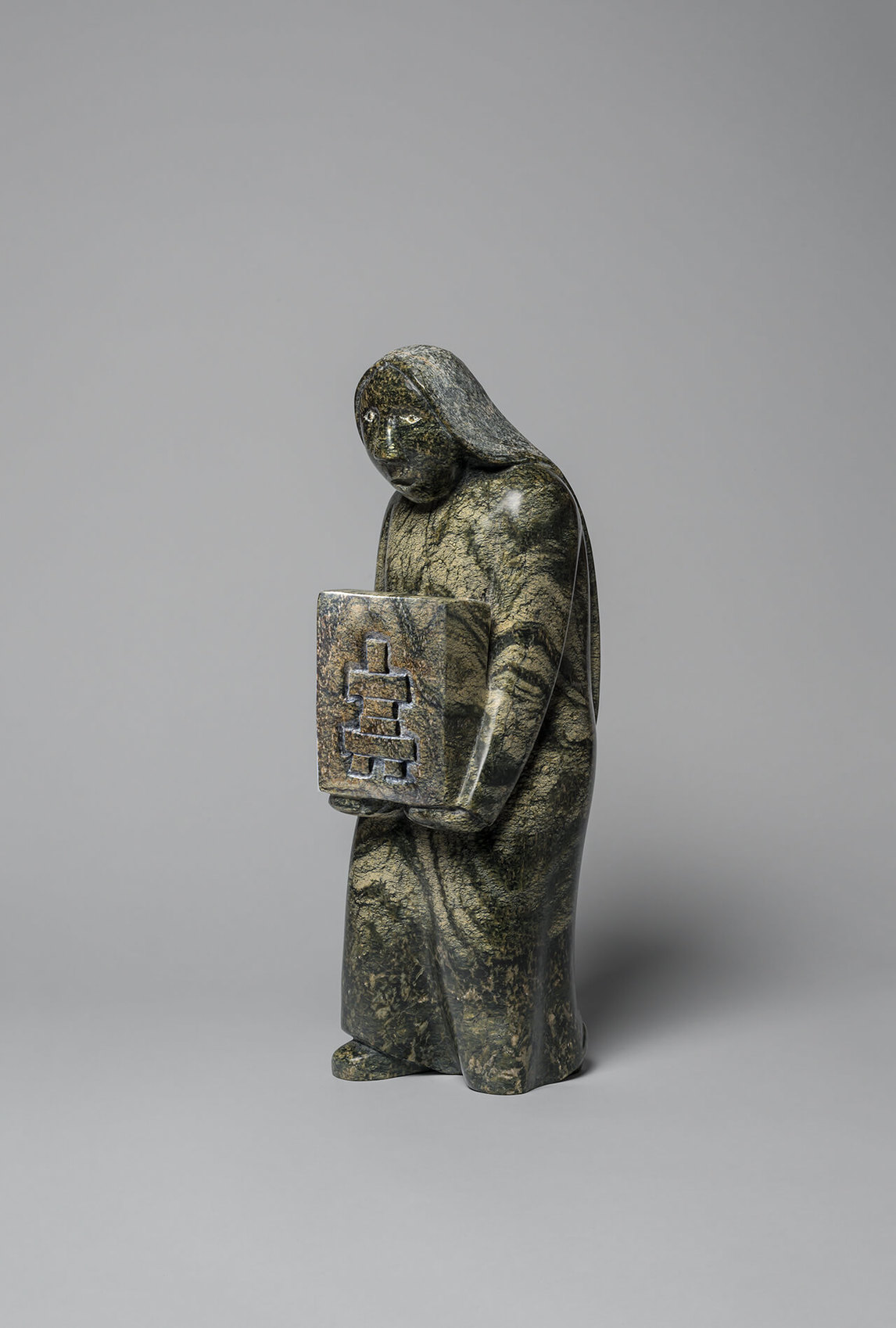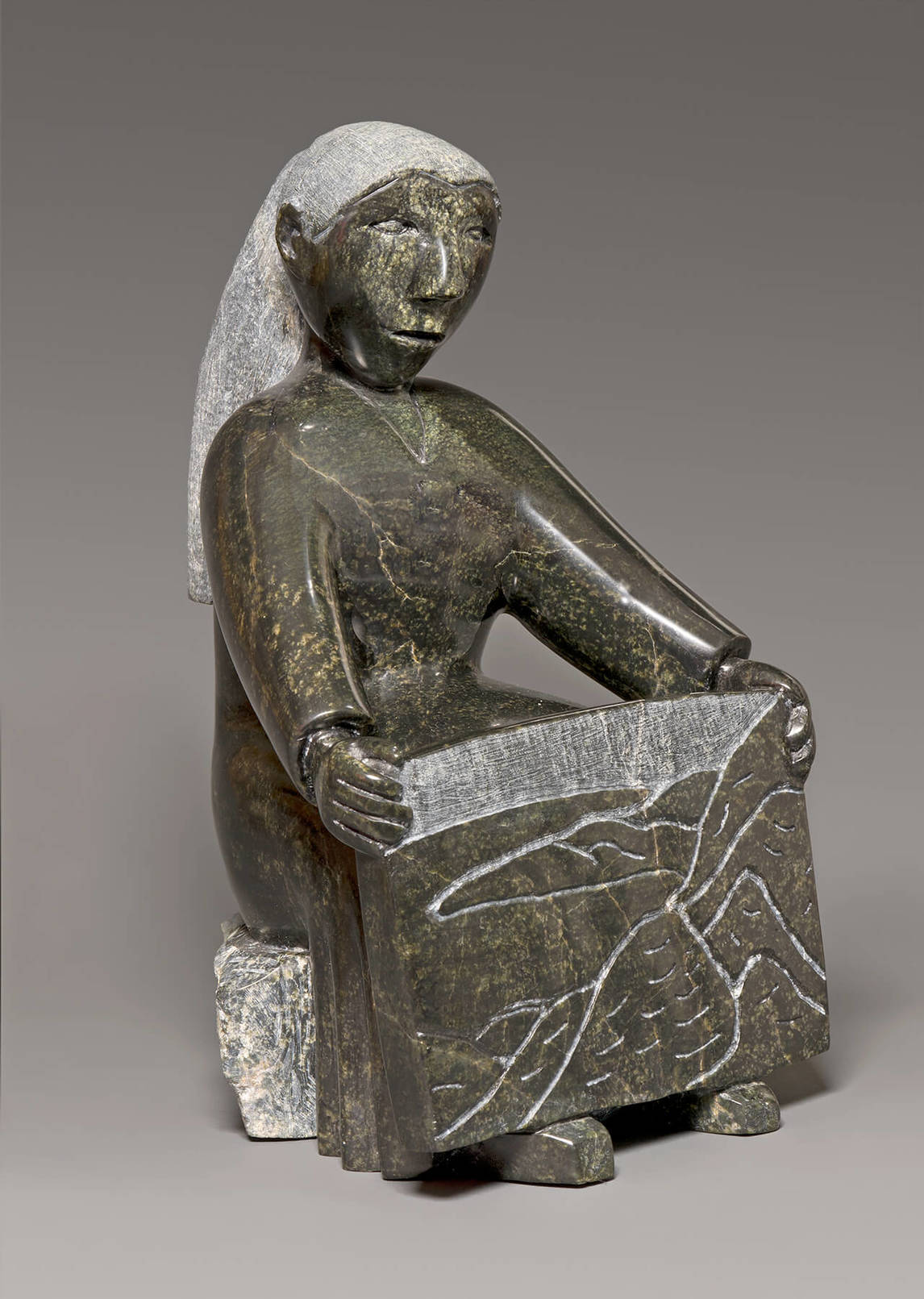 Oviloo was filmed carving this sculpture in 1997 for an Adrienne Clarkson Presents television episode, "Woman's Work: Inuit Women Artists." Oviloo spoke with great affection about Ikayukta. She told Clarkson: "I really liked my husband's grandmother, so I like the carving. I can recognize her now. . . . I think of the advice Ikayukta used to give me, and I can still use the advice today." Although Oviloo did not specify the precise nature of the advice Ikayukta offered, the younger artist clearly valued the elder's artistic mentoring.
Oviloo also acknowledges the achievements and positive influence of other artistic women in her family and in her community of Cape Dorset. In the self-portrait Woman Showing a Drawing, 2006, she proudly references the graphic art of her mother, Sheokjuke (1928–2012), by displaying one of her mother's drawings to the viewer.
In her self-portrait Woman with Stone Block, 2007, she alludes to the long-standing printmaking program of the Co-op. She carries a smooth, rectangular stone block that has an inuksuk carved in low relief. In an interview with Robert Kardosh, director of Marion Scott Gallery, Oviloo explained that the block represents a printing stone of the sort used by Cape Dorset printmakers to create a stonecut print. Stonecut prints were created from the drawings submitted to the Co-op by her female family members, including her maternal grandmother, Mary Qayuaryuk (Kudjuakjuk) (1908–1982). This sculpture also gives expression to the exertion resulting from carrying heavy pieces of stone. The woman moves forward, and each slow, measured step appears to be an effort.