Mary Hailed as Co-Redeemer c.1922–32
Mary Hailed as Co-Redeemer is part of the decoration of the bishop of Sherbrooke's private chapel, one of Leduc's most successful projects. It was completed thanks to the collaboration of the architect Louis-N. Audet and the generous approval of the bishop of Sherbrooke, Monsignor Paul La Rocque. The neo-Gothic-inspired building in the heart of the bishop's palace offered four large areas on the walls of the nave, suited to four paintings on the theme of the Virgin Mary's part in the salvation of humanity: Mary as co-redeemer.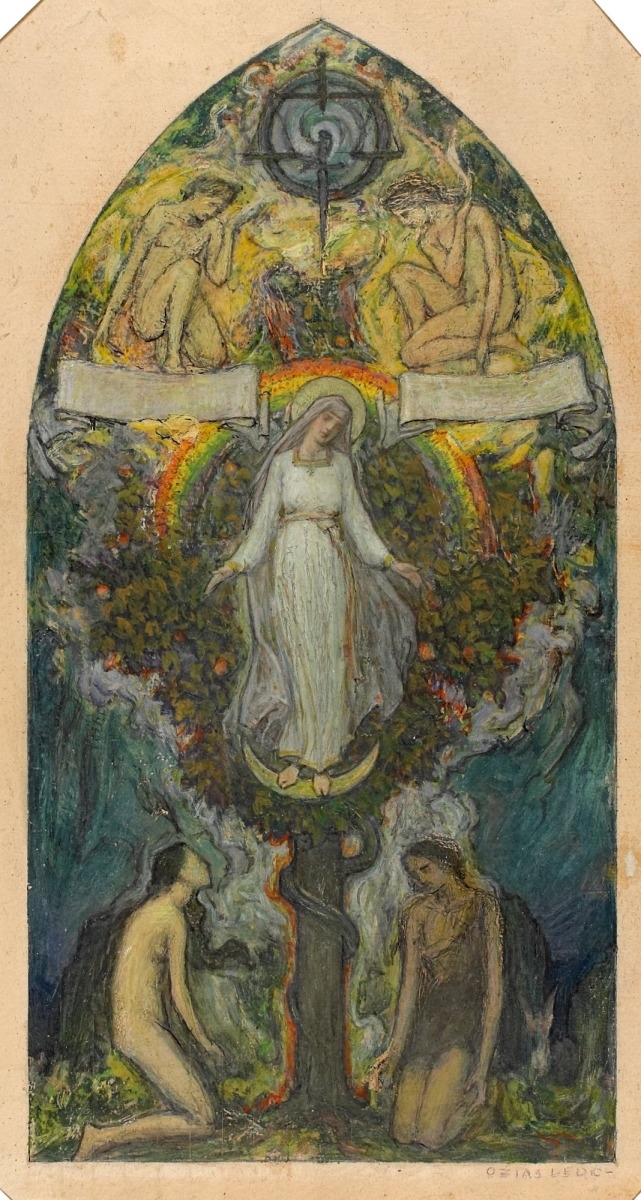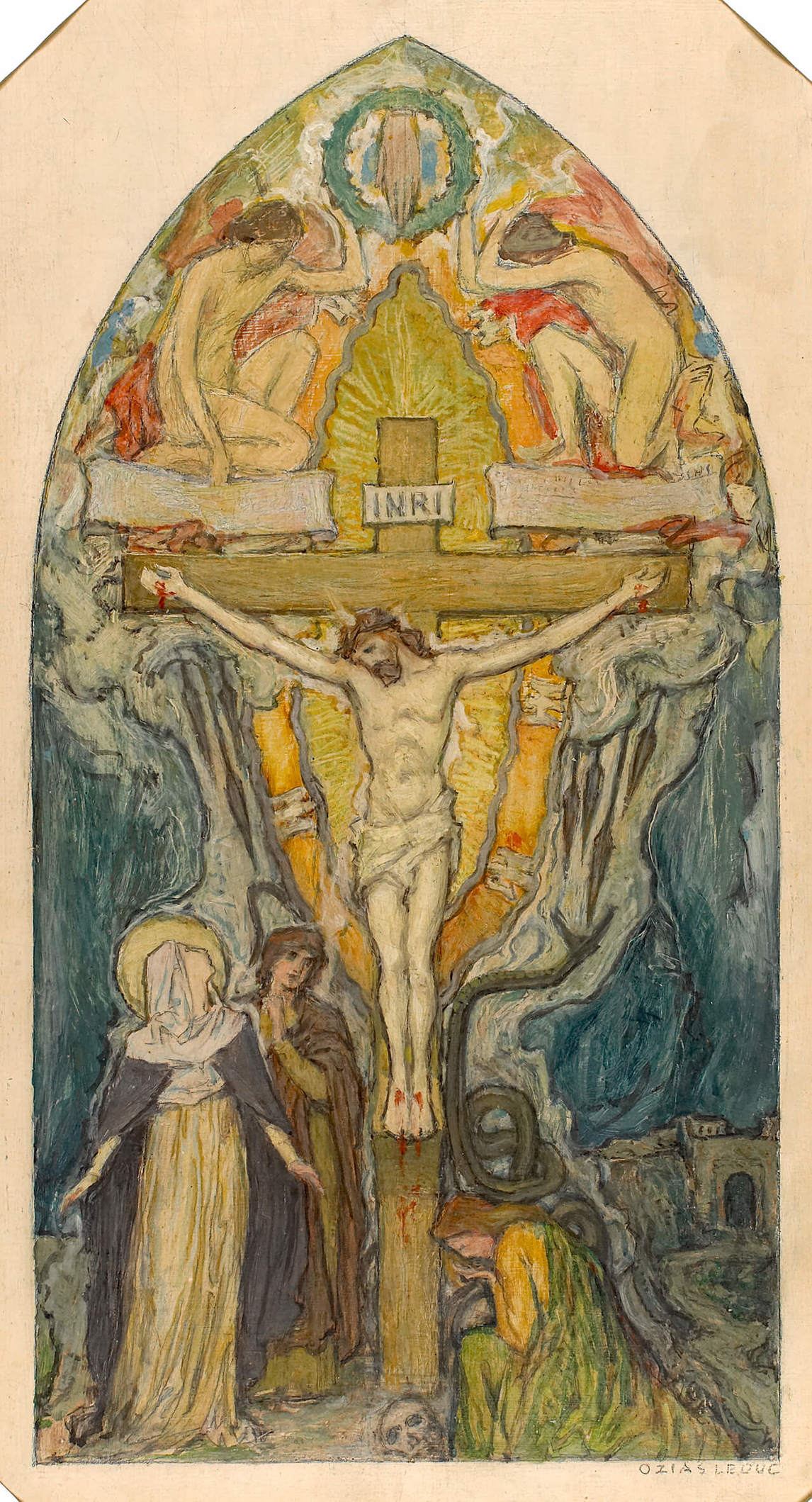 The composition is organized in three levels (first parents, Mary, God) along a central axis surrounded by a mandorla on which two triangles have been placed. Adam and Eve are depicted within the ascending triangle; the other, descending, shows the Virgin. This pattern is repeated in the four paintings. The unity of the decoration is established by the composition and the ensemble of iconographic elements, and supported by the colour palette of ultramarine, gold, and ochre that repeats in motifs painted on the vault and the columns, creating a jewel-box effect as of a magnificent interior refuge in a fantastical world.
The subject is relatively unusual in Christian iconography. It was treated in the Church of San Lorenzo in Lucina (Rome) at the beginning of the seventeenth century. Closer to home, Ludger Larose (1868–1915) chose to represent it in 1892 in the Notre-Dame du Sacré-Coeur Chapel of Notre-Dame de Montréal (destroyed). Interest in this theme was part of a movement of fervent devotion to the Virgin that had arisen in Quebec at the end of the nineteenth century. The proclamation of the dogma of the Immaculate Conception in 1854 and apparitions of the Virgin at Lourdes in 1862 and at Fatima in 1917 helped to sustain this trend, which was characterized by daily familial recitations of the rosary, among other forms of devotion. Rather than insisting on such a recent event, Leduc chose instead to focus on the central role played by the Virgin as the mother of God.
In addition to the painting of Mary as co-redeemer, the chapel has an Annunciation and, on the facing wall, a representation of the Finding in the Temple and the Crucifixion, which overlooks the scene in which the Virgin appears to Adam and Eve after they were expelled from the Earthly Paradise and God promised to send his son to redeem the original sin. A comparison of the treatment of the Virgin in Mary Hailed as Co-Redeemer with that in The Crucifixion shows that the one follows the other as a sort of echo, placing the Virgin in an attitude comparable to that of the dying Christ.