The Choquette Farm, Beloeil 1901
A country house in the distance, with a barn, in winter. We are in the fertile Richelieu Valley, in Saint-Mathieu-de-Beloeil, where the Choquette brothers grew up on this farm belonging to their parents, Joseph Choquette and Thaïs Audit, known as Lapointe. The fields have been cleared and prepared for planting; a few fences and some young elm trees accentuate the immense scope of the land and its sense of isolation.
Leduc had first tried his hand at landscape around 1899–1900 in his illustrations, inspired by Saint-Hilaire, for Claude Paysan, a novel written by Dr. Ernest Choquette. He made many quick plein air oil sketches in preparation.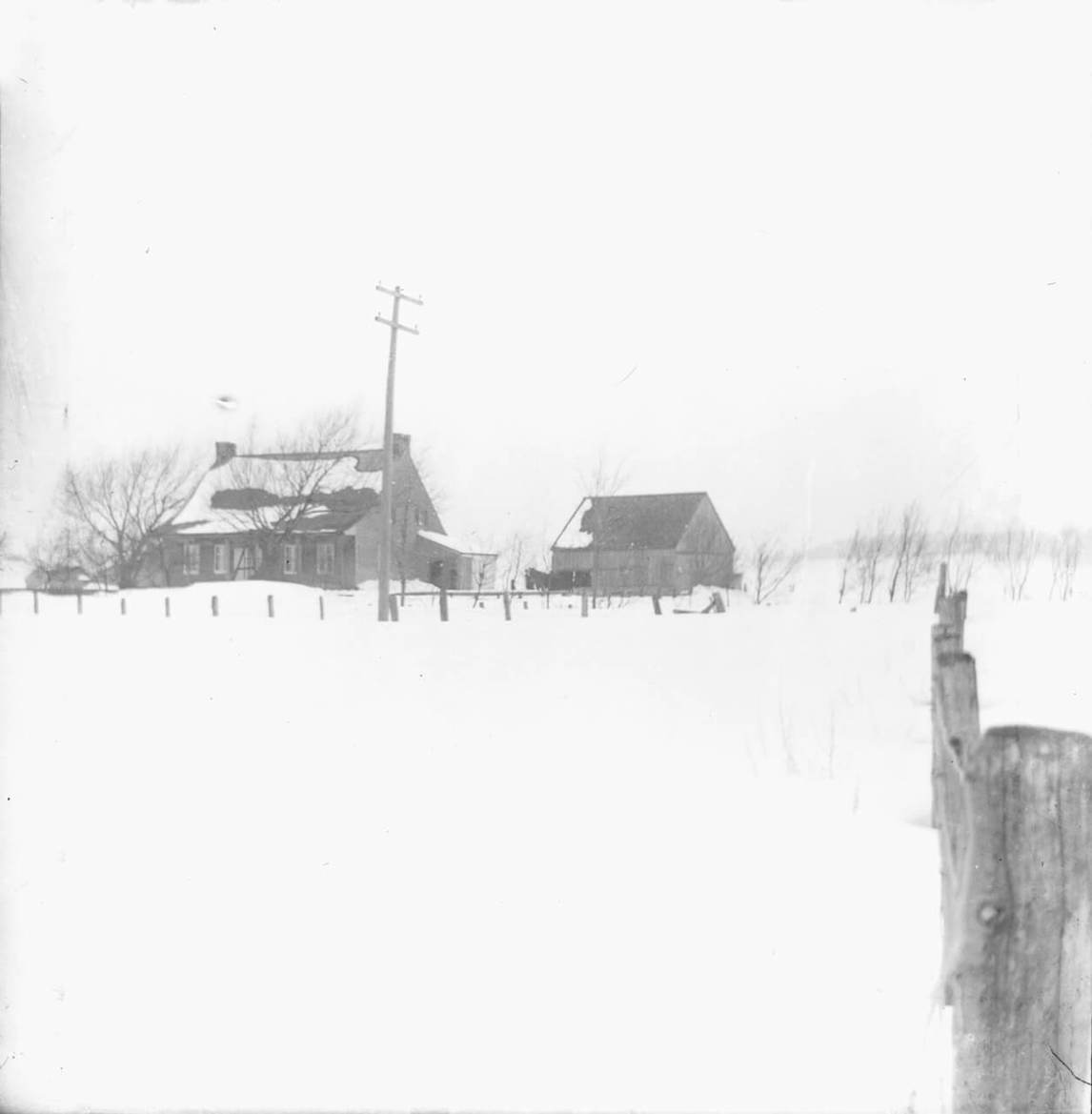 In 1901 Leduc was given a unique opportunity to prove himself in this area when Judge Philippe-Auguste Choquette commissioned three large paintings of the Saint-Hilaire region from him. Each one would represent a different season and point of view: The Choquette Farm, Beloeil is set in winter, Harvest (Les foins) in summer, and Autumn Tillage (Labours d'automne) in the fall. Was the original project meant to cover all four seasons? If so, the spring scene was never painted.
Leduc's studies for the three works show that he planned the pictures carefully, making plein air sketches and preparatory drawings, and photographing the sites. Each type of preparatory work gave him new, specific information that, when combined with the others, enabled him to compose the final scenes. His plein air studies helped him capture local colour, while his photography captured the reality of nature more objectively. The drawings then structured the composition, based on the photos and sketches.
The three paintings are in landscape format, and each showcases a vast perspective, with the principal subject at a medium distance, just below the horizon line. By comparing the photograph of the Choquette farm in winter with the painting, it is possible to see how Leduc reframed the image, placing the houses and features of the landscape in the background closer together, moving the fence, adding certain details to indicate spatial depth (two elms on the left, grasses and birds on the right), and eliminating others (a utility pole).
The landscape painter's task often involves this type of rearrangement, taking a scene from nature and altering the placement of the elements to create a harmonious composition, and adding to or interpreting that according to a pictorial vision. Here, Leduc unifies the space through colour, using a reduced palette from milky white to bluish grey with a few contrasting touches of brown. The snow is treated with a palette knife, giving it a texture that creates a pictorial surface out of nature.