Behold Man Without God 1955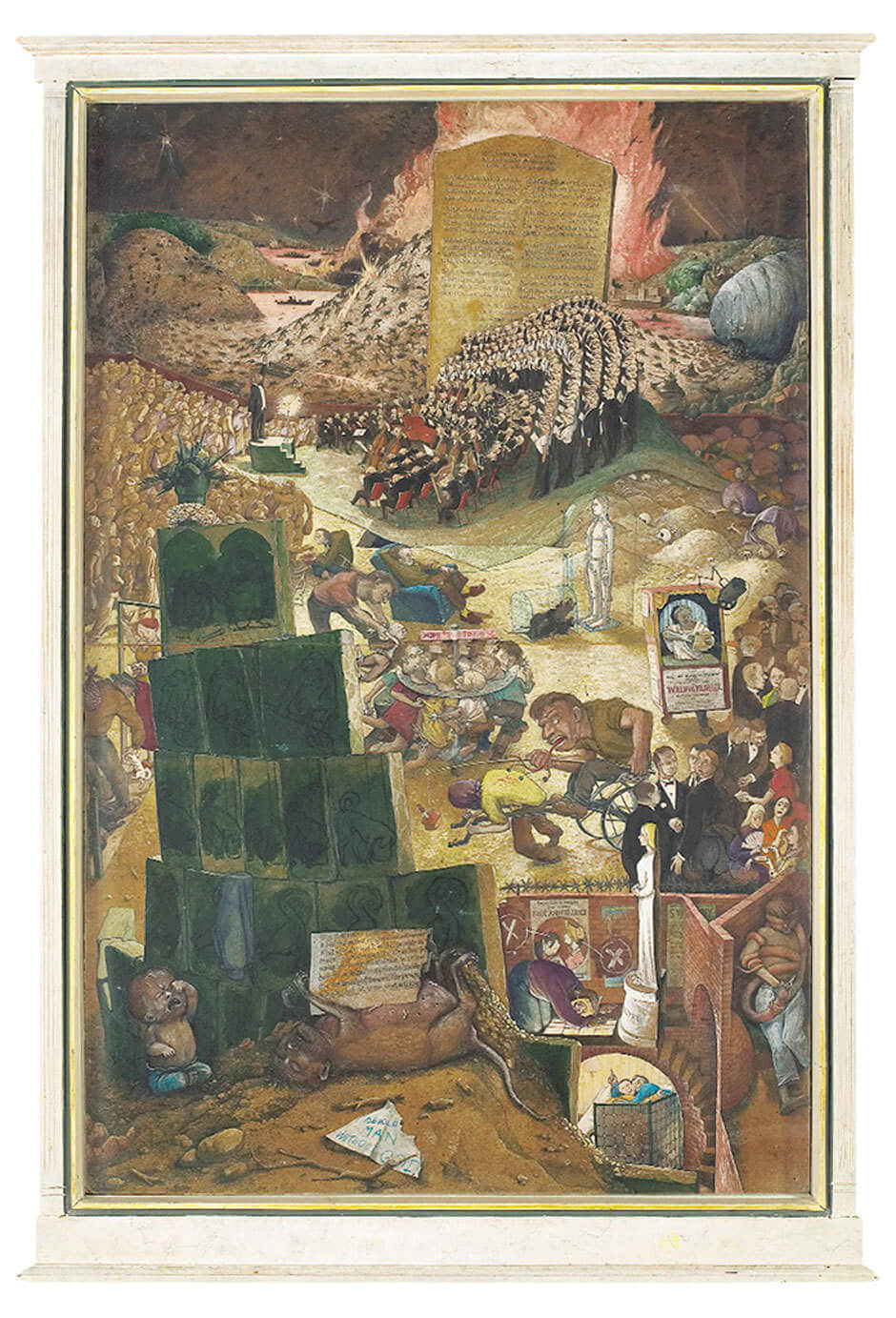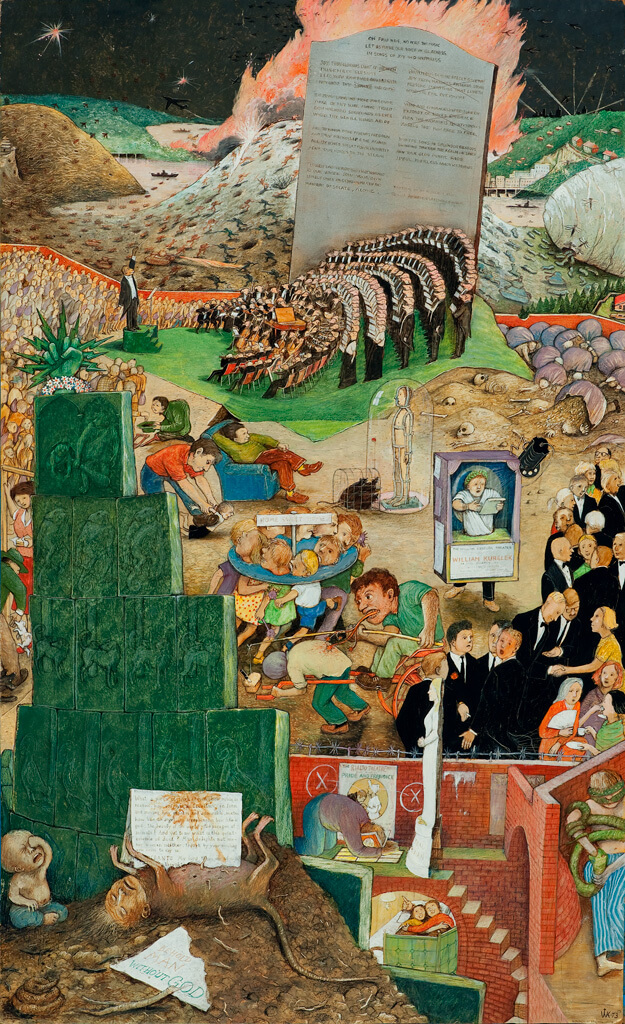 Behold Man Without God incorporates elements found in Kurelek's pre-conversion period in England and his post-conversion practice in Canada. The work, which received its title after the artist's conversion to Roman Catholicism in 1957, represents Kurelek's first didactic, emphatically religious painting. Its congested structure and sadistic imagery also display an affinity with earlier pieces such as The Maze, 1953, and I Spit on Life, c. 1953–54. The melée of monstrous figures swarming throughout a shared landscape also reflects Kurelek's direct encounter with the imagery of Hieronymus Bosch (c. 1450–1516), Pieter Bruegel (1525–1569), and other Northern Renaissance artists during his European trip in 1952.
At the top of the painting, two armies, birthed from either a subterranean ant colony or a giant hive, are pitted against each other in an unceasing war. In the middle ground, a crowd—standing lively and upright on the left but laid low by the weight of burdensome sacks on the right—gazes on an orchestra of pigs. Conducted by a monkey, the pigs are performing Beethoven's Ode to Joy. Friedrich Schiller's lyrics to this hymn to universal human kinship are spelled out on a giant tablet and stand in marked contrast to the acts of aggression that make up Behold Man Without God.
The painting's nightmarish foreground contains more concrete and allegorized personal moments from Kurelek's youth. These include several scenes in which the artist's father, Dmytro, makes an appearance as a sadistic taskmaster. In one he wields a barbed tongue. In another he stamps his boot into the back of a little boy before a tortuous merry-go-round of manacled children.
Kurelek also makes multiple appearances throughout the bottom third of the painting. In the right corner he wrestles the serpent of the Freudian libido and is also depicted as the lone pathetic actor in "The William Kurelek Theatre." In the darkened foreground he appears as an abandoned infant and an engorged rat carcass. The rat lies supine beneath a page torn from the second act of Hamlet, in which the main protagonist describes human beings as "this quintessence of dust."
As he would with The Maze and a number of other later works, Kurelek went on to complete at least four subsequent versions of Behold Man Without God.