The Maze 1953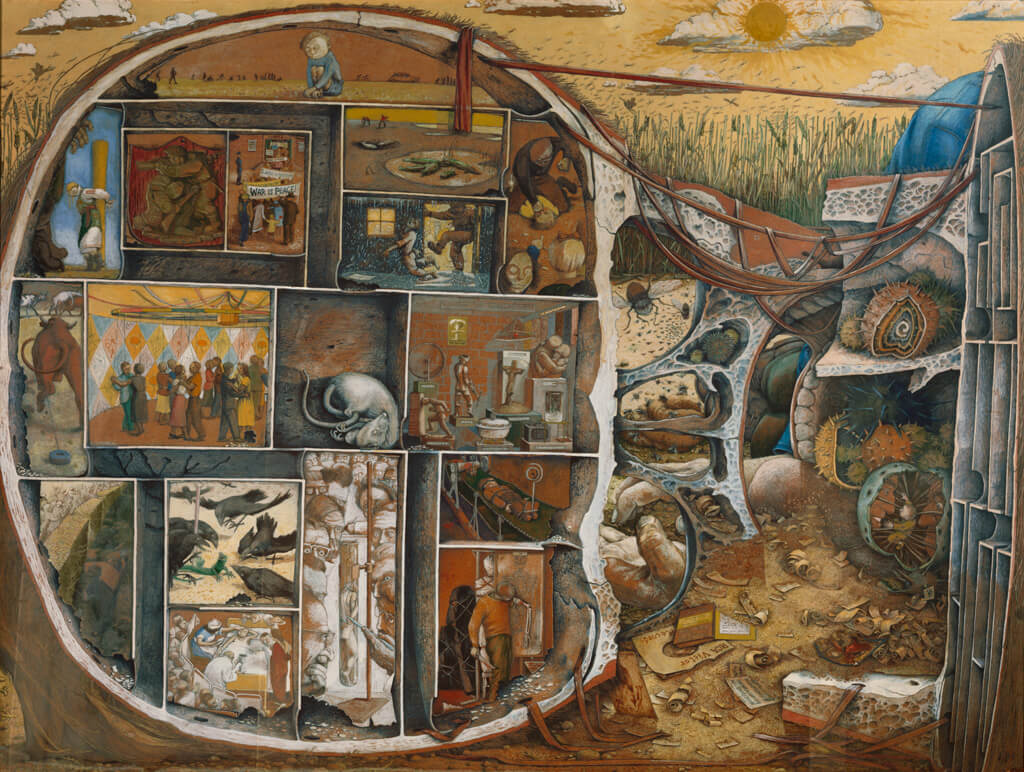 The Maze remains Kurelek's most recognizable image. Its place within popular culture was firmly established after the American rock band Van Halen featured it on the cover of its 1981 album Fair Warning. The work's notoriety comes from its highly graphic portrayal of Kurelek's battle with mental illness. He painted the macabre scene in England in 1953 while a patient at London's Maudsley Hospital. Effectively a self-portrait, The Maze portrays the artist lying on his side in a wheat field in Manitoba.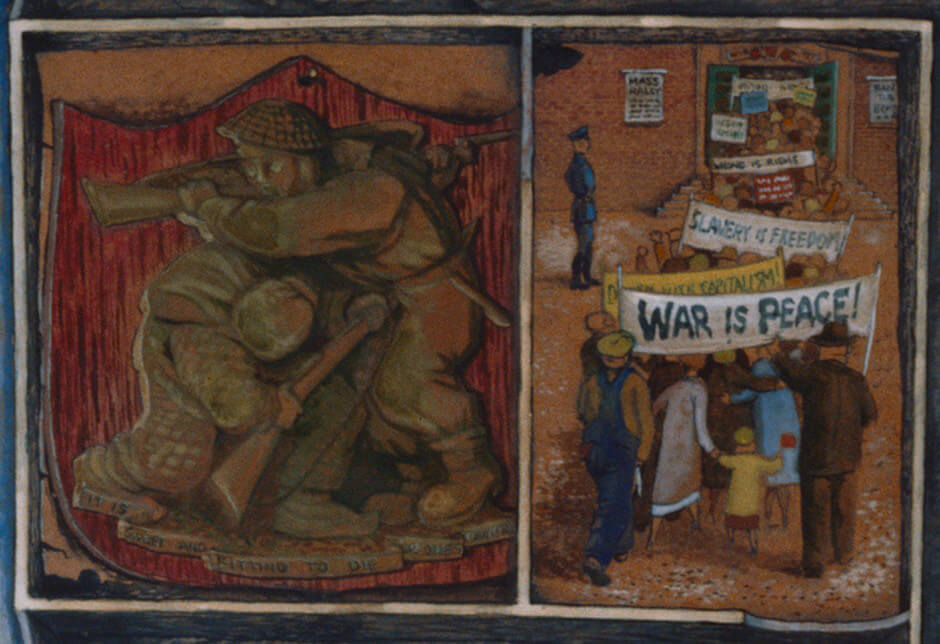 The painting's central image is the inside of Kurelek's skull, split front from back, and opened up to reveal seventeen cranial compartments, each containing either a vignette that recounts an episode from his youth or a visual allegory that express his tortured state of mind and bleak outlook on science, sexuality, and world politics. Together they embody "a kind of pictorial package of all my emotional problems."
Kurelek devised the painting to gain the attention he believed his condition deserved. It was a "half-conscious" strategy to "impress" his caregivers, and to "prove" himself "a psychologically interesting artist." The lifeless white lab rat curled in the central compartment summarizes how Kurelek viewed himself: as someone craving liberation from the torture of his own mind while desperately presenting himself as a sacrificial specimen for psychiatric experimentation.
Other compartments include an image of the artist flaying his own arm, a murder of crows tormenting a lizard that has been pinned to the earth, a peasant child being viciously kicked from the open door of his house to its snowy stoop, and a "Museum of Hopelessness" that speaks to the futility of moral and intellectual virtue. Outside the skull is a corresponding wasteland. Viewed through the empty eye sockets and nasal cavities are glimpses of a world of blazing heat and stench, populated by insects and dung, with revered works of art, music, and poetry discarded in the dust.
In 1969 American film director Robert M. Young released a documentary, also titled The Maze, exploring Kurelek's life and his struggle with his father and mental illness. Young had encountered Kurelek's art through Dr. James Maas, a psychologist at Cornell University, who had invited the filmmaker to create an educational documentary on art and psychosis. When he encountered a slide of The Maze, Young convinced Maas to shift the film's exclusive focus to Kurelek. In 1971 Kurelek painted a second version of his painting, The Maas Maze, to thank the psychologist. An extended version of the film was released in 2011.