The Painter 1974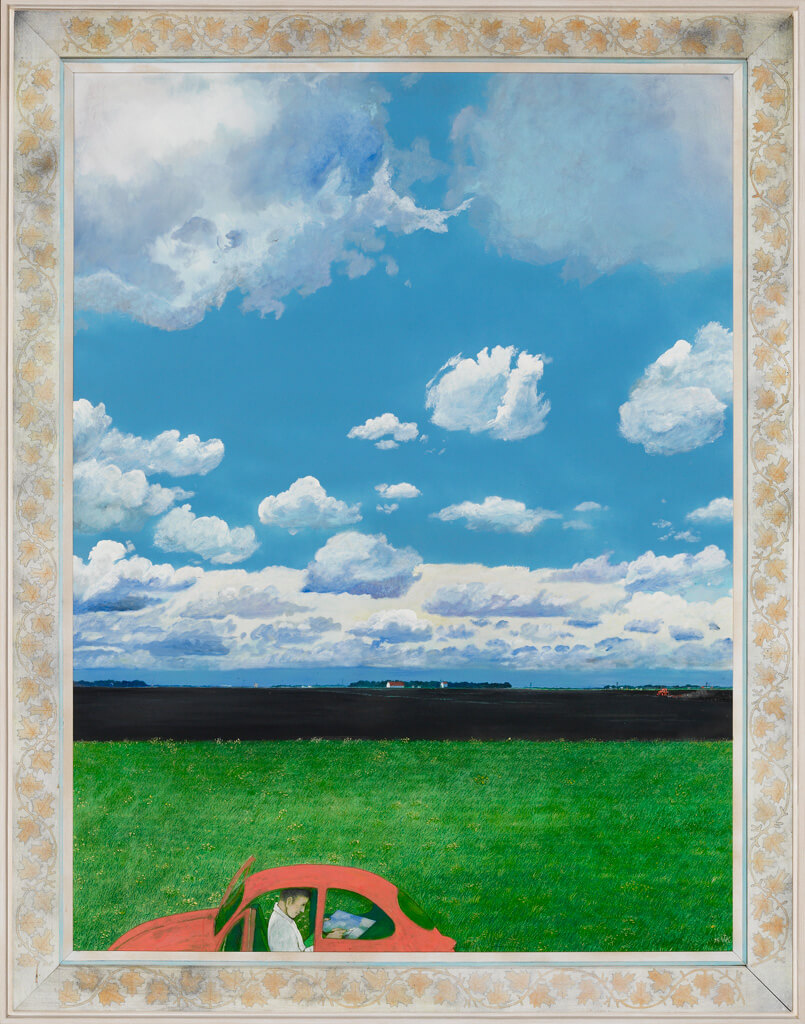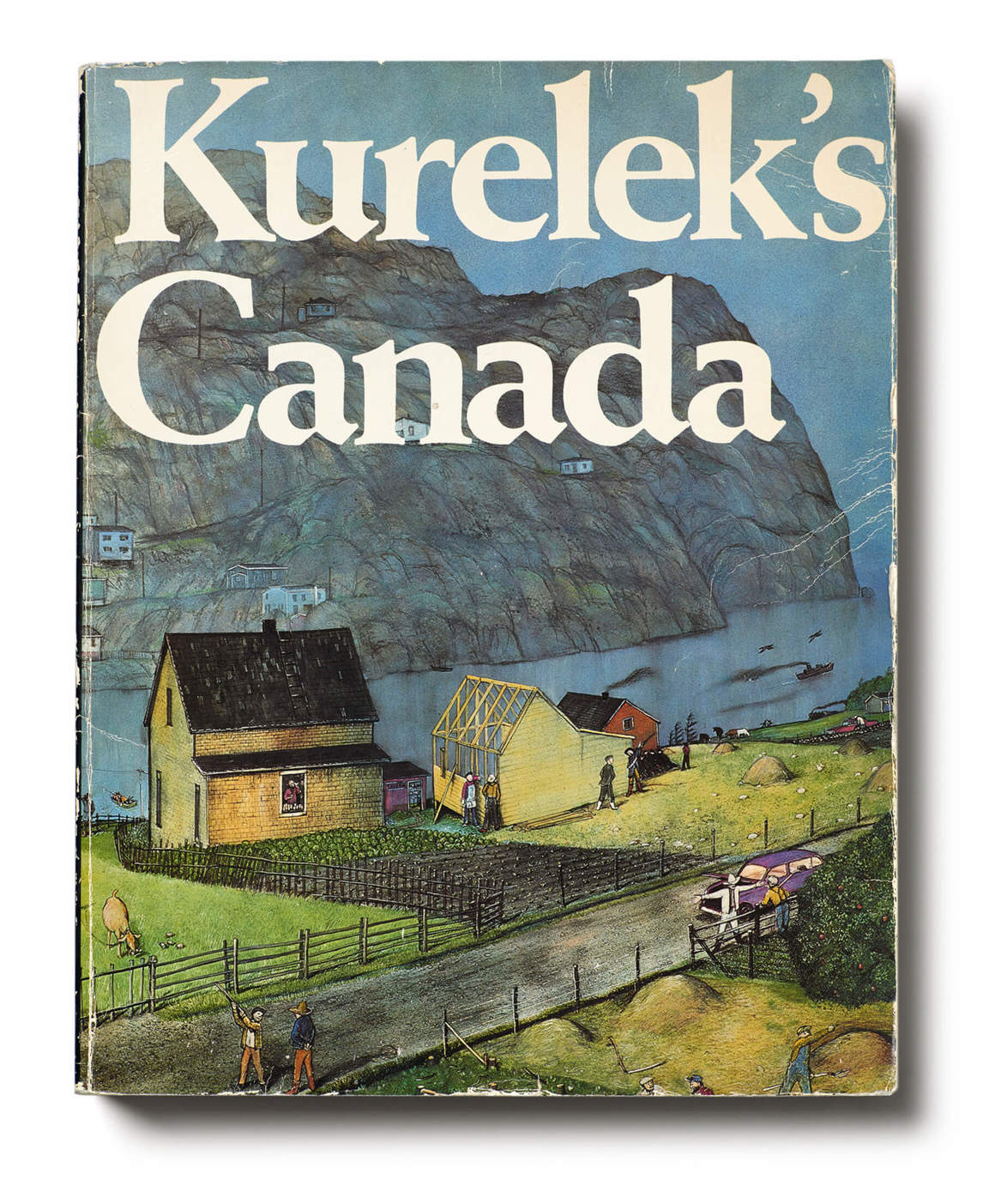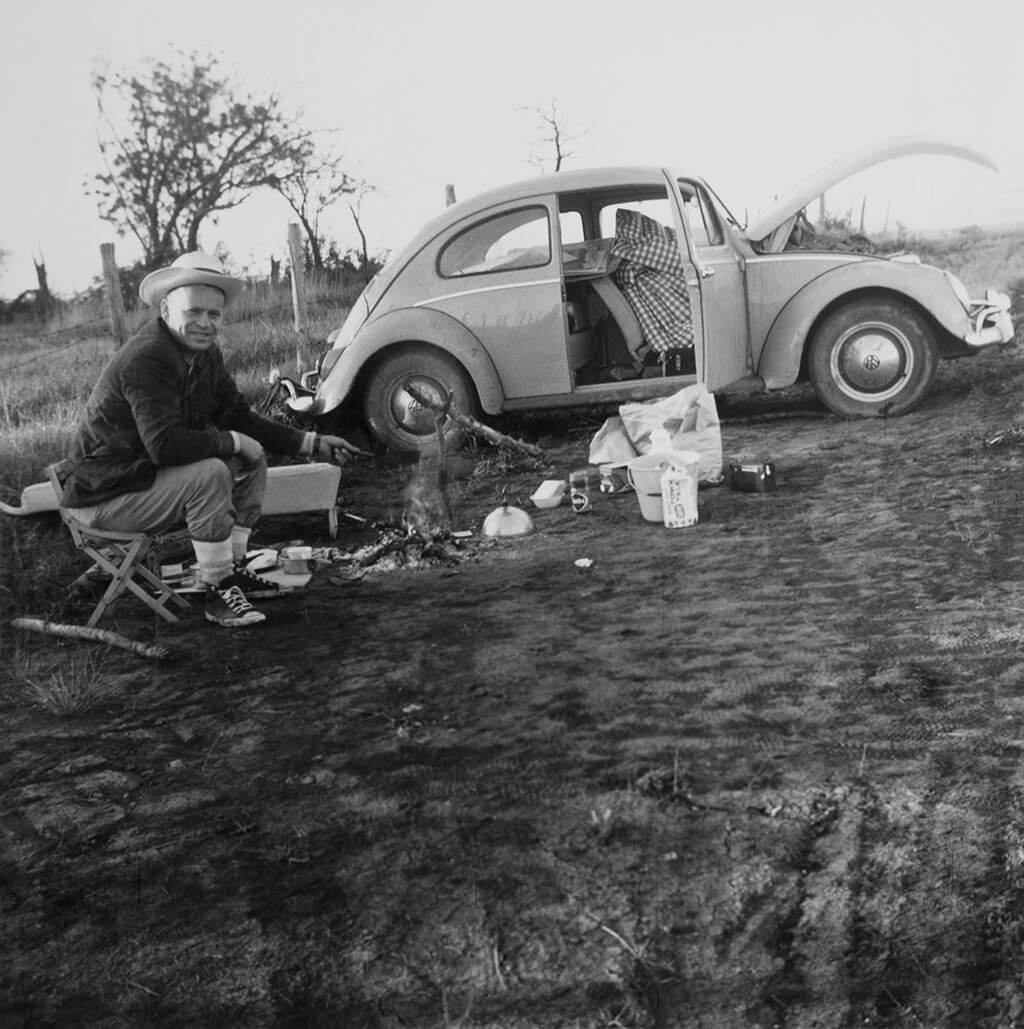 In this late self-portrait, completed three years before the artist's death, Kurelek documents himself painting in a red Volkswagen Beetle before an expansive swath of green and extensive prairie sky, on one of the nearly annual summer painting excursions he began making to Western Canada in 1963. In this work, we catch a rare and fleeting glimpse of an unguarded Kurelek, immersed in his work and seemingly untroubled by the state of the world. Framed by a meandering tracery of maple leaves, The Painter was a signature image of the Happy Canadian series, which was published as the book Kurelek's Canada in 1975.
The painting is atypical for its purposeful and unabashedly naive celebration of life, art, and the natural world. Absent are qualifying vignettes that appear in many of Kurelek's otherwise joyful agrarian landscapes: the signs of nature's moral ambivalence, the grind of farm labour, the savage antics of youth, or an atom cloud perched on the horizon announcing humanity's folly.
Set in the artist's "spiritual home, aesthetically speaking"—the Oak Hammock marsh located east of the family's former farm near Stonewall, Manitoba—the site was a place of childhood and adolescent "peace and retreat." The painting was largely sourced from black and white photographs Kurelek had taken on his first mature sketching foray in Manitoba more than a decade earlier.
"During that trip," he recalls, "I lived, ate, slept, and worked in a Volkswagen bug. I experienced one whole ecstatic afternoon … I photographed the skies all afternoon and when night fell worked on my paintings by the light in the car ceiling." Though anchored in autobiography and remembrance, The Painter is neither. Like Reminiscences of Youth, 1968, The Painter is a meditation on nostalgia. It projects a scene from the past but also shows the artist in the act of reconstructing that scene.