And, While They Were at Table… 1960–63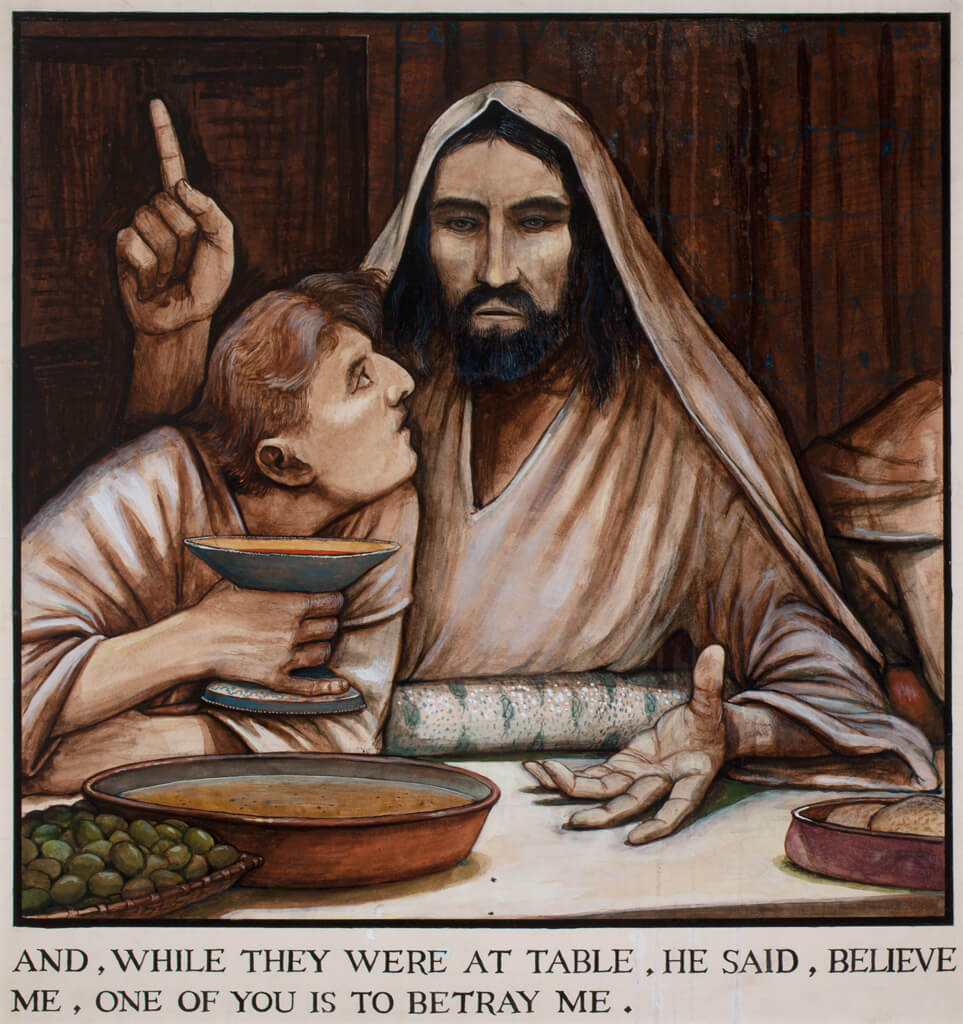 And, While They Were at Table … captures a decisive moment during the Last Supper when Jesus prophesies his betrayal and fate. One of 160 works illustrating St. Matthew's account of the days leading up to and following the crucifixion and resurrection of Jesus, this painting contains equal parts drama and historical detail. Here, Jesus is poised in stoic resignation while the disciple John, holding a goblet of red wine, gazes up in disbelief. In the Gospel of Matthew, Kurelek's point of reference for this work, the Last Supper is also a Seder, a ritual meal marking the Jewish Passover. As such, Jesus and his disciples eat their meal prone, supported by the left elbow. This work is the fifth painting in The Passion of Christ, 1960–63, the first of Kurelek's multi-image series.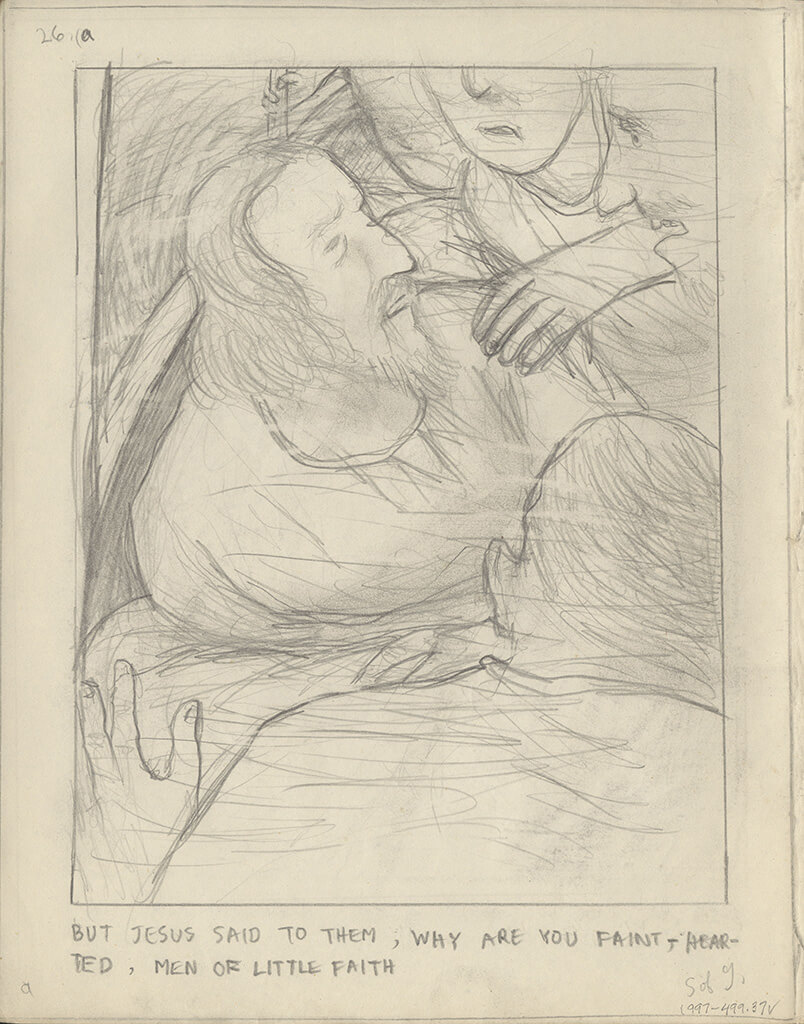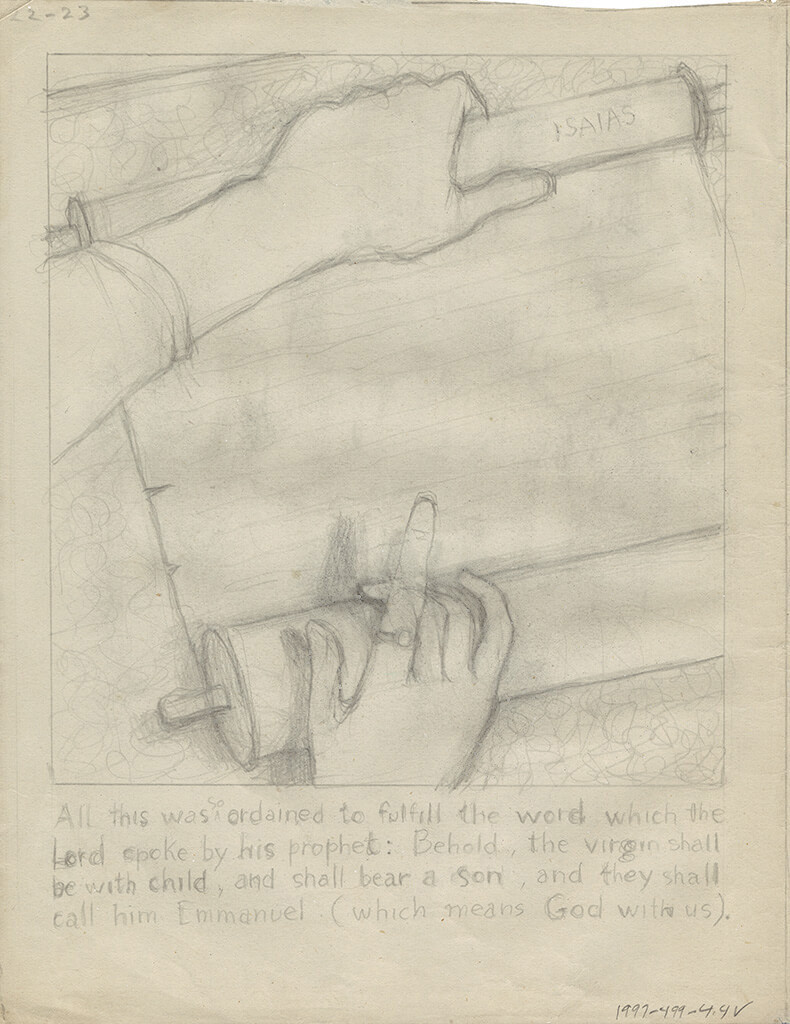 Kurelek conceived his Passion series while living in England, one year before he officially entered the Roman Catholic Church. The project reflected Kurelek's exposure to the work of James Tissot (1836–1902) in 1956, in particular his reproductions of 350 gouache paintings illustrating the life of Jesus. Kurelek's initial vision was to illustrate the entire Gospel of St. Matthew line by line, and he produced rough pencil sketches illustrating verses throughout the Gospel. He soon realized the overwhelming immensity of this plan and limited his focus to the Passion narrative. He began sourcing imagery for the series in 1959 when he visited Jordan and Israel for several weeks to photograph the region's landscape, architecture, and people. He believed this material would lend authenticity and accuracy to the later gouache paintings. The lion's share of the studio work was done in Toronto between 1960 and 1963.
From the outset, Kurelek saw the series as a didactic tool for dispersing the central message of the Gospels and conceived the paintings as closely tied to contemporary mass media. To reach the widest possible audience, Kurelek ensured his images accommodated the dimensions of the television screen aspect ratio of 4:3 of the time. His goal was to see the paintings "one day produced on film," a feat that was accomplished in 1981, and again in 2009, after his death. Although he had no technical knowledge of filmmaking, Kurelek's Passion paintings are "camera-conscious" and reveal his intuitive appreciation for mise en scène. The series is effectively a collection of detailed cinematic storyboards that reveal the central narrative with dramatic effect.
And, While They Were at Table … underscores the heightened sense of dramatic timing that became a defining feature of Kurelek's later imagery. It was exhibited along with the series in 1970 at St. Vladimir Institute in Toronto. Olha and Mykola Kolankiwsky subsequently purchased the entire series and placed it on permanent display at the Niagara Falls Art Gallery and Museum.