Camp Site (Man with Long Coat) n.d.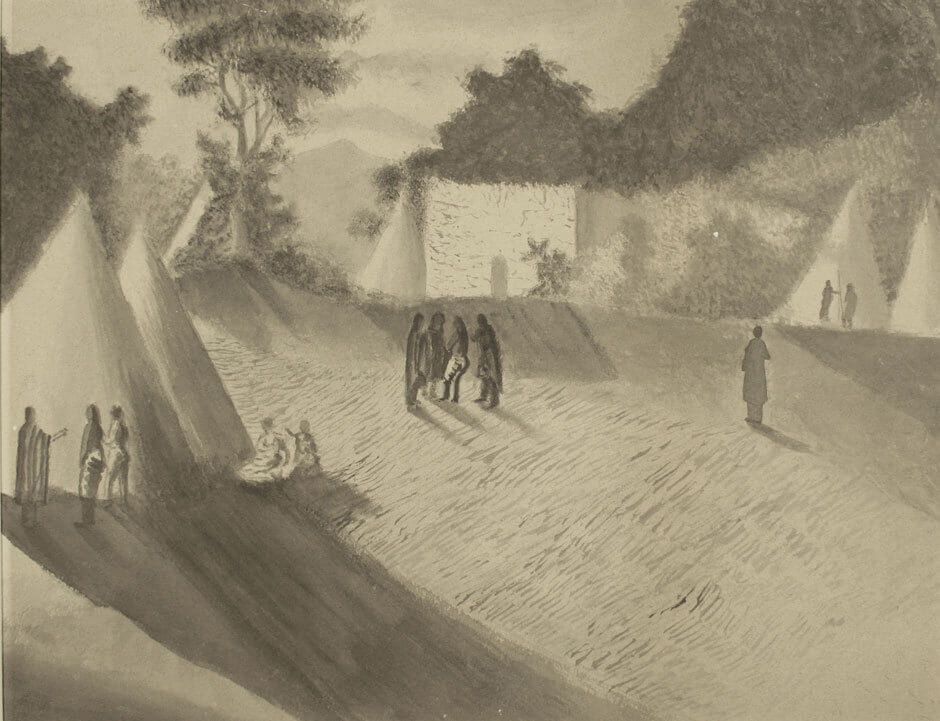 This composition presents two groupings of figures, several tipis, and a building in the centre background that could be a hunting cabin or perhaps a chapel. A silhouetted figure on the right stands apart: he seems to be an outsider, observing the others. The long shadows cast by the tipis accentuate the sense that the living area is enclosed within a soft protective circle, and the branches of a bush in front of the building appear to form a cross. In this context the isolated figure could be a black-robed missionary, suggesting a historical scene showing the first European contact with the Huron-Wendat people of the Great Lakes, before their migration to Quebec.
The entire scene is treated schematically, reduced to essentials. The shadows heighten the impression that the elements of the composition are anchored to the ground, to the surface of the earth, but that they also exist in time, at a particular moment of the day. Referring to this work and the others in his campsite series, the art historian Anne-Marie (Blouin) Sioui notes that "in each of these compositions … Zacharie Vincent to all appearances has sought to create an atmosphere in which man is in balance with his environment. As in works by Cornelius Krieghoff … the Amerindians have been reduced in size in order to be shown in a vast landscape, into which they melt completely."
Although the parallels with Cornelius Krieghoff (1815–1872) are convincing and corroborate the romantic vision of the mythic Indian, Vincent's treatment of the theme lends an abstract quality to the scenes, emphasizing their unreal or invented character, or suggesting interpretations drawn from Huron-Wendat mythology. The prominence given to the long shadows adds a deeper perspective, effectively conveying the emotional and spiritual experiences associated with the scenes.